5 businesses that can benefit from self storage
It doesn't matter whether you own a small or large business. The fact is that, sooner or later, you'll start noticing that you could use additional space. Rather than upgrading to a bigger office, which is a process that will come with a considerable price tag, the best thing for you would be to simply look into the best business storage Seattle has to offer. That being said, we can't fail but notice that there are certain businesses that can benefit from self storage more than some of their opponents from a different industry. And so, PortaBox Storage decided to explore which businesses have the direst need for self storage nowadays. Of course, this does not exclude other types of industries and businesses from seeking out the benefits of our offer. Let's take a closer look at our top contenders for now.
The list of the five businesses that can benefit from self storage
Before we begin, it's important we mention that these five businesses weren't ranked according to any specific order. Just because a business takes up the first spot on our list doesn't mean that its' needs for storage exceed the needs of other businesses on this list. Besides, it goes without saying that these businesses aren't the only ones that can benefit from some of the finest portable Lynnwood self storage units. Alas, this article can only mention so many industries, as it would take us ages to cover all of them.
1. Retailers
Retail businesses face one very common challenge that urges them to seek additional space – a growing inventory. It doesn't matter whether you own a boutique, bookstore, or a wedding dress salon, as you will always have to bring in new goods that will help you keep your sales up. Moreover, you'll also have to renew your storefront display so that it fits the season of the year. That will help you remain interesting to your buyers. All of that will urge you to either continuously relocate your items into a bigger store or find a suitable storage solution.
Now, if you aren't sure that self storage is the right choice for you, you don't have to opt for a long-term contract. You can find affordable temporary storage solutions in Seattle that will let you assess all the pros and cons of renting a storage unit. Take your time in deciding whether that will be the right move in the long run.
2. Creative businesses
Are you an aspiring artist that is always trying to create the next masterpiece? Are you so much in love with the art you create that you have decided to open up your own gallery? Whatever your answer might be, if you are someone who dabbles in any type of creative business, chances are that you could benefit from professional Seattle storage services.
Whether you paint on canvas or mold clay, the fact is that art supplies can take up a lot of your living space. And there is no reason for you to unnecessarily utilize the space in your home. Not when you can simply rent a self storage unit that will instantly solve your space-related problems.
3. Publishing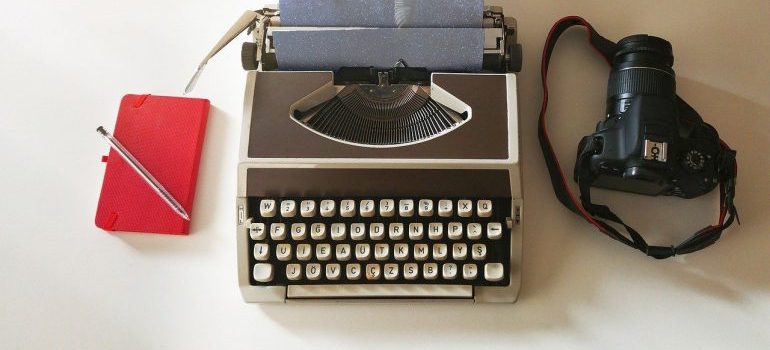 The publishing business has changed significantly over the last couple of years. Even though a lot of publishing-related tasks can be performed digitally nowadays, this type of business still demands a lot of on-hand products. That is why this is one of the five businesses that can benefit from self storage, both long-term and temporary.
Instead of letting all of those books and manuscripts create mess and clutter in your home, simply tour a storage facility and choose the best unit for your needs. You don't have to rent a big unit if that's not something you need. There are plenty of smaller storage solutions that will solve your problem while being budget-friendly.
4. Sales representatives
Being a sales representative is a dream job for thousands of people. You are always on the go, you are always meeting new people, and you are never bored. However, because of the nature of their jobs, sales representatives have to house many samples and promotional materials for the products that they are selling. And if you are selling dozens of different products, you can easily guess how and where the problem might originate from.
It's true that many sales representatives choose to keep their business items in their homes. However, having a designated storage space that will keep your items safe and out of the way definitely seems like a better option. There is no reason to live in a cluttered house when there are so many affordable storage solutions out there. And they are right within your reach.
5. eBay or Etsy shop
The 21st century has created many different opportunities for people to make money. One such business that has emerged includes online stores. In case you have started your own eBay or Etsy shop, then you are either selling handcrafted goods or items that have been accumulated in bulk. But it really matters not what you are selling – everything from packing supplies to handmade jewelry is going to take up a lot of space. The best course of action would be renting a self storage unit that can house all of your business-related items. So don't hesitate to go online and find the perfect facility in your vicinity. It will rid you of many different problems.
It's important to mention that you are the only one who can assess the needs of your business. Just because you haven't found yourself in this list of businesses that can benefit from self storage doesn't mean that it won't do you good to seek out a storage solution. All you have to do is adjust the number of units to your needs in order to find a perfect solution. With so many choices out there, you won't have to overpay for storage.