Bellevue Self Storage
Washington or Idaho – PortaBox Storage presents you with the premium Bellevue self storage alternative for all your needs!
The need for storage services has become common, and not only when a relocation is involved. With so many options, finding the right storage solution can be tricky. You need to find the right-sized unit, determine the time frame required, and manage the loading, transportation, and unloading of your belongings. Additionally, you'll need to pack up all of those belongings first and rent a truck to transport them or pay professionals to perform this work for you. With PortaBox Storage, the storage rental process can be far simpler and less expensive than traditional self storage offerings.
Our company delivers premium Bellevue self storage portable boxes you load at your convenience and then contact us when you're ready to have them picked up and returned to our secure warehouse. Save yourself time, cost, and effort by contacting us and securing our top-rated portable storage solutions in Bellevue, WA!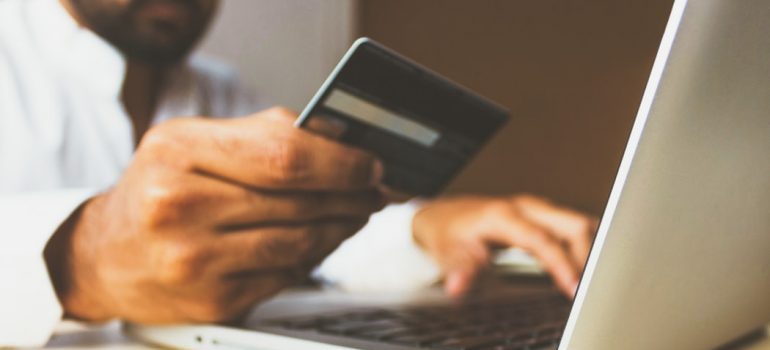 Why are PortaBox services the right fit for you?
The quality and cost of professional storage services can vary greatly from one company to another. Depending on your needs, you can choose between short-term and long-term options. A key mistake many people make is failing to give proper consideration to the safety and security of their belongings while in storage. 
PortaBox Storage offers well-constructed containers made out of resilient materials and covered with heavy-duty, weather-resistant vinyl covers. Our Bellevue self storage containers are easy to load and have been designed to ensure the safety and security of your belongings during transportation and storage. By choosing PortaBox, you get an affordable, secure storage solution free from the hassles of renting, loading and driving a truck and then unloading into a self storage container.
Storing your important belongings can often be a more complicated process than it needs to be – securing your belongings in the most efficient manner is our specialty. Our temporary storage services are an excellent approach to keeping your inventory safe and accessible at less cost than most other options. PortaBox Storage is one of the most respected portable storage companies within Bellevue and across Washington state. Read on to learn more about the biggest benefits of choosing our Bellevue self storage options.
We have the experience and resources
Based on our decades of experience in the relocation industry, we created PortaBox, a better way for all the do-it-yourselfer's seeking a safe and organized self-storing process. In addition to offering this market-leading solution, PortaBox also provides high-quality, competitively priced Seattle packing materials for your belongings. Constructed with safety and security in mind, PortaBox Storage ensures your inventory is protected, while it's stored in your driveway or in one of our three warehouses in Washington.
Short-term and long-term Bellevue self storage solutions
With PortaBox Storage, you don't need to stress about the length of time you need storage for your belongings. Our short-term portable storage solutions are simple to set-up and available at highly competitive rates. So, whether you are moving for college or decluttering your home, give us a call and we'll find your best storage solution in Bellevue together. Here are some of the options we offer:
Flexible short-term storage plans

(6-month, 3-month, and month-to-month plans)

Secure, temperature-controlled warehouses with security monitoring and pest control
Clean and easy-to-load Bellevue self storage boxes
Competitive rates for premium storage solutions
PortaBox Storage offers flexible storage services in Bellevue
The best thing about choosing our Bellevue self storage is the greater flexibility it offers compared to other traditional self storage options. No matter the circumstances or items for which you require storage, we are here to help. If you are unsure about the specifics of your storage needs, just give us a call and we will work through them with you... Our temporary storage boxes are easy to use and you can customize your plan accordingly.
Bellevue self storage boxes are just one of the customer-centered moving and storage solutions trusted by Bellevue residents for generations. Our company also provides moving and shipping services locally, cross-country, and internationally that will make planning your move much easier. Let us know more about your moving plans and we can find a customized solution to your moving and storage service needs.
Benefits of working with PortaBox Storage
Choose the exact number of portable storage containers you require so you don't pay for storage space you don't need.
Convenient scheduling. We will deliver empty PortaBoxes on your timeline, pick up the PortaBoxes once loaded and transport them to our warehouse, and then return one or all of your PortaBoxes to your location when you want them.
Easy to load and unload storage containers without the need for a rental truck or excessive handling.

We can store your belongings in a PortaBox at our warehouse or we can transport your PortaBox to a new location.
Whether you are planning a move or seeking a convenient way to store extra belongings, we have the best solutions. Let us know what type of Bellevue self storage you need and we will take care of the rest.
Order our convenient and reliable PortaBoxes today!
The moving industry is constantly evolving. To make the relocation process easier for you, PortaBox Storage was created to offer our customers a better Bellevue self storage solution. Our small storage containers are designed in a way they can be easily loaded and transported. After you pack your belongings for storage, just give us a call and our team will schedule a pick-up of your PortaBoxes and transport them to one of our storage facilities in Washington.
With our convenient storage containers, you can avoid renting moving trucks and other additional moving expenses. All you need to do is let us know how many empty containers you need, where you need them delivered, and when you want your loaded containers picked up. We will organize the rest and handle the transportation and warehouse storing process.
Start planning your storage options in Bellevue right now!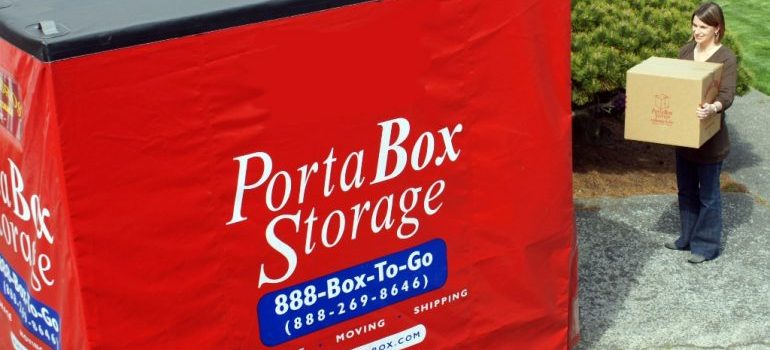 If you need Bellevue self storage services, give us a call and we can start the planning process with you. Contact PortaBox today and take advantage of the best-rated storage services in Washington.