Kenmore Self Storage
Washington or Idaho – PortaBox Storage presents you with the premium Kenmore self storage alternative for all your needs!
Benefits of PortaBox
When you need Seattle temporary storage, Lynnwood WA storage units, Newcastle self storage or
Boise storage solutions – PortaBox delivers!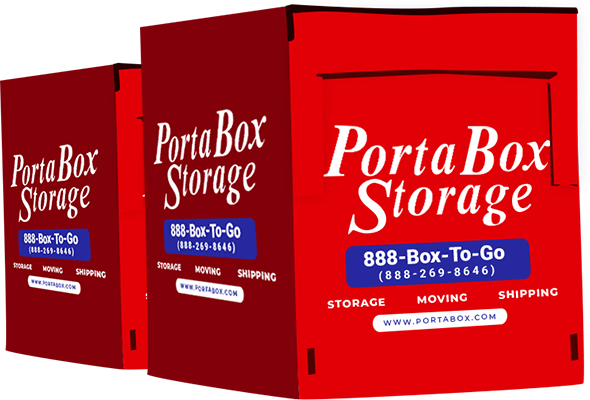 Time-Saving and Cost-Efficient
One-Time Loading & Unloading
Easy & Quick Access to Items
DIY Storage on Your Schedule
Organized Pickup and Delivery
State-Wide Area Coverage
No Minimum Weight Requirements
How PortaBox Works?
Order the necessary number of PortaBoxes.
Take your time to pack everything.
Arrange pick-up and storage destination.
Enjoy your temporary storage.
Whether you wish to reclaim your personal or professional space or need a temporary solution while you're remodeling a home in Kenmore, we have the ideal storage solution for you. PortaBox Storage is a company with decades of experience in the relocation industry, and one that provides the best temporary storage Washington state has to offer. This is a convenient, affordable, and smart Kenmore self storage option for your short or long-term storing needs. We will deliver and pick up the PortaBox container(s) once you finish packing, to save you the hassle of transporting it yourself. Depending on your needs, we can place your portable storage container in one of our storage facilities or at your current address. Contact us and rent your PortaBoxes today!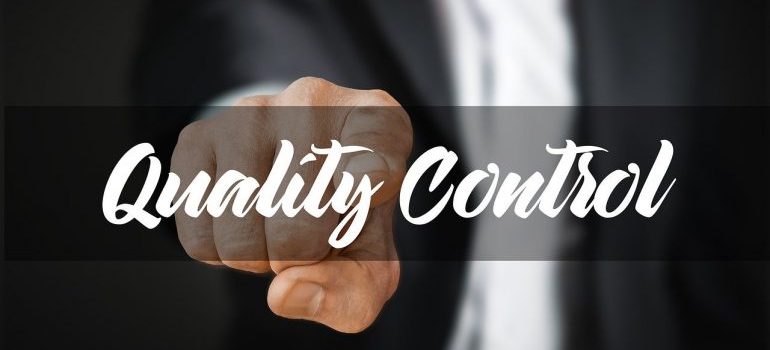 The convenient use of Kenmore self storage solutions
Everyone can benefit from additional storing space, and that is a fact. Most people today have more stuff than they need and more than we ever thought possible or necessary. And this can reflect poorly on living or working space. This is the reason why our portable storage units come in handy in numerous situations.
You don't have to spend a large amount of money on fancy storage facilities, where you don't get to choose the size of a unit and have to pay for the whole space. Our Kenmore self storage solutions are convenient because you can use them for storing all kinds of items even at your doorstep.
Practical and easy-to-use
Whether you are having guests but not enough space in your home or you are remodeling an entire floor, PortaBox Storage is a perfect solution. We are also proud to say that many businesses use our self storage services on numerous occasions. If you wish to declutter commercial/residential space or stage it for sale, you will have great use of our PortaBoxes.
No matter how long you need to use our portable storage units, this is not an issue. We are very flexible in terms of the amount of time you need to rent our units. Even if you rent them for a shorter or longer period of time, we can meet your needs and update your rental agreement. We can also change the storage location at any time. For example, if you were using our self storage in Lynnwood but had to relocate to Kenmore, we could easily relocate your PortaBox there as well. All you have to do is state your needs and we will find a way to meet them while staying inside your budget and timetable.
Easy access to your PortaBox unit
Finding the right solution is not always easy, especially if you are not aware of all the options out there. That is why you should get in touch with our agents, and they will explain how the PortaBox process works. It consists of four simple steps:
Decide how many PortaBoxes you need,
Give us the address you want your portable storage boxes delivered to,
Organize the packing at your convenience,
Tell us where to store or ship your PortaBox and access them when you need to.
And remember, our services are customizable. So, we will always find a way to fulfill your needs and exceed your expectations. Ask for any additional information that you might need or consult our FAQs section.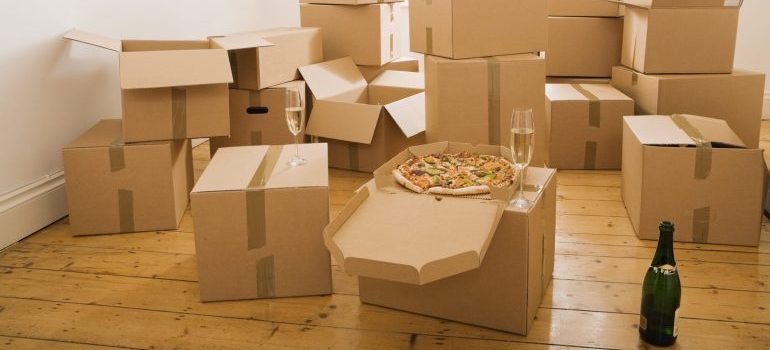 How many PortaBoxes do you need?
Depending on the occasion or purpose for storing your items, you can decide to use one or more of our PortaBoxes. Each unit can accommodate up to 2000 pounds. If you wish to declutter one room for a painting job, you will probably need a single self storage unit.
However, if you are planning to remodel a whole house or you are moving out of state for a more extended period of time and wish to store your belongings to a safe place, you will most likely need more units. Either way, if you are not sure, our consultants will help you choose the number of PortaBoxes, once they hear how much stuff you have.
Your storage units come to your address whenever you say so
Since we take pride in providing convenient self storage services in Kenmore and throughout the State of Washington, we make sure to come at your address whenever you need us. Whether you are using PortaBoxes for personal or commercial use, we will deliver them at a time and place of your choosing. You don't have to change your daily schedule for us because we'll come directly to your doorstep instead.
Packing on your schedule
In some storage facilities, you have to pack and load possessions twice. This is not the case with our PortaBoxes. You will not have to load everything first in a moving truck and then in a storage unit again. Because our self storage in Kenmore functions differently. Once we deliver one or more PortaBoxes at your doorstep, you can organize packing at your convenience only once. And once you are finished, we will come again and transport the PortaBoxes to our Kenmore self storage facility or some other location.
Since PortaBoxes are put on the ground, you will not have to use any special moving equipment instead of coming in and out of the unit with your belongings. Pack your possessions properly, remember to label the boxes and make sure to secure them inside the PortaBox units. Once you are done, use your lock and a key, call us and let us take care of everything else.
Access your Kenmore self storage PortaBoxes at your convenience
When you get our temporary storage services, you can stop worrying about the transportation of your possessions. If you decide to store your PortaBoxes, we will transport them to our storage facility. Our warehouses are secured, clean, and temperature-controlled, so your belongings would remain safe at all times. You can access them when you need them. All you have to do is give us a call 24 hours before visiting the premises. We will reserve a viewing area for you so that you can access your belongings without interruptions. And away from the public, of course.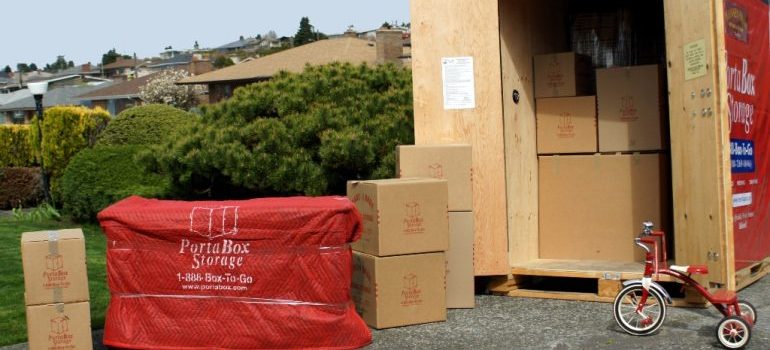 If you are using PortaBoxes for relocation, we can ship your unit where you need them to go nationwide. Call your local Kenmore warehouse, and we will arrange the shipment with ease.
Contact us and rent your self storage units
Once you get in touch with our PortaBox Storage crew, you will have the opportunity to ask anything you might be interested in. We are more than happy to give you all the necessary information and possible solutions to your storing-related needs. Contact us and your Kenmore self storage unit will be at your doorstep whenever you need it.