Business Solutions
Washington or Idaho – PortaBox Storage presents you with the premium self-storage alternative for all your needs!
Benefits of PortaBox
When you need Seattle temporary storage, Lynnwood WA storage units, Newcastle self storage or
Boise storage solutions – PortaBox delivers!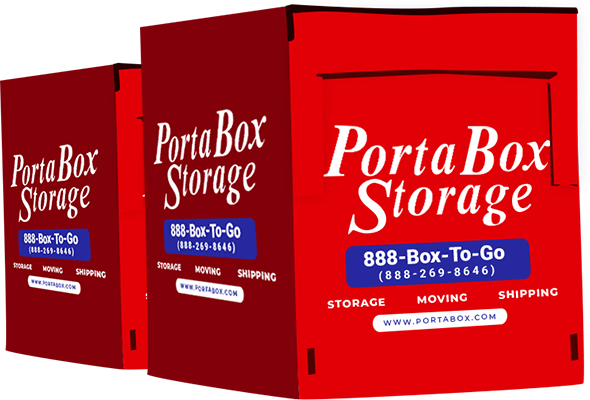 Time-Saving and Cost-Efficient
One-Time Loading & Unloading
Easy & Quick Access to Items
DIY Storage on Your Schedule
Organized Pickup and Delivery
State-Wide Area Coverage
No Minimum Weight Requirements
How PortaBox Works?
Order the necessary number of PortaBoxes.
Take your time to pack everything.
Arrange pick-up and storage destination.
Enjoy your temporary storage.
Relocating your office and employees to a different commercial building is bound to happen sooner or later. Upgrading to bigger headquarters is only the natural turn of events for any prosperous business. Once that need arises, one of the first things you'll find yourself doing is looking for the best business storage Seattle has to offer. We here at PortaBox Storage have to offer tailored commercial solutions to all customers who walk through our door. Give us a call whether you need to store your inventory, documents, or old office furniture. Our offer includes containers that provide an unmatched level of protection for your items.
Get access to high-quality business storage Washington based with a simple phone call
At PortaBox Storage, we are firm believers in the fact that every business owner should be presented with an accessible storage unit in Washington. It is for that reason that we have come up with an easy system that will allow you to attain our business solutions by dialing our number. The entire process of renting our portable storage containers Seattle based is user-friendly and it consists of a couple of steps:
Give us a call and tell us how many PortaBoxes you need. We will schedule the drop-off date and deliver your portable storage unit/s to a location that you choose.
Our team will place the PortaBoxes in the place that works best for you, and we will let you pack at your own convenience. All of our PortaBoxes are grounded so you won't need to use any special equipment while loading your items. In case you need packing supplies, all you have to do is say the word. We are some of the best providers of packing materials in Seattle. We'll have them delivered alongside your business storage Seattle based.
As soon as you load all the items inside the containers, give us a call to schedule a pick-up date. Our team will come to your business premises, load the containers in our vehicle, and take them to one of our secure warehouses in Lynnwood, Seattle, or Newcastle. All of our warehouses are safe and constantly monitored. Moreover, they don't contain any external entry points, so no one other than you and our employees can access your belongings.
Safe warehousing comes hand-in-hand with our business storage Seattle based
In case you need constant access to your inventory storage Seattle and you have a suitable place for them on your property, we can always leave our PortaBoxes at your care. And if you only need occasional access to your unit, we can place them in our warehouse. Once in our warehouse, you can visit your items by giving us a 24-hour notice. We will stage everything for your arrival, showing you why our commercial storage Washington is among the most reputable solutions in the state.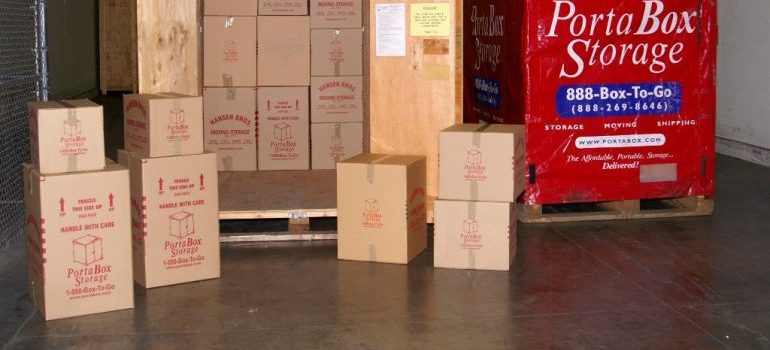 PortaBox Storage can ship your containers to a distant location
Ensuring you get access to door to door storage Seattle based services was always one of our main priorities. But we also wanted to expand our area of service. Thus, PortaBox Storage can ship your container full of business items to the location that you choose. We will perform an on-time and cost-effective delivery, as nothing less is expected of us. Give us a call during our business hours (8 am to 6 pm on workdays, and 9 am to 1 pm on Saturdays) and we'll discuss all the details of your upcoming project.
Rent a long-term or short-term storage solution and enjoy all the flexibility we have to offer
There are many variables that will determine the duration of your rental. The reason behind your need for storage, your line of work, and the type of your items all play a role in the matter. But it doesn't matter whether you need long-term or short-term inventory storage Seattle based, because we will be more than happy to meet your needs. At PortaBox Storage, we have created different storage plans, and you can choose from:
yearly storage solutions
6-month storage plans
3-month storage plans
month-to-month storage solutions
Most importantly, we are fully aware that sometimes your needs will change in the middle of your rental. It is in those situations that you will see why we are one of the best storage providers in the area. As a company that values flexibility, we will be open to discussing a change in your storage plan so that it can fit your newfound needs. Don't hesitate to request a commitment-free quote from our team or contact us today for the full breakdown of our plans and prices. 
An unmatched level of safety is part of the deal
There is no reason to fret and worry when your items are inside our commercial storage in Washington. We here at PortaBox Storage offer strong and resilient containers, weather-resistant vinyl covers, as well as double-reinforced doors with a sturdy piano hinge. On top of that, our heavy-duty lever action locking system will give you extra peace of mind. With us, you won't have to worry about your items that crave a climate-controlled unit, as our storage will keep your items safe during all seasons.
Reliable business storage solutions in Seattle are only a phone call away
Don't let your next storage project become a problem and a burden. Instead, contact PortaBox Storage and let our business storage Seattle based become a temporary home for your commercial items. You can rent our units both for short and long periods of time, all the while counting on our flexibility. Rest assured that our company has nothing but your best interest in mind, and we'll always act accordingly. We are at your service from Monday to Saturday, every season of the year.
PortaBox may be the most competitively priced shipping and storage solution for individuals and families, but the containers are optimized for commercial needs as well!  No matter your function, PortaBoxes are perfect for a wide array of business and commercial uses.
Let your properties speak for themselves.  From staging advice to de-cluttering tips, learn how PortaBox can help aid your property sales.
PortaBox for Real Estate Agents
A clean worksite is a safe worksite.  No matter the size or scope of the project, PortaBox has the solution to keep your contracting, construction, demolition, restoration, or maintenance project running smoothly and safely.
PortaBox also offers solutions for niche needs, including:
Tradeshows & Events
File Storage
Retail Businesses (Inventory, Seasonal, etc.)
Community Events, Races/Marathons, Food Fairs, Conventions, Festivals, Fundraisers
Whatever your need, PortaBox is the perfect storage solution. For more information about how PortaBox can aid your efforts, call us toll-free at 1-888-BOX-TO-GO or visit our Locations page to find a PortaBox warehouse near you.