PortaBox Services
Washington or Idaho – PortaBox Storage presents you with the premium self-storage alternative for all your needs!
When you're looking for secure storage or need to coordinate a relocation, you shouldn't have to work with multiple providers to formulate your gameplan.  At PortaBox Storage, we offer both secure portable storage and nationwide shipping solutions, meaning you no longer have to hunt for yet another niche service provider.  Whatever your needs are in terms of storage pods in Seattle or elsewhere, PortaBox has the means to meet them. We work tirelessly with our customers to find custom-tailored storage and shipping solutions, which is why we encourage you to reach out and contact us today!
Our plans are flexible too, so if things change and you need to alter an existing storage reservation or shipping order, just give us a call and we will work to find a new solution for you.
Choosing PortaBox means opting for the finest mobile storage containers Seattle has to offer
Whether you are in need of storage pods Seattle based in order to simplify your household move, or you are searching for business storage Seattle solutions, PortaBox Storage has made sure your requirements are met. After more than a century of gathering precious experience in the moving industry, we have managed to find a suitable answer for all of our prospective customers who are searching for portable storage containers for rent near me as we speak.
The challenges and pitfalls of every moving and storage process are well-known. But regardless of your scope of needs and the items you plan to have stored short-term or long-term, PortaBox Storage provides safety and reliability at all times.
Why is choosing our mobile storage containers the most convenient option for you?
Ever since its beginnings in 1993, PortaBox Storage has been continuously working on becoming the provider of storage pods Seattle can be proud of. When looking for portable storage containers for rent near me, one might become confused as to which solution is the most convenient one to use. We have been improving our on demand storage Seattle services with our clients' needs in mind. The benefits of our portable storage containers in Seattle are:
With decades of experience behind us, we are able to say that our storage pods have become the most secure and convenient portable storage solution in Seattle.
We offer flexible short-term storage plans (you are able to choose between a month-to-month plan, a 3-month plan, or opt for a 6-month plan for storing your items.)
Our mobile storage containers Seattle residents gladly choose are secure and easy to use.
We offer a fully committed and experienced staff to help you with all your inquires and concerns.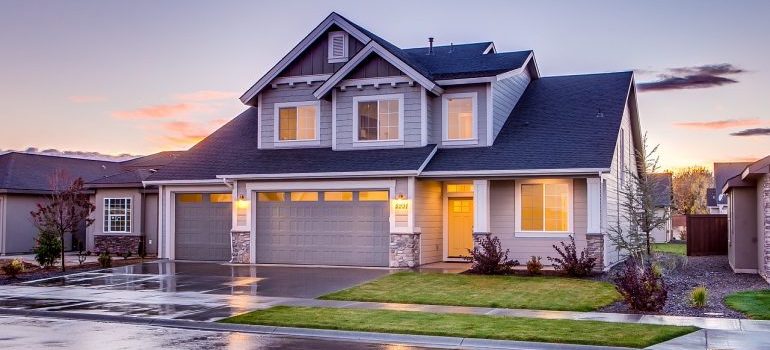 Services that PortaBox Storage provides go beyond Seattle portable storage containers
Other than portable storage containers Seattle, our company offers other storage and moving services that come highly recommended by Washington state residents. PortaBox Storage also provides:
A reliable and highly skilled team of movers – the anxiety and complications that follow almost every moving and shipping process are familiar with every person who has ever moved. It doesn't matter if you are trying to relocate your home or your office: dealing with every task involved asks for reputable professionals. And our Seattle movers are who you ought to turn to when in need of moving experts.
Packing materials also come as a part of our wide scope of services. Should you require packing materials for your belongings, we will gladly provide them along with our portable storage container in Seattle or surrounding areas.
We offer solutions for various types of business storage and moving needs. Give us a call and find out how we are able to help your business move and/or declutter by offering our moving services and mobile storage containers Seattle companies have been using for years.
Contact PortaBox Storage and have our Seattle
 

storage pods delivered to your front yard

Getting portable storage containers Seattle residents choose on a daily basis is only a few simple steps away. By contacting us via phone and getting a free, non-obligatory storage quote, you will be able to start planning all your storage-related activities promptly. Get in touch with PortaBox Storage today and let our representative help you choose a trouble-free and secure solution to all your storage needs.