Redmond Self Storage
Washington or Idaho – PortaBox Storage presents you with the premium Redmond self storage alternative for all your needs!
Benefits of PortaBox
When you need Seattle temporary storage, Lynnwood WA storage units, Newcastle self storage or
Boise storage solutions – PortaBox delivers!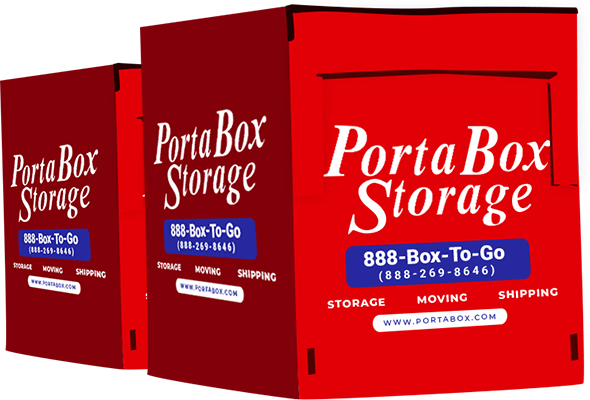 Time-Saving and Cost-Efficient
One-Time Loading & Unloading
Easy & Quick Access to Items
DIY Storage on Your Schedule
Organized Pickup and Delivery
State-Wide Area Coverage
No Minimum Weight Requirements
How PortaBox Works?
Order the necessary number of PortaBoxes.
Take your time to pack everything.
Arrange pick-up and storage destination.
Enjoy your temporary storage.
People seem to need storage more than ever nowadays. It's become a preferred approach to decluttering a household when relocating, remodeling, clearing out garages, etc. However, finding the optimal short-term or long-term storage solution to accommodate your belongings can consume valuable time and energy that you would probably rather invest in other more important activities. With PortaBox Storage, the storage rental process can be far simpler and more cost-effective than your typical self storage options. Our company delivers portable Redmond self storage containers. They are at ground level, weather-resistant, and super easy to load & unload. Give us a call or fill out our short online form and order yours today!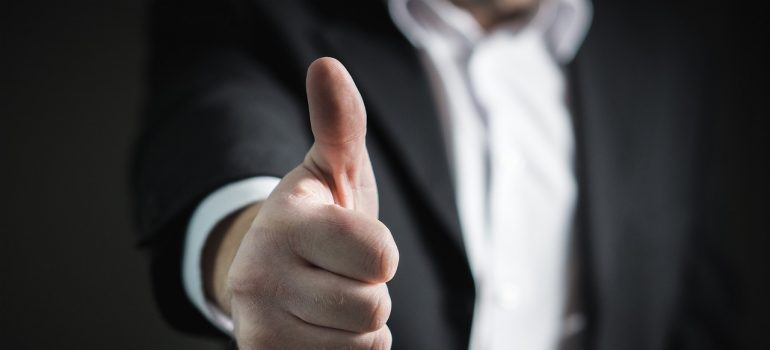 Trusted PortaBox storage solutions
With so many different companies and businesses in all industries, choosing the right provider can be a challenge. And yet the goal is always the same – you want a company that you can trust that provides excellent value and customer service. PortaBox Storage is a storage company that Redmond residents have been relying on for more than 25 years. Our team can always be counted on:
To provide you with

high-quality, weather-resistant Redmond self storage containers

,

For the

safe delivery and pick-up of your storage container(s)

,

To deliver

top-quality packing materials and supplies

,

For safeguarding your valuables in our secure self storage facility.
Order your Redmond self storage boxes today!
Clearing out your property and storing those belongings in an affordable storage solution is simple with PortaBox Storage. The reason our company maintains its excellent reputation across the Greater Seattle/Puget Sound area is that we place our customers ahead of everything else. With PortaBox, you can save the time of renting a truck or having to make multiple trips with your car to a nearby storage facility.
We offer a far simpler solution:
Choose your preferred number of portable storage containers

. That way, you never have to pay rent on storage space you don't need.

Work on your own schedule

. We will deliver empty PortaBoxes at a time most convenient for you so that you can pack them when you choose to do so. Our team will then pick up the PortaBoxes once loaded and safely transport them to our warehouse.

Our Redmond self storage containers are easy to load and unload

. You won't need ramps, special equipment, a rental truck or to spend valuable time on excessive handling.

We can store your belongings in a PortaBox at our warehouse or we can transport your PortaBox to a new location of your choosing.
PortaBox owns secure storage facilities in Seattle, Newcastle, and Lynnwood
Storing your important belongings can often be a more complicated process than it needs to be – securing your belongings in the most efficient manner is our specialty. Our temporary storage services are an excellent approach to keeping your inventory safe and accessible at less cost than most other options.
Your PortaBoxes will be stored in our temperature-controlled warehouse with constant security. The motion sensors, perimeter alarms, and fire systems are all here to ensure your belongings remain safe while they are in our custody. Our on-site staff is always here to provide you with the necessary guidance or assistance. There is no public access to the warehouse, and only you or someone authorized by you can access the containers during working hours.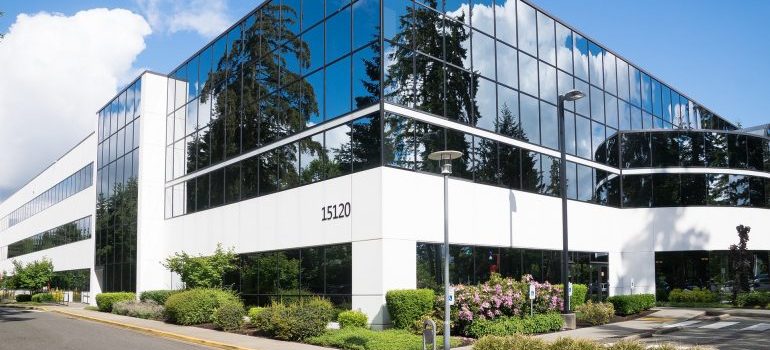 Our team is 100% committed to customer service and providing the best self storage solutions for your needs. Customers regularly tell us how pleased they are with our staff and the services offered by PortaBox.
Our storage packages are flexible – you can choose between 6-month, 3-month, and month-to-month plans. In case you are unsure what the best option for you is, feel free to contact our company. Our representatives are always pleased to explain how the PortaBox rental process works and help by sharing their experience.
PortaBox Storage provides hassle-free transportation at highly competitive rates
Hiring a professional relocation company for self storage needs can be expensive and complicated. With our Redmond self storage options, you get an alternative to the conventional moving and storage process. We deliver the containers to your front door, where you can pack them on your own time and without any pressure.
If you are changing your address and looking for an affordable way to transfer your possessions to a new home, you can order PortaBoxes, load them at your convenience, and then we can transport them to your new residence. 
Quality packing materials at your disposal
Our approach is holistic. Taking care of your belongings is just one aspect of our services. Assisting you through the planning and preparation process is where we really shine as well. Since our Redmond self storage units are placed at ground level, you won't need any special equipment or tools to load them.
However, you will need proper, top-quality packing materials to protect and secure your belongings during transport and storage in our secure warehouse. From moving boxes of all shapes and sizes to packing supplies and custom crates, you can count on receiving only premium quality materials that ensure your belongings are kept safe and secure.
PortaBox self storage containers are practical for local businesses as well
Our company has helped dozens of local Eastside businesses with storage, moving, and shipping needs in Redmond and the areas around it. We'll work with you to design a customized plan for moving or shipping your belongings quickly and with care. 
Our self storage options for Redmond locals are great for the companies as well as the families. Whether you are decluttering your offices and common areas or preparing a special staging area for commercial purposes, we have you covered. Many local companies use our PortaBox self storage units to store:
equipment and supplies,

trade show exhibits,

excess inventory,
We offer a wide range of solutions beyond just traditional moving and shipping services. If you are planning an upcoming move or require professional shipping services, we hope you will give us a call.
We offer a complete solution for all your moving and storage needs
Moving can be a stressful and overwhelming experience, but it doesn't have to be. Our company offers a complete solution for all your moving and storage needs, providing you with the peace of mind that comes with knowing that your belongings are in good hands.
Our team of experienced professionals can help you with every step of your move, from packing and loading your belongings to transporting them to your new home or storage unit. We understand that every move is unique, and we tailor our services to meet your specific needs. Our most popular services are:
Why are people in Redmond looking for storage solutions?
Redmond is a bustling city located in King County, Washington. The city is known for its thriving tech industry, with major companies like Microsoft and Nintendo of America calling it home. As the population of Redmond continues to grow, the demand for housing and storage options has also increased. So many people in Redmond are looking for self-storage solutions for a variety of reasons.
Lack of storage space is a common problem in Redmond homes and apartments
As Redmond's population grows, the demand for housing has increased, resulting in the construction of new housing units. However, with the focus on developing smaller living spaces to accommodate the growing population, storage space can often be a challenge. Smaller apartments and condos may not have enough closet space or built-in storage to accommodate the belongings of residents, leading to cluttered living spaces that can negatively impact their quality of life.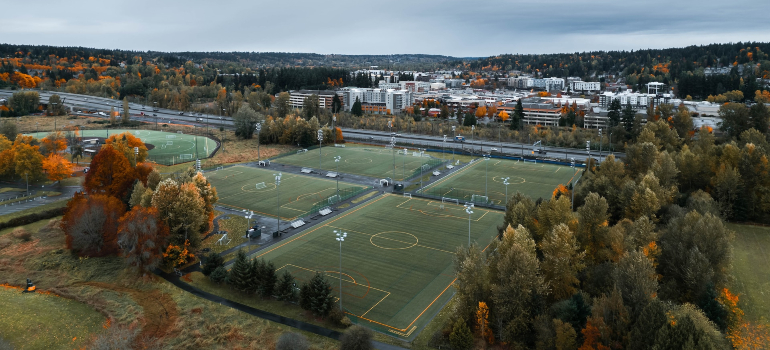 This lack of storage space can be particularly challenging for those who work in the tech industry, which is a major economic driver for the city. These individuals often have valuable equipment and tools that they need to keep secure, but may not have space in their homes to do so. Additionally, many tech workers in Redmond work from home or have remote jobs, further adding to the need for additional storage space.
Redmond self storage is especially useful during a relocation
Redmond is a popular destination for people who work in the tech industry. Many of these individuals may move to the city from other parts of the country or even from other parts of the world. When moving, it may not be practical to bring all of one's belongings to a new home right away. Self-storage units can provide a temporary solution for storing items until a more permanent living situation is secured.
Self storage is useful in Redmond because the town experiences all four seasons
Redmond experiences all four seasons, and each season comes with its own set of activities and equipment. For example, during the winter months, many Redmond residents enjoy skiing and snowboarding, which requires bulky equipment that can be difficult to store at home. Self-storage units provide a convenient solution for storing seasonal items when they're not in use.
A lot of people in Redmond are downsizing
Redmond is also home to many retirees who are downsizing from larger homes to smaller apartments or retirement communities. In these cases, self-storage can be a great option for storing items that won't fit in their new living space. Those items can include holiday decorations, family heirlooms, and other sentimental items.
Contact us for the best portable storage options in Redmond
Whether you are searching for exceptional packing supplies, short-term and long-term Redmond self storage options, or residential/commercial shipping solutions – PortaBox Storage is the smart choice for your needs. Get in touch with our PortaBox Storage team today, and let's start planning your storage project together!