5 hobbies that benefit from renting self storage
Being inventive is such a blessing. Are you green-fingered? Or a DIY enthusiast? A gifted musician, photographer, or a crafty mechanic perhaps? Maybe you're an indefatigable outdoors fanatic, a painter or you have a knack for interior design. Anyways, breathing new life into your home, or nurturing your creative and explorative spirit will at some point result in piles of clutter in your home. So, figuring out the optimal way to stash your life-enhancing tools and equipment will not only free up your living space but will enable you to enjoy your avocations with more comfort and in an organized manner that doesn't create a mess in your daily life. Thus, PortaBox Storage shares some of the hobbies that benefit from renting self storage. If your exact specialty isn't listed below, use your creativity to relate it to the mentioned crafts and pastimes, and benefit from our expert tips.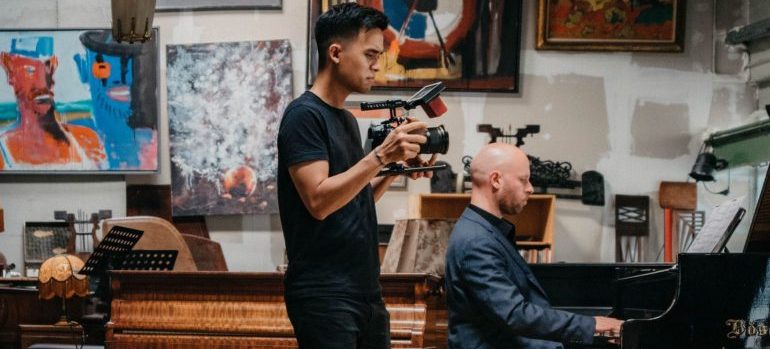 Why should you consider self storage for the benefit of your avocation?
Almost all hobbies require some sort of equipment and tools in one way or another. And so, making it possible for yourself to do what you really love will require you to stash on specific items. However, it won't be long before you realize that keeping all of this at home is inconvenient for many reasons. So, this can be due to space limitations. Also, the safety aspect may raise a concern, and this be it in a way that your valuable items simply aren't safe in the garage, or your kids have their way with them. Thus, it's only natural to think about your best door to door storage Seattle solutions.
Hence, renting that extra safe space is beneficial for most, if not all hobbies that you're truly passionate about. In doing so, you get to indulge in your favorite activities with not much of a burdening thought. So, let's see what avocations get the most advantage from a self-storage rental.
What are some of the hobbies that benefit from renting self storage?
All hobbies requiring some sort of props will benefit from renting self storage. But, didn't we just mention that? As it's not possible to list all pastimes at once, we'll stick to the most popular ones that get the most benefit out of self-storage usage. So, let's jump right into it, and see what those are.
DIY arts and crafts
Music and Photography
Outdoor activities
Up-cycling and remodeling
Collecting
Self storage is a commodity for every DIY wizard
If you have nifty hands, a home studio is likely the creative oasis that you're craving. While space is an issue for most of us, having one of these is also not a guarantee that you'll be able to keep all the tools of the trade in that space. However, mobile storage containers Seattle are the ideal option you should look into. These are the right fit for all DIY crafts. No matter if it's your gardening equipment, sawing tools, or large painting canvases, they'll be well protected in one of our self storage facilities. One phone call and our team will deliver the containers to your address and organize a pickup as soon as they are loaded up. So, among the hobbies that benefit from renting self storage are all of those that require tools for building from scratch, or a remake.
A safe and affordable solution for musicians and photographers
Musical instruments, DJ and recording equipment, and cameras are sensitive items. So, these are among the hobbies that farewell the most from a self-storage rental. Keeping them at home puts them at risk of getting damaged while not in use. Besides, they take up a lot of space. And so, self storage Lynnwood WA allows you to provide your costly equipment with a comfortable and safe shelter.
Hobbies that benefit from renting self-storage – almost all involving the outdoors
As an outdoors enthusiast, you'd know that quality equipment is a must to enjoy any activity. From bikes and tents to fishing equipment and surfboards, all of it is costly. And while there are many great storage hacks for sports gear, the most affordable, convenient, and versatile option for the safekeeping of your outdoor equipment is renting self storage. Therefore, among the hobbies that get the most out of renting self-storage surely are all of those that involve the outdoors.
Remodeling and upcycling aficionados will be blessed by the perks of a self storage container
Are you a fixer-upper enthusiast? If you enjoy upcycling of any sort, your hobby is most certainly among those that benefit from renting self-storage the most. Whether it's redesigning antiques and furniture, clothes, or mechanical devices, self-storage will allow you to stash the items of your way, and keep your garage or the attic clean from clutter. These storage units will keep your treasures safe from thefts, and protected from the elements. Therefore, benefit your hobby, and perhaps even increase your production capacity with the help of self storage.
Self-storage is an appropriate solution for collectors
Many people indulge in the emotional or monetary value of collectorship. Anything can be a collectible – stamps, toys, antiques, old records, or strips and books. Self-storage allows you to keep your collection in an organized manner and get the best out of your hobby. At times, the bulk of a collection can feel and appear as clutter in the living space. So, with portable self storage unit, you'll free up the areas you use daily, and keep them neat and tidy. Therefore, various types of collecting hobbies will surely benefit from the perks of a self storage unit.
In summary, this is our pick of hobbies that benefit from renting self storage. Surely, these positive hints will help you with enhancing your experience and enjoying your favorite pastime with improved quality. Good luck.