5 self storage ideas for small living spaces
Organizing smaller living spaces can present people with a challenge. Looking for good solutions requires some creativity, which can make it a lot more fun. Thankfully, there are also some proven ways to make your smaller spaces neat. Our team at PortaBox Storage Seattle is skilled at finding amazing storage solutions. No matter the type of storage challenge, we are up to the task. If you are looking for self storage ideas for small living spaces, look no further. Simply give us a call and we will be glad to answer any questions you have.
Coming up with self storage ideas for small living spaces can be a fun process
While organizing your space usually doesn't seem like much fun, we assure you that it can become very creative. Thinking outside the box is usually everything necessary. For instance, did you know that organizing your small space can be much more affordable than it seems? You will also find great assistance with the right storage company. A great company can help you find short term storage Seattle and much more. Along with that, they may help you think of storage ideas for small living spaces.
The experience that reputable storage companies have makes them knowledgeable and reliable in these matters. Also, it is soothing to know that there are many quality storage options available for your needs. The benefits of having additional storage space are many, from having more living space to saving money. Short term storage is especially suitable for those times when you need to find a quick solution without big obligations.
Renting storage spaces
Having less living space means you will have to find additional room for your things. This can mean anything from building extra details in your apartment or renting storage space. If you want to find a good storage solution, it is important to pay attention to these details. Firstly, is the company of your choice reputable and trustworthy? Try to avoid scammers by all means possible.
Secondly, what type of items would you like to store? Some of your personal belongings require special storage conditions. These can include special humidity, temperature, and more. That is why choosing a company that qualifies for good storage solutions is imperative. Our self storage Bothell is one of those storage options that will live up to high standards. Storing your items in highly well-kept and temperature-controlled conditions helps to keep them safe and intact for long periods. If you are storing some valuables and collectibles, this step is even more important.
These storage ideas for small living spaces can be a great asset
Finding solutions for your smaller space organizing is a fun and creative process. You can use whatever type of approach you like, and any type of storage solution you like. All that matters are your personal preferences. We thought of some proven storage ideas for small living spaces that can be useful to you in times of need.
Think in terms of layering
The most important rule in small spaces is using as little space as you can. This can be done easily by layering your things. For instance, you can add shelves both to the top of your kitchen desk and below it as well. You can also store your books in a box and use it as a living room table. Many things you would normally use can be transformed into storage-friendly furniture. So remember to think about that when looking for storage ideas for small living spaces. It can become a very creative way of finding storage solutions. You can also try to make:
Kitchen hangers for utensils
Cabinets for divided purposes
Additional shelves and hidden storage 
Smaller can be bigger
Even the smallest change can make a big difference. You can add a shelf system in some of the smaller or more invisible corners of the house to make the space less crowded. It is amazing how different the entire apartment seems with such a little change. Also, the boxes and shelves you use don't have to be particularly wide or large. Any type of add-in can help save space. Hooks and caddies may be a fantastic solution for smaller spaces. There is also a wide range of these storage offers on popular websites such as Amazon.
While it is very easy to find boxing and storing materials, you can also contact us at PortaBox. Our team has plenty of experience in both storing and packing, so choosing packing materials will be swift and easy. You can also rely on our mobile storage containers Seattle. No obstacle is too big when you have the right assistance.
Think inside the box (literally!)
Boxes of any sort are a great way of storing your belongings. Smaller, bigger, plastic, or wooden, any type of box can be your small space solution. They can also be put on top of one another or made into tables and seats of all sorts. Therefore, it is no surprise that they are such a popular choice in storage solutions.
Indoor storage ideas for small living spaces
Believe it or not, your doors have more purposes than it seems. Your kitchen cabinets can be used for various purposes. Put hooks from the inside of the doors and you will be surprised at how much space it brings you. You can even install smaller shelves for your spices and bags. Don't be afraid of getting creative, as you can also decorate your storage any way you want!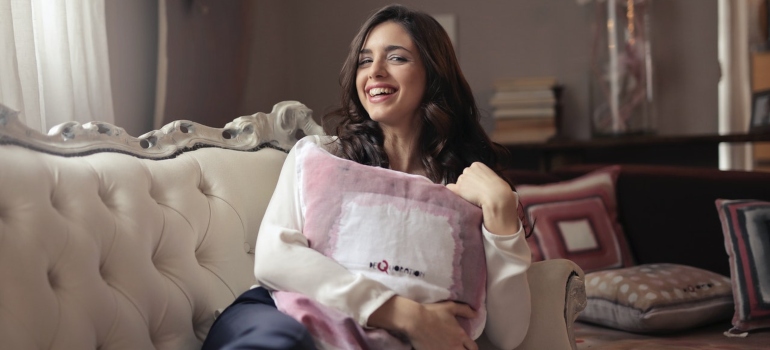 It's not just the storage, but the way it's stored as well
Having less space means that you will have to clean up more often and make everything seem to be put together. Some people opt for minimalism, others use smart solutions. The way you store your things is one such solution. For example, your clothes don't have to be folded, but they can be rolled to save space. You can have double the space in your closet by packing two pairs of shoes in one compartment. Or, divide your drawers into smaller sections to make them more organized. Any small change is visible when you are living in smaller spaces. 
Do you have more self storage ideas for small living spaces?
Since finding storage solutions is such a creative process, you will probably find many of your own. Depending on the type of materials you use, and the type of furniture you have, who knows how many different ways of storing you will discover? If you come up with some exceptionally good self storage ideas for small living spaces, you can also try sharing them online. There are many small apartment decorating websites suitable for sharing. However, one thing is for sure: many people will be amazed simply by taking a look at your next apartment. They will be the best recommendation you can get!