6 common packing mistakes that people make when storing items
If you are planning to take your items to a storage unit, you will need to pack them beforehand. Now, the packing process for storing items is misleadingly "easy". It is all too common to fall prey to common packing mistakes when going through it. You might not give yourself enough time or you might not buy enough supplies, that sort of thing. The best way not to make a mistake is to get familiar with them. Therefore, before you relocate your items to one of the Bellevue self storage facilities, you might want to familiarize yourself with these common errors. And that is exactly what you will do by reading this article.
6 common packing mistakes and how to avoid them
Here's a list of all the most common packing errors that you may succumb to:
Not getting enough supplies
Packing everything you see
Not enough protection
Not planning ahead
Giving yourself too little time
Being too meticulous about packing
The important thing is that you take time to think about the whole process. But not too much time, as that may hinder your other efforts. How to strike the "perfect balance", then? There is no right answer for everyone, unfortunately. What you can do is set the time limit for every stage of the packing process. But even that may be insufficient. The best thing to do is to consult self storage Boise professionals when you are considering how to pack fragile and more valuable items. They can provide you with expert advice on how to make the most out of the packing process. But for now, let's focus on not making any important mistakes.
Common mistake #1: Not having enough supplies
Almost every packing process starts the same, you try to boost your productivity and pack item after item only to realize that you are out of supplies at one point. This ends up with a necessary run to the store, which saps you of the time you have allotted to the packing process. It also gets you out of the "packing mindset", lowering the productivity of future efforts.
The simplest way to avoid this particular mistake is to simply purchase a bit more supplies than what you need. There are numerous calculators floating around the internet and you might want to utilize them to make sure that you will have enough supplies. You will need to input some general information such as the size of your home, the number of items you have, and the packing style of your preference.
Alternatively, you can get in touch with PortaBox Storage Seattle and we can help you out. Our team of experts will deduce the optimal supply and can even provide you with all the necessary materials and containers you might need.
Common packing mistakes #2: No decluttering
The next mistake is packing everything that you lay your eyes on. The fact of the matter is that taking your items to a storage unit is the perfect time to get rid of the clutter. By not doing so, you will make it harder on yourself on several "fronts". First, the process will require more packing supplies. Second, unpacking will be a lot more difficult. And finally, it will use up a lot of your time and energy unnecessarily so.
To avoid this mistake, you will want to separate the items depending on their usefulness. If you have some belongings that haven't seen a use for, let's say a year, these are the prime candidates to leave behind. Anything that does not serve any purpose, or is replaced by newer items goes into the same pile.
Common mistake #3: Not securing your items
Sometimes, you may be enticed to simply throw things inside a box and hope for the best. And that is a wrong approach to take when it comes to packing. However, it is easy to make this mistake thinking that your belongings are "safe enough". While some items can endure such treatment, others might not. Therefore, you might want to take some time to think about which of your belongings require added protection.
Normally, you may want to utilize packing materials for anything that is breakable, as well as your electronics and less-durable plastic items. You don't need all that much to secure your items, really. Some packing paper and bubble wrap will be just fine. You can even utilize "homemade" solutions such as linens and socks.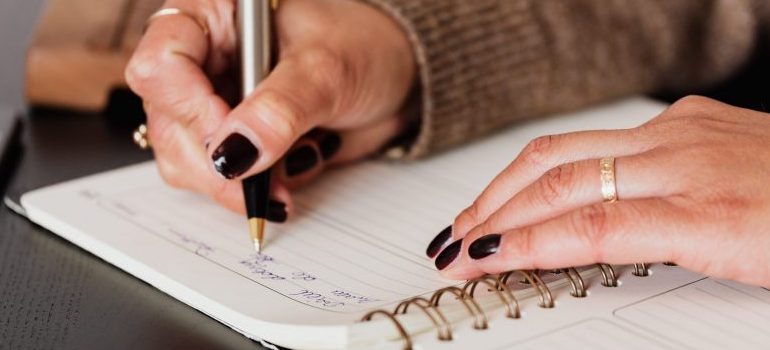 Common mistake #4: Not having a plan
The packing process is as much mental exertion as it is a physical one. The more thought you put into it, the better it will be. One of the most common mistakes is to disregard the need to think and simply start packing without any real plan. This may result in more energy being wasted, as well as more time required to pack. Needless to say, the packing process will be far from optimal.
If you want to avoid this mistake, all you need to do is create a plan ahead of time. It's advisable that you write it down but having it in your head will do in a hurry. What you want to do is to create a "blueprint" of the packing process. Note the order of packing and any special necessities your items might require.
Common packing mistakes #5: Too little time to pack
As far as packing mistakes go, this is one of the worst. Even if you take great care to avoid all the others, if you don't avoid this one it's all for naught. Well, perhaps not that disastrous but having enough time is quite important. The less time you devote to the packing process, the more prone you will be to making other common mistakes (and quite a few uncommon ones). Working under time pressure is stressful, after all, and you don't want any undue stress on your proverbial plate. So, make sure you have plenty of time to finish the packing process!
Common mistake #6: Perfectionism
The last mistake has to do with wanting to do everything "perfectly". The reason why this is a mistake is that it is effectively a huge waste of time. You don't need to be overly meticulous when packing your belongings, nor do you need to play Tetris with them.
There is no absolutely perfect way to pack items for storage. If you want to make the process as best as you can and avoid all the common packing mistakes, try to optimize the time and resources that are at your disposal. Being a perfectionist is a huge boon if you apply it to the right spot.