Advantages of portable storage during COVID-19
2020 is a year that will be remembered as the year of social distancing and quarantines caused by the novel coronavirus pandemic. While many industries suffered incredible consequences because of different restrictions, the self storage industry has been operating in the same capacity, with certain changes to tailor to the COVID-19 rules and regulations. So, if you have found yourself in need of storage solutions, know that you will be able to easily find one. However, what we here at PortaBox Storage Seattle know is that not every storage solution brings the same advantages. In the midst of a global pandemic, renting portable storage is the smart contactless solution people look for. We know that there are many advantages of portable storage during COVID-19 – and we don't mind sharing our findings with you.
The biggest advantages of portable storage during COVID-19
Bear in mind that these are only some of the benefits you can expect to experience after renting a portable storage solution. While you might be able to find another benefit that isn't listed here, we do believe that these advantages alone will be enough for you to see the gains in renting contactless portable storage containers. The following are only some of the reasons why you might consider renting a portable storage unit.
1. Portable storage gets delivered to your property
One of the biggest hassles of renting a storage solution used to be the process of touring different storage facilities. Today, you get to avoid all of those problems by picking up your phone and having a portable storage unit delivered to your address. In the era of social distancing, we don't have to tell you just how useful this fact is. You get to rent on demand storage Seattle for your needs without having to leave the comfort of your home. You can even contact multiple storage providers to check which of their services work best for your needs and budget.
2. Limited access
Limiting all contact with other people and reducing it to a bare minimum has become a trademark of 2020. But you don't want to limit contact with just other people – you also want to limit their contact with your possessions. With a portable storage unit in Seattle, that is precisely what you will manage to do.
Thus, you will be the only person who can access your belongings. And you don't need us to tell you how convenient the fact that your items will be within reach is. This way, you can pack all those extra belongings that you have no use for at this time. From sports equipment to fine china and packing materials, our portable storage containers can accommodate everything you want to clear out on a short-term or long-term basis.
3. Convenient to use
Even though life has significantly slowed down in the last year, it can't be denied that we are almost always left wanting more time. So if you are looking for convenient shortcuts, you shouldn't hesitate to rent a portable storage unit. Not only will you manage to save time but you will also manage to save your energy. You won't have to go out looking for residential and business storage Seattle solutions – they will come to you.
4. Portable storage containers are among the safest storage solutions around
When looking for a storage solution, everyone's first priority is safety – as well as it should be. After all, you haven't spent years working to obtain your precious and valuable items just to see them damaged while in storage. That being said, it goes without saying that you will go out of your way just to find a safe storage solution. In that case, you should know that renting portable storage solutions is most likely your best bet when it comes to safe storage. Your units will remain sheltered and safe in our secured warehouse where you can access them with just one business day's notice.
Moreover, if you invest in temperature-controlled storage, then you will have protected your items against harmful weather, as well. Bear in mind that there are some items that belong in temperature-controlled storage as they are fragile and expensive. It's always better to be safe than sorry.
5. You don't have to go through measuring and choosing storage sizes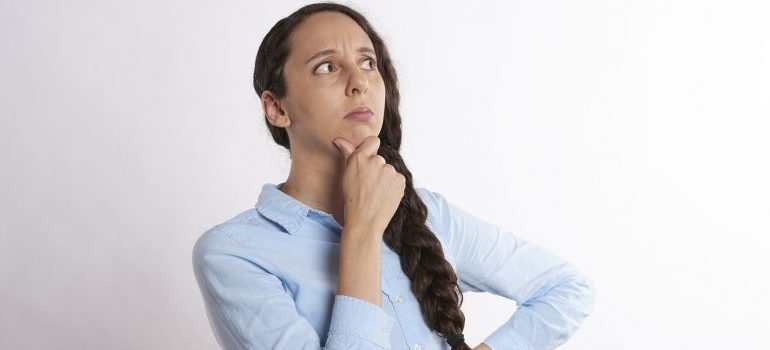 One of the most common problems when choosing a storage unit is finding a unit that is of just the right size. You don't want to overpay for a unit that is too big yet you want to fit all of your items comfortably. That is where portable storage enters the scene – where all units are of the same size.
You have the option of renting one or multiple storage containers, depending on how many belongings you have. Of course, should your needs ever change, you could switch to a different storage plan. In times of uncertainty caused by COVID-19, having flexible services is one of the biggest privileges. You won't have to worry about changing your address or running out of money – you are always in control.
Should you rent portable storage during COVID-19?
Whether or not you should rent a portable storage unit is up to you. The important thing before making that call is to have all the facts, which we've provided here. What we can tell you is that there are many advantages of portable storage during COVID-19 that it might be a good idea to give it a thought. Portable storage will help you bypass all the hassle that accompanies traditional storage solutions. At the same time, you will reap all the benefits of the aforementioned solutions. It goes without saying that the final decision is solely up to you. So sit down, assess your needs, and act fast. The best storage solutions are quickly rented out.