At-home packing materials you can use for storage
People today are looking for ways to minimize their storage expenses. Even though storage is a necessity, it is often not among our priorities. That is why many people try to avoid the costs that go along with it as much as they can. Some people go with cheaper facilities or rent storage space somewhere on the outskirts of the city. However, these are not the best solutions as they only seemingly lower the cost and could cost much more in the end. Our suggestion is to always make sure that your items are stored in the best storage units North Seattle can provide. And that you try to save by using at-home packing materials that you already have.
Not every storage is good for your items
Even though storage facilities are made to keep people's items safe, too often are they the cause of their destruction. Moisture, mold, pests, dirt, inadequate temperature are just some of the issues that you can find in traditional storage facilities and units these days. That is why packaging became one of the most important parts when it comes to storing your items. The use of quality packing materials can keep your items safe from all the above-mentioned issues.
However, no one can guarantee that your items will survive in inadequate conditions regardless of the packing materials you applied. Therefore, the only proper solution is to make an effort and rent modern portable Newcastle self storage provides a perfect environment for preserving items long term. But even in these cases, how you choose to pack your belongings plays a significant role in preserving your belongings.
Advantages of standard packing materials
Of course, nothing is preventing you from buying standard cardboard boxes even once you find and rent the best on demand storage Seattle. Standard moving boxes are easy to use, sturdy, provide good protection, and they are good at saving space as they can be easily stacked and arranged around your storage unit. Moreover, if you use cardboard boxes, you can label them simply by writing on them with a permanent marker. That is how you will have an easier time finding your items.
Another advantage of cardboard boxes is that they come in various shapes and sizes. Therefore, you can find small, medium, and large boxes, as well as specialized boxes for mirrors, dishes, clothes, mattresses, etc. Of course, it all depends on your needs and willingness to invest. No one is forcing you to buy packing materials Seattle, especially if you have good storage. They are important only when you are storing your items in an inadequate space.
With at-home packing materials, you need to find a good storage facility
By now, you've probably realized that renting the cheapest storage is not the way to keep your items safe. And that investing even in the best packing materials is not a bulletproof solution. In fact, finding a reliable storage facility is mandatory if you want to keep your belongings intact for longer periods of time. So let's take a look at how to find the perfect storage solution for your needs:
How to locate a good storage company
When you look at storage companies, you need to find ones that offer not only competitive rates but also good conditions with great reviews. In the past, people would limit themselves to storage facilities in their vicinity so that they could save time and effort on driving up to the storage and inspecting it. However, PortaBox Storage has a more modern approach, with portable self storage containers that come to you, no matter where you are. That way, you don't have to go through the trouble of visiting storage facilities or driving up there and laboring with your boxes and belongings.
Instead, you get your own portable storage container that you can inspect and load on the spot, which we then deliver to one of our storage facilities and keep safe under controlled and secure conditions. This is a very straightforward and practical approach that caters to the remote needs of the fast-paced lifestyle of people today.
At-home packing materials that you can use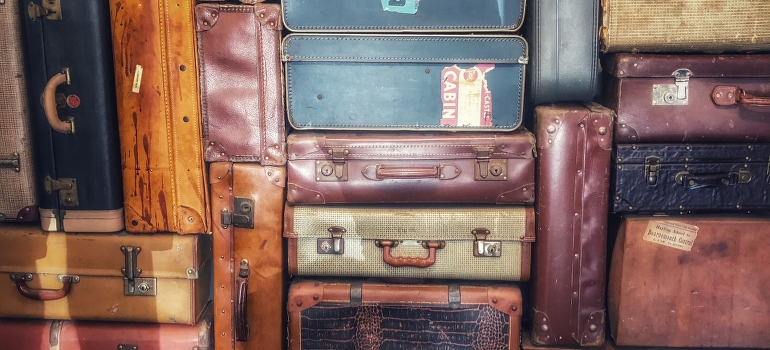 Once you pick a good storage facility that offers good conditions for your items, the type of packing materials you will use will not be that important. And now we come to the subject of our article – at-home packing materials you can use for storage. If you have never done this before you will be surprised how many items in your home can serve as packaging. Here are some ideas:
Suitcases, travel bags, plastic trash bins, plastic storage containers instead of boxes
Trash bags for clothes
Towels, bed linens, clothing, socks for padding and wrapping
These items can serve as packaging very well. Sometimes they can even be better than traditional cartons. If you are storing wardrobes, closets, desks with drawers, and similar furniture they can also be used as a kind of protection for your items. Transport them into storage empty and load them with your smaller items once you are inside a storage unit.
Use this packaging only if you are storing your items in proper conditions
As you can see, there are many ways to avoid paying for packaging when storing your items. However, you need to make sure that your items will be in proper conditions in order to use at-home packing materials as a replacement for cardboard boxes.