Benefits of storage for retail businesses
Running a retail business is hard work. There are a lot of things to keep track of – stock, documentation, deliveries, pricing, marketing, and so much more. You don't need to add worrying about storage on top of that, right? Wrong! There are numerous benefits of storage for retail businesses. In fact, you are probably already managing some form of storage space without even realizing it. Your filing room or stockroom is a type of storage. So why not expand that space with the help of PortaBox Storage and our portable storage units? We promise that you'll get to enjoy some excellent upsides to having extra space.
Main benefits of storage for retail businesses
There are many benefits to using Redmond self storage as an individual. You can free up some space in your home, declutter without throwing stuff away, and make packing and moving easier. You'll get similar benefits when renting storage for your retail business. Businesses primarily use commercial storage to save space, keep important documents and other equipment safe, and simplify the moving process. These are the biggest advantages of having a storage unit at your disposal.
More space
The most obvious benefit of renting a storage unit is also the main reason people rent storage at all: you have more space for all your belongings. Instead of cluttering your office with hundreds of boxes or paperwork or filling your stockroom with seasonal products you don't need yet, you can put those away in off-site storage. This frees up space on your own premises which you can then use for other things. An additional benefit to all this extra space can be the fact that you won't need to look for a new location when your business grows. Even if you hire more workers or expand in other ways, you'll have plenty of space to continue doing business with all the unnecessary clutter out of the way.
More security
It's smart not to put all your eggs in one basket. So why would you put your entire business in one place? No, splitting up your stock and equipment into different locations is a type of valuation policy. Even if something happens to your business, whether that's a natural disaster or robbery, the things you put in storage will be safe. That way you can be certain that at least some part of your business is always secure.
Modern commercial storage units typically have excellent security measures. This can include different types of locks, fenced-in facilities, 24/7 camera surveillance, patrolling guards, and more. So if you find a unit like this that's more secure than your own premises, you may want to store important documents and valuable merchandise there.
A quick and temporary solution
Storage is all about convenience. It's a way to temporarily and without serious commitment expand the space that's available to you. So when you're moving, renovating, or simply reorganizing your business premises, storage can be a great option for getting things out of the way for a while. You can store your products and equipment while you look for a new space or improve your current premises. These types of business storage Seattle solutions are also great when you have to fluctuate stock and never know just how much space you'll need. If you have a storage unit at your disposal, you don't have to worry that you've ordered too many products and won't have anywhere to put them. And the best part is that storage contracts aren't permanent. If you think that you won't need extra space for long, you can always just rent by the month.
Unexpected benefits of storage for retail businesses
All the benefits of Bellevue storage we've looked at so far are pretty self-evident. They're exactly what you would expect to achieve by renting storage for your retail business. But there are certain less known advantages to using commercial storage as well. For example, did you know that using storage can indirectly lead to more productivity? That's just one of the many advantages of business storage that you might not know about.
More productivity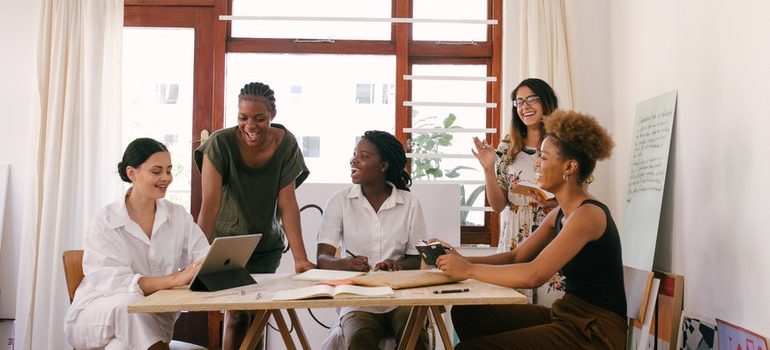 Using storage isn't directly related to the productivity and efficiency of your business. But it does have a palpable effect on both. Firstly, using storage for excess documents, stock, and furniture will free up space. This allows you and your employees to reorganize the space to better suit your needs and to move around more efficiently without anything in the way. Secondly, there are psychological benefits to decluttering. When you remove the clutter, you remove the distractions. It becomes easier for your brain to focus on the tasks you're doing. This leads to increased productivity which, in turn, helps your business grow.
Increased health and safety
Clutter doesn't just negatively affect mental health. It can be an actual danger to physical health too. Retail work typically requires people to move around a lot, often while carrying things. Clutter will make that harder. If you have a lot of stuff lying around, people might trip and fall, bang their hips and elbows on furniture corners, stub their toes, and injure themselves in other ways. And the more stuff you have, the more dirt and dust it attracts which can also be a health hazard. Putting the things your business doesn't need on a daily basis in storage will resolve at least some of these issues.
Do the benefits of storage for retail businesses outweigh the downsides?
The purpose of any business is to make money. Storage is an additional expense that cuts into your profits. So you might be reluctant to rent a storage unit for your business. But storage is not as expensive as you probably think. And the benefits of storage for retail businesses are numerous. The productivity and efficiency that you'll gain by using storage will also help make up for the cost of it. So renting a storage unit for your business is often the smartest option.