Clever storage hacks for large families
How many people live in your household? With so many people living under one roof, do you ever feel like there isn't enough space for everything? It's okay; you're not the only one feeling this way. As time goes on, every member of a big family tends to accumulate a lot of stuff, which may become a major inconvenience for everyone. Take a look at these smart storage hacks for large families if you're tired of your home being cluttered and want your large family to enjoy using all the space in the house again.
Our 8 storage hacks for large families you will love
Large families are usually the best customers for many self storage Seattle units. But before thinking about renting one, maybe you could see if you can create some more space in your house. Establishing and simplifying family practices can help you stay calm and connected as your family grows and your schedule becomes busier. Use these strategies for organizing a big family and clever storage hacks for large families to keep everyone running smoothly.
1. Have a Family Cleaning Day
Give everyone a day or a weekend to clean out their spaces. The kids might be more motivated to sell their belongings if they know they'll be contributing to a day trip fund. When everyone on the team is on the same page about the reason for the purge, decluttering can become a lot of fun.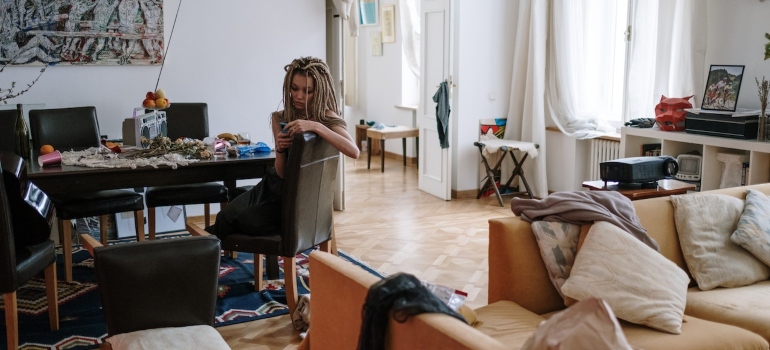 2. Reconsider your home layout
Perhaps you've grown accustomed to one room as a dumping ground. Or maybe you keep boxes of unused exercise equipment in the corner of the living room. It's easy to stop paying attention to the little things in life once you've become accustomed to them. Looking around as though you've just moved in may help you spot unclaimed space. And start taking advantage of it.
3. Buy modular furniture
Because there are so many members, a large family inevitably has many possessions. Think about getting new furniture that has greater storage space and getting rid of the old pieces. Furnishings that don't double as storage might often be too big for the room. Substituting a different item might provide the same functionality while also increasing your storage capacity.
4. Outdoor storage!
Consider installing garden storage boxes if your yard is very spacious. They make it simple to stow away things like camping supplies and recreational equipment in a secure location outside the home. As time goes on, most individuals accumulate a lot of stuff, making storage space a problem for large families. You can also look for some portable storage containers near me online so that you can store your excess stuff that way. The best thing about them is that you can get your portable storage container delivered to your home whenever you need it.
5. Get a few stackable storage containers
This time-saving organizing tip is invaluable. Stackable storage containers may be used to eliminate clutter in a variety of rooms and storage areas across the home, including the laundry room, kitchen, children's bedrooms, office, and linen closet. Use containers with labels on the front for simple identification and retrieval; shop for the same brand if possible. And stock up on a variety of sizes to accommodate diverse storage requirements throughout the home. Let's get organized!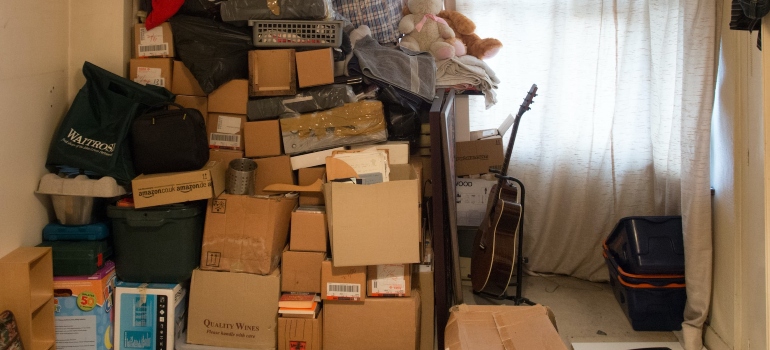 6. Try storage dividers
Use cutlery dividers in the bathroom drawers and the kids' home desks to organize the accessories and stationery that tend to get mixed up. If you have messy drawers throughout the house, try this easy, quick, and efficient method. First, educate your children on where things go by labeling their belongings, and then observe their growing sense of order. As an added piece of advice, save some blank or random dividers for when your children are older and their needs have changed.
7. Low-Cost Storage Facilities
For those who need more room in their homes but don't want to spend a fortune, a cheap self storage Lynnwood WA is a great option. You may make it as large as a mansion, or as little as a locker at the gym. You may free up more room at your house by storing seasonal things like camping gear, holiday decorations, and summer toys at a facility that offers flexible contracts and quick access.
8. Color-coding to save the day!
Give each member of the household (including the spouse) a color. Purchase items like totes, mugs, socks, and notebooks in the same color scheme wherever feasible. This will make it much simpler to hunt down missing objects and clarify whose possessions are there. If you and your family won't want to leave the home looking like the Teletubbies, you might all wear the same pattern or design, such as leopard print or geometric patterns.
With the options above, and a little effort and imagination, you likely have more storage and space than you know to make your family home more comfortable and roomy.
Final notes
Creating routines that are practical for you and your loved ones is an important part of becoming and staying organized. Sit down at family meetings and develop a list of tasks that need to be performed every morning and night, daily, weekly, fortnightly, and monthly.
Once everyone is on the same page, you can start working on your new habits and incorporate these storage hacks for large families together. The most important thing is that you began, so don't give up if things don't go as planned in the first week. If you really have a lot of stuff in your house, door to door storage Seattle is a great solution to this problem.