Contactless self-storage rentals and how to implement them?
During the course of the last several months, COVID-19 managed to spread worldwide. Every day, we get a chance to witness just how dangerous the novel coronavirus really is. It is for that reason that many companies have been compelled to speed up their digital transformation. What would usually be a slow and steady process is now something that is taking place almost overnight. Considering the fact that storage is considered as an essential service, many companies are now providing a chance of renting a unit without any physical touch. Contactless self-storage rentals aren't a fancy change – they are a necessity in the world that is overrun by the coronavirus. So, if you are thinking about renting temporary storage in Seattle, we suggest you first read this guide.
The basics about contactless self-storage rentals
As the name of these rentals suggests, contactless storage rentals are a process that allows you to gain access to a Lynnwood self-storage facility without coming in physical contact with the employees of the storage company. The way you achieve that is by contacting the company over the phone or online. This is a great way for storage companies to provide their services in a way that preserves the health of both their customers and their employees. Not to mention that this will be a great option even after the coronavirus pandemic reaches its final stages.
So if you continue with business as usual, it is highly recommended that you advise your customers to opt for no-contact self-storage rentals. But what you need to have is a carefully designed strategy in place as you want (and need) for the entire process to go as smoothly as possible.
How do these solutions work?
Believe it or not, contactless storage rental could be a much easier option when compared to the conventional approach. Now, customers are offered an online calculator that can help them choose a suitable unit size, the perfect location, and the preferred type of unit. It's important to mention that many storage companies have conveniently composed online tutorials and put them up on their websites. You will have to admit that choosing the best range of storage services for you is much easier this way.
In case you run into problems while choosing the size of the unit that you need, you can always rely on company employees. You have representatives who are still available for guidance and ready to answer all of your questions. Finally, you also have the option of arranging an online meeting where you can have a professional help you assess your storage needs.
It's also important to mention that tenants can still access their unit anytime during the working hours. However, they don't have to come face to face with any employees. And all they have to do to get the process going is to sign a lease online and skip the rental counter. You have to admit that contactless self-storage rental is super convenient.
How can you protect yourself in case you can't avoid face-to-face contact?
During the COVID-19 pandemic, all face-to-face contact should be reduced to a minimum. However, sometimes you just can't avoid a trip to the storage facility and meeting their representative. In order to slow the spread of the virus, all companies now follow social distancing rules. Once you can't distance yourself from social contact, then you need to follow the six feet rule. The six feet rule states that there should be a distance of six feet between you and any other person in your vicinity.
If you are an owner of a storage company, there are a few things you should do. For starters, it will be your duty to put marks in your office where people can stand. Mark the floor with tape by measuring six feet from your desk, then mark another six feet from the first mark, and so on as necessary. Moreover, when you need to give your customer a lock or have him/her sign a storage rental, leave the object on the desk and move away while the customer retrieves it.
As a storage company ourselves, we have had a hard time coming up with the best business solutions that will also be the most convenient ones for our customers. But we believe we have achieved the perfect balance, and we will let you be the judge of that the next time you need contactless storage solutions.
What else can you do to protect yourself?
There is only so much that storage providers can do in order to protect the health of their customers and employees. The truth is that a lot of responsibility will fall on the shoulders of the tenants. If no-contact storage solutions aren't an option for you, what you need to do is:
Wear a face mask and gloves.
Avoid touching your face.
Stay home if you feel any signs of a respiratory infection.
As for the employees, they also need to follow a proper regimen that is based mostly on proper hygiene. If you are a representative of a storage company, it is your duty to:
Frequently disinfect all surfaces in the office.
Regularly let fresh air inside by opening the windows.
Always wear gloves and a face mask.
Wash your hands every 20 minutes.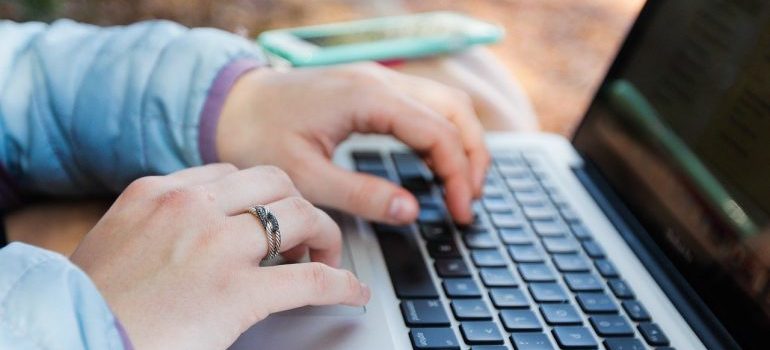 We know that life during coronavirus pandemic can be very hard. And it will feel restrictive almost all the time. However, all essential businesses are coming up with creative ways to protect the health of the general public. It is for that reason that contactless self-storage rentals have been created. In case you have any doubts or need to rent a unit for yourself, feel free to contact us. It will be our pleasure to provide you with services that will ease your life even a little bit.