The different tactics to pack your household
Packing always seems to be a struggle. Whether you're preparing for a weekend getaway or a business trip, packing can take hours and is rarely fun. But when you're moving, downsizing, renovating, or even renting self storage Seattle, you need to pack a lot more than a few pieces of clothing – you need to pack your entire household. And that can be incredibly time-consuming, not to mention exhausting. In fact, it's such a huge task that you can easily find yourself overwhelmed and not knowing where to start. However, there are several different tactics to pack your household which can help you do this faster and easier. You just have to choose the one that suits you and your home perfectly and you're all set!
The different tactics you can use to pack your household
Given that packing your entire home is a monumental task, you're going to need a plan of action. This will ensure that you get things done as quickly and efficiently as possible without forgetting anything vital. But where do you start with boxing up your whole life and moving it somewhere else? And once you start, how do you keep going? Virtually everyone in your situation has faced this problem. Luckily, there are multiple ways to overcome it.
#1: Declutter and pack only what's necessary
One of the biggest challenges when packing a household is the sheer number of things you need to pack. And this isn't just a problem for those that like to hoard things – we all accumulate more material belongings than we realize over time. Then, when the time comes to pack them all, we find ourselves scratching our heads and wondering where all this stuff came from and what we're going to do with it. The solution is logical: you need to declutter!
You almost certainly have things you no longer need or use. Old appliances, clothes that have gone out of style, toys your kids have grown out of, furniture that's seen better days – who needs all this? All these things are doing is taking up space and gathering dust. Do you really need them in your new home?
Do you really want to pay extra for big storage units because of things you'll probably never use again? How many boxes are you willing to waste on trinkets you don't really care about? Instead, here's a thought: sell them for extra cash or donate them to someone who needs them more than you. Not only will you have less to pack, but you'll also make someone's day with a great second-hand find. And even if you end up with several boxes, you should have no trouble fitting them inside a portable Kirkland self storage container.
#2: Start from the things you use least when packing
Since nobody really enjoys wasting time on packing, most people want to get it over with as soon as possible. But that's not always the way to go. Rushing often leads to mistakes. These mistakes can be dangerous, especially when you're moving and rushing – you might break something valuable or injure yourself while trying to lift heavier things. Instead, why not take the safer and simpler approach – start packing weeks in advance. Set aside a few hours every weekend to pack a few things and then put them in short term storage Seattle until it's time to move.
That way, you can avoid the stress of having to pack your household last-minute. But you'll need to pack strategically. Start with the things you aren't using – off-season clothing, holiday decorations, valuables. Then slowly move on to things you're unlikely to need before the relocation. Finally, pack the things you're still using last to ensure a comfortable stay in your home to the end.
#3: Go room by room
By far, the most popular strategy for packing a household is the room-by-room packing approach. The idea is simple: finish packing one room before you move on to another. It keeps you organized and makes it less likely that you'll leave something behind. But there's one big problem – you pretty much have to pack your entire home in one go. Whether you're going to work hard all day or strategically pack smaller or less-used rooms first and spread it out over a whole weekend is up to you.
But you can't exactly spread this out over a few weeks. Otherwise, you'll end up with your kitchen completely empty and your bathroom still fully stocked. Gather all your packing materials, call friends and family for help, prepare for some hard work, and don't stop until you're done!
#4: Combine the best of different tactics to pack your household and create your own strategy
Every relocation is unique and packing strategies aren't a one-size-fits-all task either. Sometimes, none of these will strategies work for you. And what happens then? Well, you can always make your own plan for packing your household by taking the things you like best about each of these strategies and combining them in a way that works for you. These tactics are, after all, just suggestions. What matters is that you have a plan and it's a plan that works for you.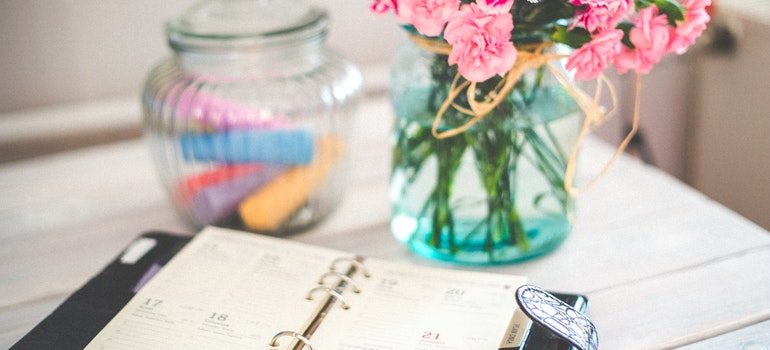 How to choose between the different tactics to pack your household?
Every household packing tactic has its pros and cons. If you have a lot of stuff or are downsizing, then decluttering is definitely for you. But if you're moving into a bigger house on a tight budget, you may want to hold on to as much stuff as possible instead of buying new things. Avoiding stress will be much easier if you pace yourself and pack slowly. However, if you're moving on short notice, this is not really an option.
Finally, if you don't have much to pack and like to get things done quickly, room-by-room packing is probably the easiest choice for you. But if you don't want to rush, then you should choose something else. It really all depends on how you like to schedule your time, what your to-do list looks like for any given day, and how you work best.
Some general tips for packing a household
Regardless of which of the different tactics to pack your household you choose, some things are universally true: you shouldn't procrastinate, you should get plenty of quality packing materials, and you should ask for help with the heavy lifting. Finally, if something goes wrong, you can always look for professional packers in the area. After all, you should always have a backup plan.