Different Types of Storage Containers and When to Use Them
Need a place to store your belongings? Don't know what kind of storage to use before or after the move? To help you with your dilemma of how to choose the best storage solutions, we've made the ultimate list of different types of storage containers and their most common uses. With this guide, you'll be able to determine what kind of containers and storage units North Seattle fit your needs best. Now, let us help you choose the best option.
Finding suitable storage is a challenging venture
One of the most complex aspects of your move is figuring out what type and size of storage container would be the best match for your belongings. It is hard to single out the most suitable storage containers before packing up your furniture and boxes. The last thing you'd want is to get yourself in a situation to pick the last-minute solution. That's why you should get acquitted with different types of storage before the actual move. There are three main types:
Portable Storage – brings the container to your home, allowing you to pack your belongings up according to your pace. Some containers are placed at your location. However, it's not the best option. It would be better to choose the containers that are carried to a customized warehouse, such as here at PortaBox Storage.
Self-storage – This is a great option when you need to declutter your home, whether for the move or home renovation. The security measures vary from company to company, and most of the self-storage units are climate controlled. The greatest benefit is that you have the flexibility to set the amount of time for storage occupation. If you opt for self storage, check out Bainbridge Island self storage.
Full storage – If you don't want to deal with storage tasks, full storage is the best option. Full-service storage companies will take care of everything. This type of storage is suitable for interstate relocation.
As you can see, each type of storage has its pros and cons. However, we'll focus on different types of storage containers. Check the main traits and when to use them.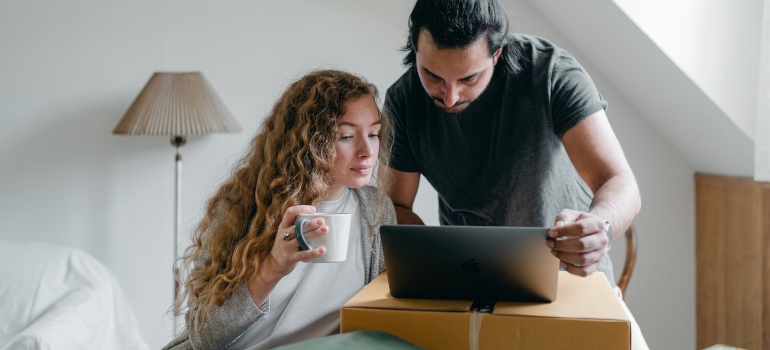 Different types of storage containers
These are the different types of storage containers you can use:
General purpose containers – these are also called 'dry containers' since do not require temperature control.
Open-side storage containers – as the name suggests, this type of container opens on the side, which makes loading easier.
Refrigerated containers – used to store perishable items.
Tunnel containers – this type of container has doors on both sides.
These are just some of the most common storage containers used for shipping. Now, let's check the different sizes of storage containers.
Storage containers sizes
Portable storage containers are among the best and most flexible storage options you can use. The reasons for using portable storage containers are many. You'll save space, organize better, ensure the safety of your belongings, and the portable containers are stored in one of our warehouses, which gives you the maximum protection. Here at PortaBox Storage, you can use wooden storage containers which, unlike metal ones, reduce the risk of damage and breakage of your valuable belongings.
How big are they? Our mobile containers are 5′ wide x 8′ deep x 7′ 6″ tall (outside) and 4′ 6″ wide X 7′ 6″ deep x 7′ tall (inside). You can place about a normal room full of furniture or up to 2,000 pounds. These wooden containers are sturdy and roomy and are equipped with heavy-duty levers and flooring with an excellent locking system. Besides, you can use the tie-downs inside the box.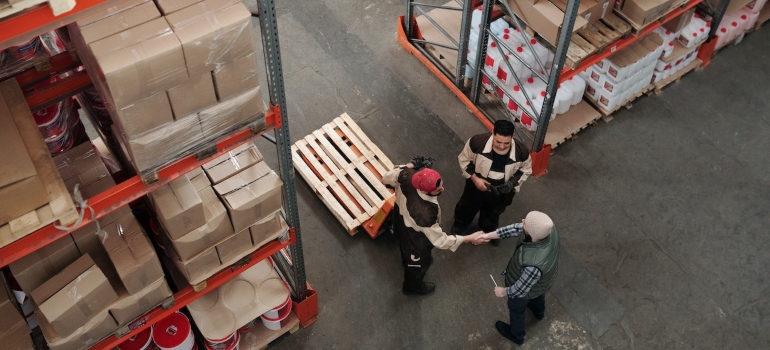 Know the different types of storage containers and how to use them properly
Here at PortaBox Storage, there are nine different types of storage containers. You can choose among different sites that will fit your storage requirements.
The first type is for storing furniture, such as a chest of drawers, chairs, desks, file cabinets, or a standard-size sofa. Or, you can store mattresses or several boxes.
The second type of container is perfect for storing one-bedroom apartments and things such as patio furniture, washer, or dryer.
There are also portable containers for one or two-bedroom apartments.
The third and fourth types are reserved for a one or two-bedroom apartment or house. Here you can safely store appliances, furniture, and a couple of boxes.
In the fifth type of mobile container, you can store a two or three-bedroom house with all furniture, appliances, and even a small boat.
The sixth, seventh, and eighth types are great for using when moving three or four bedrooms houses or apartments.
The ninth type is used for a four or five-bedroom apartment or house. Did you know that in this type of portable container, you can store even a small ATV vehicle?
As you can see, we offer different types of storage containers for any size of your home. So, don't hesitate and use some of the best storage pods Seattle residents gladly choose as the safest option.
And if you need heated storage, you can choose our heated storage Boise for storing your valuable belongings. So, why settle for less when you can have the safety storage option with PortaBox Storage? Ensure peace of mind knowing that your belongings are in safe hands.
Get your mobile container right at your doorstep
Since there are a lot of different types of storage containers, especially those for shipping, it's hard to decide which one to choose. And to avoid all unnecessary and unexpected problems, the best way is to use probable storage containers. And whom better to hire for providing you with one than PortaBox Storage? By using portable containers, you'll get the premium self storage option for your belongings. So, schedule your container, load your items, and we'll place the container in one of our warehouses for further protection. Ensure peace of mind by using quality storage solutions.