End of summer storage ideas
The end of summer is perfect for making changes in your home. It's the perfect time to do deep cleaning and declutter the (summer) things you won't need. However, it's not easy to get rid of certain items. But with PortaBox Storage, you won't need to purge and throw away your belongings. We have a better solution. Use our temporary storage Seattle services. We can provide you with portable storage containers you can store at one of our warehouses so that your items stay safe. Wonder how to store your belongings? No worries. We've prepared end of summer storage ideas that will make the process easy and fun. Stay with us and find out more.
The end of summer is the perfect time to clean your home
September is often considered as a "New Year" since many things change. The weather is different, kids are returning to school, people usually move during September, and it's also a great time to do the deep cleaning of your house. However, it's not easy to start with deep cleaning since it requires a lot of time,e and it's hard to decide what to declutter. That's why most people delay the final cleaning. Luckily, with PortaBox, this venture will be easy and enjoyable. Our mobile storage containers Seattle will ease the decluttering process. Besides, they are perfect for storing your summer equipment, such as a portable swimming pool and its equipment. You can also store your garden furniture in our storage containers.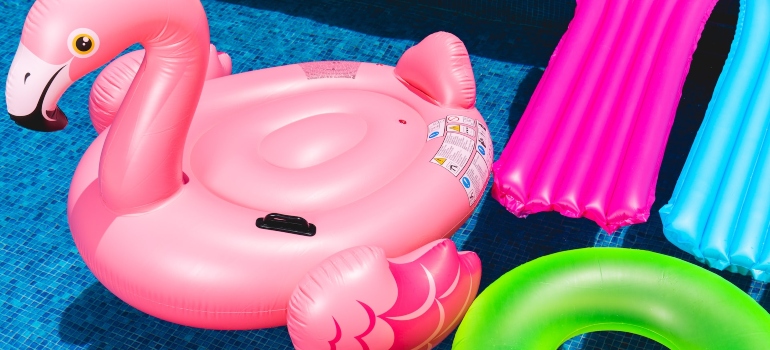 End of summer storage ideas for easy decluttering
Decluttering is easier said than done. It's not only about deciding what items to store away. It's also about arranging the items so they stay safe until you need them again. However, sometimes it's not easy to figure out how to pack certain items. If you don't know how to store them properly, use the following end of summer storage ideas:
Identify your storage space first: Before boxing your items, make a floor plan of your storage space based on the size. For example, you can use our Everett self storage.
Use demountable shelves: These shelves are practical since you can remove them at any time.
Use square containers as organizers: They will help you organize small things such as bottles, small bags, and equipment. They will maximize the space on the shelves.
Use hanging wall panels: Here you can hang your sports equipment.
Disassemble your garden furniture: By doing this, you'll save a lot of space and you'll be able to pack the furniture into foam bags to protect it from scratching.
Use vacuum bags for storing your summer clothes: This way, you'll save your clothes from damage and protect the items from moisture.
Use cabinets (if possible): They will protect your items from dust and dirt.
Be creative: make DIY containers or watch tutorials for folding clothes to maximize the space.
End of summer storage ideas for storing inflatable swimming pool
Storing inflatable swimming pools is not an easy venture. You must pay attention to leave it dry and clean until the next summer season. Besides, you should protect it from scratching and tearing. If you don't have the original box, purchase a waterproof one. Here's how to store the swimming pool safely.
The first thing you should do is to completely drain the pool to prevent any water from getting inside. Stagnant water is an excellent ground for different bacteria and fungi. If you don't dry your inflatable pool, it is likely to become covered in mold and mildew, it will be completely ruined, and you won't be able to use it next season. The best way to drain the water is by using a pump. However, don't pack up the pool immediately, let it dry under the sun for the next few days to make sure it's all dry.
Sterilize the pool: Disinfect the pool with bleach or spray the disinfectant onto the pool. Then, scrub it.
Fold it and pack it in an original box: If you don't have one, use a box that is waterproof but big enough so the pool doesn't tear. You can also use a plastic container.
How to store swimming pool equipment
The first thing to pay attention to when storing swimming pool equipment is to store the pool chemicals properly. Keep in mind that these may become hazardous materials if not stored properly. This way, you'll avoid accidents. So, make sure they are stored in a cool and dry location that is well-ventilated, and protected from sunlight. Besides, keep the chemicals in their original containers. What you should pay special attention to is keeping them away from each other to prevent chemical reactions. And most importantly, make sure they are stored out of your children's reach. When it comes to other pool equipment, such as swimming rubber, swimsuit, and others, make sure they are dry and pack them in boxes.
How to store patio furniture
When packing outdoor items, most attention is on patio furniture. Outdoor furniture is not cheap at all, and most of us cannot afford to buy a new one every year. That's why it's important to store the patio furniture in the best possible way to make it last a long time. Here are some of the end of summer storage ideas for your patio set:
Disassemble the furniture: it's easy to pack and wrap dismantled furniture.
Clean the furniture: Wipe it from dust before packing.
Use covers: Fitted covers are a great solution.
Remove cushion covers and pack them in vacuum bags. Do the same with cushions.
Store patio umbrellas by wrapping them in foam bags.
Use protective coating for your furniture depending on the material. For wooden pieces, use varnish. Use paste wax for wicker.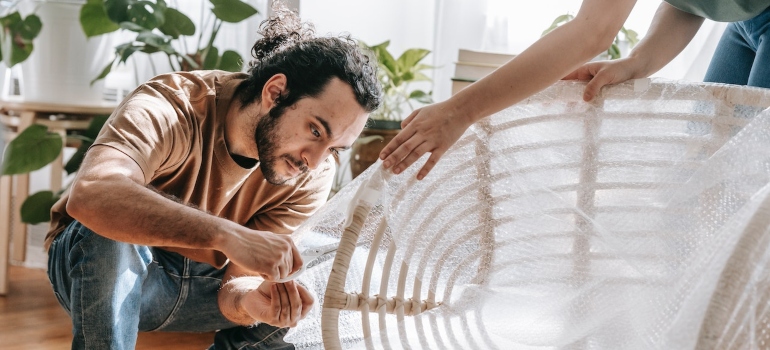 The best end of summer storage idea is to use portable storage
If you don't have enough space to store your summer items, don't worry. We have the solution for you and some great end of summer storage ideas you can actually use. Our short term storage in Seattle may be the perfect fit. Ensure the safety of your belongings, and get yourstorage container, ensuring your items stay intact until the next season.