From guitars to golf clubs: Seattle storage tips for specific hobbies
Seattle, a city renowned for its vibrant culture and diverse range of hobbies, offers an array of exciting pastimes for its residents. From strumming tunes on a guitar to swinging away on the golf course, there's no shortage of ways to indulge your interests. However, as you amass the gear and equipment essential to your hobbies, you might find yourself struggling to keep everything organized and accessible. That's where our Seattle storage tips for specific hobbies come into play. In this article, we'll explore practical temporary storage Seattle solutions tailored to unique pastimes like playing the guitar, golfing, and beyond. By focusing on the distinct needs and requirements of each hobby, our expert advice will help you declutter your space, protect your investments, and make the most of your leisure time. So whether you're an aspiring rockstar or an avid golfer, read on to discover the smartest ways to store your prized possessions in the Emerald City.
Unleashing the musician within: Storing guitars and musical equipment
When it comes to guitars and other musical equipment, proper storage is essential to maintain their quality and longevity. Convenient Seattle mini storage facilities offer temperature-controlled units that can help prevent damage to your instruments caused by temperature fluctuations. When storing guitars, use a padded gig bag or hard case, and store them in a standing position to prevent any unnecessary stress on the neck. Keep your amplifiers, cables, and other accessories organized in labeled containers or cases for easy access and added protection.
Teeing off with confidence: Golf club storage solutions
Seattle's golf enthusiasts understand the importance of taking care of their clubs and gear. Safe storage pods Seattle provides are a convenient and secure option for storing golf equipment, ensuring that your clubs remain in top condition even during the off-season. When storing your golf clubs, ensure they are clean and dry before placing them in a golf bag with clubhead covers to safeguard against scuffs or potential damage. Store your golf bag in an upright position, and avoid stacking any heavy items on top. Don't forget to keep your golf shoes, balls, and other accessories organized in separate compartments or containers for easy retrieval.
The artist's sanctuary: Storing art supplies and craft materials
Artists and craft enthusiasts in the Seattle area often have an extensive collection of materials, tools, and finished projects that require organized storage solutions. A clean and tidy Shoreline self storage becomes an excellent option for keeping your art and craft supplies safe and easily accessible. To protect your paintings and canvases, store them vertically with padding or bubble wrap in between to prevent scratches or damage.
These simple steps will help you store and organize your crafting supplies:
 Use handy tabbed dividers to keep your stamps organized.
 Consider stackable storage for furniture and other large items.
 Use containers for everything from paints to ribbons to beads.
 Invest in good quality supply organizers to store small items such as buttons and beads.
 Make sure to label everything clearly so you can find what you need quickly.
For smaller supplies like paint, brushes, and craft materials, use clear plastic containers with labels to keep everything organized and easy to find. Make sure to store materials according to safety guidelines and facility rules.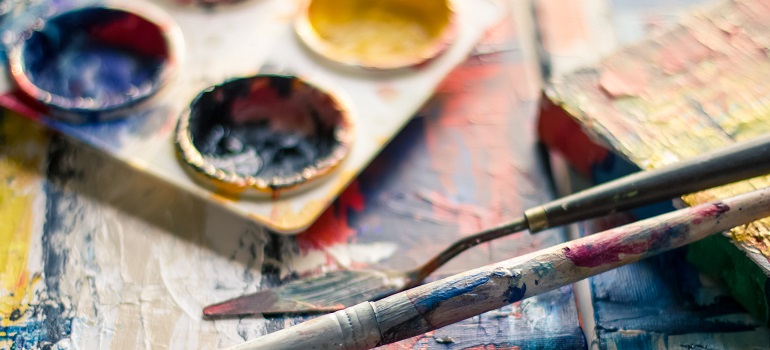 Adventure on the water: Storing kayaks, canoes, and paddleboards
Seattle's numerous waterways make it a popular destination for kayaking, canoeing, and paddleboarding enthusiasts. And conveniently, self storage in Marysville WA, offers a practical solution for storing your watercraft and gear when not in use. To protect your kayak, canoe, or paddleboard from damage, store them off the ground on padded racks or cradles, and use straps or ropes to secure them in place. Ensure that your paddles, life jackets, and other gear are clean and dry before storing them in containers or bags to prevent mold or mildew.
Capture the moment: Storing photography equipment
Photography is a popular hobby in Seattle, thanks to its stunning landscapes and iconic landmarks. Proper storage of cameras, lenses, and other photography equipment is crucial for maintaining their performance and longevity. And one of the top Seattle storage tips for specific hobbies is to invest in a durable, padded camera bag or case to protect your gear from dust, moisture, and impact.
Store lenses in their original cases or cushioned pouches to prevent scratches or damage. Utilize compartments and dividers to keep your accessories organized and easily accessible. Finally, consider renting a temperature-controlled storage unit to safeguard your equipment from temperature changes.
The outdoor enthusiast: Storing camping and hiking gear
With Seattle's proximity to the great outdoors, camping, and hiking are popular pastimes among its residents. To keep your gear in top condition, store tents, sleeping bags, and backpacks in breathable, mesh storage bags to prevent mold and mildew growth. Clean and dry your gear thoroughly before storing it, and organize smaller items like cooking supplies and tools in labeled containers. For added convenience, consider using a storage unit near your favorite trailheads or camping spots for easy access to your gear whenever the adventure calls.
Organizing is key to an enjoyable and stress-free hobby experience
Seattle's diverse range of hobbies and interests requires equally diverse and tailored storage solutions. By implementing practical storage tips and utilizing helpful Seattle area facilities, you can ensure that your prized possessions remain safe, secure, and in optimal condition. By decluttering your space and organizing your hobby-related items, you'll be able to enjoy your leisure time more effectively, all while protecting your investments. Remember that investing in quality storage solutions will not only help prolong the life of your gear and equipment but will also make it easier for you to access and enjoy your hobbies whenever the mood strikes.
Moreover, when seeking most employers, it is important to include your hobbies and interests on your resume. Creative hobbies, such as music design and music arts, are a great addition that can help differentiate you from other applicants. And as you continue to explore and embrace your passions in the Emerald City, let these storage tips guide you in creating a more organized and enjoyable experience. With the right approach and Seattle storage tips for specific hobbies, you'll be ready to seize every opportunity to indulge in your favorite pastimes, from playing guitar to hitting the golf course, and everything in between.