Guide for staying calm while moving your Seattle home
Relocation can be very hectic. You are, after all, uprooting from your "comfort zone" and heading out into the unknown. It is entirely normal to feel stressed out and uncertain. However, these feelings can seriously hamper your efforts and make the overall experience less than pleasant. That is why staying calm while moving your Seattle home is extremely important. There are a number of "weapons" at your disposal, luckily. You can rent one of the self storage West Seattle options, for example, and you can make sure that you stay organized throughout the process. In this article, we will show you exactly what you can do to remain calm.
Staying calm while moving 101
While staying calm can be quite difficult, there are things that you can do to make it easier. When relocating your Seattle home, you will want to:
Always have a plan
Make sure you have enough time
Declutter
Create an organization system
Be mindful of your needs
Also, having a couple of calm friends with you is an amazing boon. They can help rein in the emotions of panic as well as make the entire relocation much more fun. Don't forget that you can also get one of on demand storage Seattle solutions to help you with the process. By being able to store some of your items, much of the worries about creating the perfect layout in your home will be gone. And, since you can store items prior to the relocation, it will also reduce the amount of work that is required.
That being said, let's take a look at exactly how these solutions can help you remain calm throughout the move.
Planning ahead
Staying calm while moving is all about knowing what is to come and how to deal with it. And for that, you need a plan. The planning process, however, takes a lot of time if you want to do it stress-free. You will want to plan several things, such as purchasing/obtaining moving boxes, budgeting expenses, choosing the best portable storage Boise solution, and so on. The more you plan, the easier the relocation is going to be. And less stress will be coming your way.
While you can leave everything for the last minute, doing this will induce a lot more stress than if you planned the relocation two months prior, for example. Therefore, the first thing to note here is to start early.
Time is of the essence
Ideally, you will start preparing for your relocation at least two months in advance. More is always better, of course, but two months is a reasonable timeframe. There will be a lot of things on your proverbial plate, and you will want to have enough time to process them all.
A good strategy to adopt is to dedicate a day (or even a few hours) during the week for moving-related tasks. PortaBox Storage recommends that you define the number of hours that will go towards the moving effort, every week, as that is the easiest way to manage a relocation. The earlier you start, the fewer hours per week are needed.
If you want to be staying calm while moving, declutter
Every home has plenty of "clutter" in it. We accumulate so many things during our stay in a home, it can get quite overwhelming at times. Once you start emptying your drawers and closets, you will be surprised at what you will find.
But you don't want to carry all of the items inside your home to your next one. What you want to do is identify the items that you do not need anymore, and leave them behind. You can donate them to charity, sell them, give them to your friends/family/colleagues, or even throw them away. But the important part is to figure out what is what.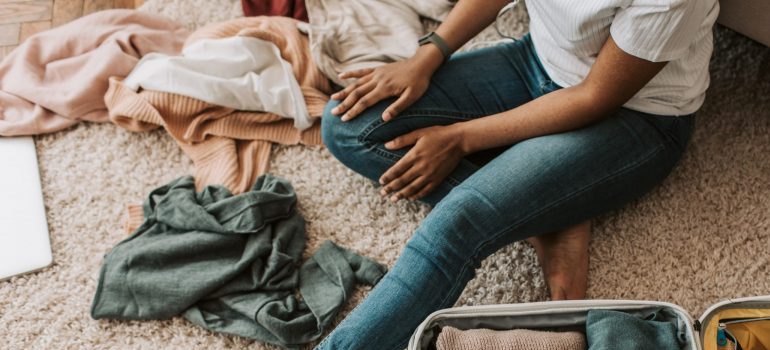 There are numerous ways to declutter but the simplest one is to create three "piles". Keep, donate, throw away. Sort all of your items into these piles and you will be good to go. Note, you don't really have to pile all the items together, writing them down will do the trick.
Organize your efforts
If planning is the most important thing to stay calm, good organization is a close second. You will want to create a system that will enable you to stay ahead of all the tasks you will need to accomplish. There are numerous ways to do this, and they are usually a matter of personal preference. But there are some organizational tips that are useful in almost every situation.
For example, you will want to create a document box. This will keep all of your important documents in one place, allowing you to easily keep track of them. When someone asks for a specific paper, you don't want to stress out by not knowing where it is. You will know it's inside the box.
Another box that you will want to create is the essentials box. This will contain all the necessities such as phone chargers, water, snacks, toiletries, etc. that you will need on a moving day. Make sure that you have easy access to the box, as you will need the items from it on a regular basis.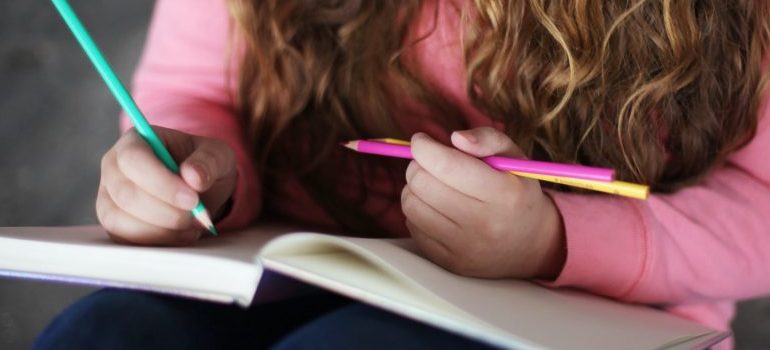 Lastly, consider creating a color-coded labeling system for your boxes. This will make the entire moving process a lot easier, as you will know which box goes where at a glance. You will not need to read what's on the box, you simply look at the color and bring it to the appropriate room.
You matter
Moving can be a very stressful experience, even despite your best efforts. What you need to do is understand your own way of dealing with stress, and incorporate those activities into the entire process. Do not be afraid to ask for support from friends and family members to give you enough time to ensure that you are in prime mental condition. Take care of yourself, first and foremost, and the relocation process is going to go much better.