Guide to packing and storing a wedding dress
A wedding dress is without a doubt one of the most cherished items a woman can own. But once your wedding day comes and goes, the truth is that you have little to no use for your beautifully bedazzled gown. Throwing it away is out of the question for most women, so the only thing you can do is store it in a safe place like one of our self storage Bothell units that are designed to keep belongings safe long-term. However, packing and storing a wedding dress isn't something that one does on a daily basis. That's why most people have no idea where to start once they have to put their gown in a box. PortaBox Storage offers a short guide on how to pack and store your wedding dress like a pro, preserving it for generations to come.
First things first – get your wedding dress cleaned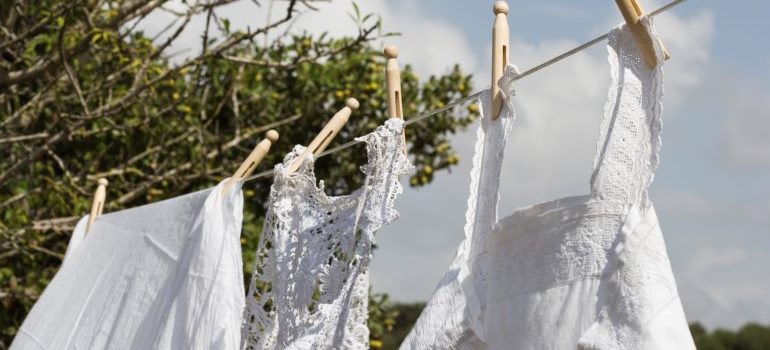 If you have ever stored an item in your life, then you probably know how important it is to ensure that the item is clean and dry. As the value of the item goes up, so does the urgency to ensure it is stored in perfect condition, to begin with. So, before you place your wedding dress in a box that will be put in a Kirkland self storage unit, you first have to get it dry cleaned.
A dry cleaner will know which cleaners are safe to use on your white or champagne dress, so you won't have to risk ruining it (since DIY cleaning can go wrong in many ways, even with everyday clothes). Every penny that you invest in dry cleaning services will be worth it.
Choose a suitable container for packing and storing a wedding dress
Because your gown is so valuable and fragile, it can't be stored in just any old box. Many criteria need to be met in order for a container to be deemed as a suitable temporary home for your wedding dress.
The box should be sturdy, eliminating all light. 
It should be made from breathable material. 
It shouldn't contain acid or alkali. 
The box should protect your gown from dust particles. 
It sounds like a lot of work for a simple box. Then again, just like you don't get married every day, you don't store away the wedding dress every day. Investing in good and reliable packing materials Seattle is always a good idea. And it's one that will provide a great return on your investment.
Find a proper storage unit
Choosing a box for storing your wedding dress is not the end of the decision-making process. The next step is looking for and finding the best temporary storage Seattle. The best idea would be to invest in temperature-controlled storage. But if you can't afford this type of unit, then make sure you tour the storage facility you are considering as the potential home for your dress. What you are looking for is a reputable storage service provider that can provide well-isolated storage containers that are resistant to weather and other natural elements.
How to pack a wedding dress
Once you have the right container for packing and storing a wedding dress, there is only one more thing you need – the right kind of protective packaging. And when it comes to the right type of protective packaging, you can't go wrong by opting for colorless tissue paper. So, when you have all your materials ready and you have the time to pack your dress, get your hands clean and dry and get to work.
Start by folding the dress loosely and carefully, with the goal of avoiding any creasing. Once you think the dress is properly folded, wrap it in acid-free paper and carefully place it in a box. If you are wondering whether you can use the same box for storing your veil and wedding shoes, the answer is very simple – yes to veil, no to shoes. Just make sure that you place a layer of protective packaging between the veil and the dress. You don't want the two to damage each other during the course of time spent in transport and storage.
How to store a wedding dress
Once you conduct your research on reliable storage services in your area and find your ideal storage provider, all you have to do is place the box in a good place, away from any sunlight. Although storing the dress inside your home might save you some money and grief now, there are many ways in which you could end up regretting it in the future. Such a unique piece of wardrobe deserves the best possible conditions to be kept safe in. The perfect place is the one where the temperature isn't:
Too warm or too cold;
Exposed to direct sunlight;
Fire-proof;
At no risk of insect and pest infestation. 
And these are all typical factors for any professional storage facility to fulfill.
Whichever place you choose for storing your wedding gown, it's always a good idea to unpack it every six months. Repacking your wedding dress won't take up too much of your time. However, this process will ensure you avoid any permanent creases that could form if your dress spends too much time in a box. We are sure you wouldn't want that to happen to your precious gown.
Take your time when packing and storing a wedding dress
There is no reason to be rash and make a mistake that could do a lot of damage to your precious item. Instead, take your time and go through every step with care and precision. We might even dare to say that, by taking your time, you could find yourself enjoying the process of packing and storing a wedding dress. You'll definitely reminisce about one of the most important days of your life – your wedding. That by itself promises you'll have fun on that day you set aside for packing.