Guide to packing your home security system
Nowadays, every other American citizen is worried about their safety. Because of that, most people choose to install security systems in their homes. When you move, you can either sell your home with the security system installed, or you can pack it and move it to your new home. If you choose the latter, you will need to be careful. If you plan on putting your belongings in temporary storage Seattle offers, you need to pack everything meticulously. Security systems are fragile and very expensive. Dismantling and packing them can be a challenge. That's why we're sharing a guide to packing your home security system properly. Move with ease and stress-free with our tips!
There are some things to consider before you start packing
Before you start dismantling your home security system, there are a few things to keep in mind. The first thing you should do is call your security company. Different companies have different policies and considering the price of home security systems you don't want to risk anything. Because of that, your safest bet is to check with the security company whether or not you can de-install your security system on your own. Some companies have strict policies which require only their trained employees to handle the security equipment. This can either be free, or they might charge you. Other companies don't allow the relocation of their home security systems. That's another thing to keep in mind. Check whether or not your contract will need any alterations because you're moving.
On the other hand, some security companies will let you dismantle your home security system on your own with no additional fees or questions asked. You still need to be careful, though. Home security systems cost thousands of dollars, so make sure you pack yours securely before putting it in the self storage Lynnwood WA offers. Don't risk wasting your money, it's better to spend more time on careful packing.
A guide to packing your home security system
Before putting your home security system in self-storage, you need to pack it properly. Follow a few simple steps, and your security equipment will be ready for storage pods Seattle offers in no time. Here's what you need to remember when it comes to packing your home security system:
dismantle your home security system carefully
use a lot of protective materials
choose the right boxes to protect your security system
label the boxes properly when you store your home security system
Dismantle everything very carefully
After you've checked with your security company, and they've given you the thumbs-up to dismantle your home security system by yourself, it's go-time. Find the user manual, or if you don't have it look it up online. It's crucial not to do anything without the manual because you can damage the security system equipment which is extremely pricey. If you can't find the manual online, call the security company again and ask for instructions. Once you have the manual or the instructions, you can carefully disassemble the security system.
Use lots of protective materials when packing your home security system
Using lots of protective materials is imperative when packing anything fragile and expensive. Because home security systems are so pricey and sensitive, you need to wrap each individual piece in protective padding. Check your local supply store for some protective packing materials. You don't have to spend money on fancy packing equipment, though. There are plenty of things you already have that you can use as padding. Think blankets, towels, sweaters, T-shirts, or pillowcases for example. All of these will do a great job protecting the fragile alarm system parts.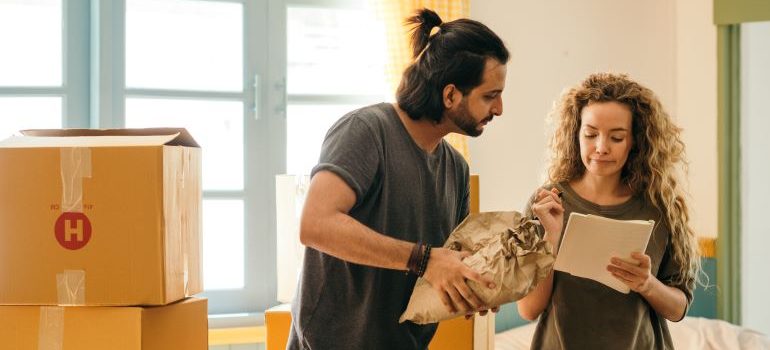 Choose the right boxes to ensure maximum protection
Another key component of packing the home security system safely is choosing the right boxes. You want to steer clear of any flimsy-looking boxes. Even if you have old boxes lying around the house that look fine, it's best to buy several new ones for the security system. It's essential that the boxes are dry, sturdy, and new. A flimsy box might break and your alarm system can get damaged. Considering the price of home security systems, it's worth investing a few bucks into new cardboard boxes.
Label the boxes properly to keep track of your home security system
Since moving can be hectic and all boxes are similar-looking, it's wise to label them. While you might think labeling your boxes is a waste of time, it's actually quite the opposite. Think of all the time you'll save not rummaging through dozens of boxes after you move. It's even easier to forget what you put in a box and where you put it if you're storing your belongings in self-storage for some time before the move. That's what makes labeling your boxes so great! You will save plenty of time compared to what you spend labeling the boxes before the move. You will be able to find your home security system with ease and stress-free.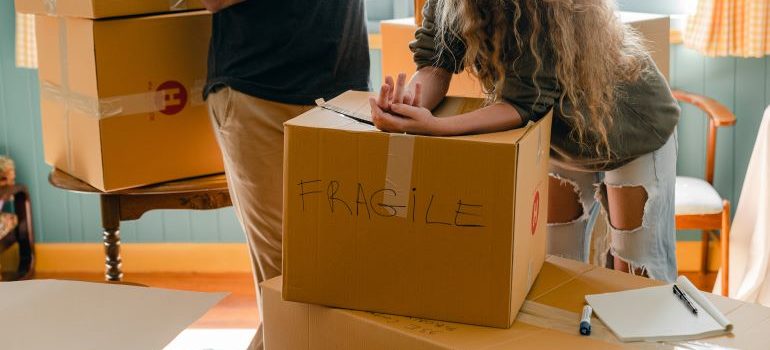 Professional packers are your safest bet
While it is handy to pack your own household before the move, opting for packing services Seattle and hiring professional packers to tackle the more fragile parts is a wise decision. Packing experts have the experience and knowledge to pack even the most complex home security systems safely and efficiently. Although it's easy to find a detailed guide to packing your home security system online, leaving it to the professionals might be an even better idea. Let the packing pros take care of your security equipment, while you relax and enjoy a stress-free relocation process.