Guide to storing a king size bed
One of the most important aspects of your health is sleep. At least eight hours of quality sleep per night are a must for your happiness and well-being. If you own a king-sized bed, we are certain you are sleeping well. For most people, such a purchase is an expensive but worthwhile investment. Finding a good bed is not easy, but once you do it can last you for decades to come. This is why you should not throw your bed away when it is not in use. Whether you are moving homes or going on a longer trip you should know how to store a bed properly. Storing a king size bed might sound intimidating but with our tips, this task will be a piece of cake.
When to consider storing a king size bed
There is always a chance your new home will not fit a king sized bed. These are some of the most frequently mentioned reasons for choosing Kenmore self storage:
When you are in between homes – If you know you will be couch surfing it is a good idea to find storage for bulkier furniture like your bed.
While you are doing renovations – You should move your bed somewhere safe so it doesn't get damaged during renovations.
If you are going on a long trip – Put your bed and other valuable furniture pieces in storage to protect them from dust and the environment.
Unlike most other pieces of furniture in your home, your bed is an item that is in almost constant use. However, certain situations may come up that require you to store some or all parts of the bed.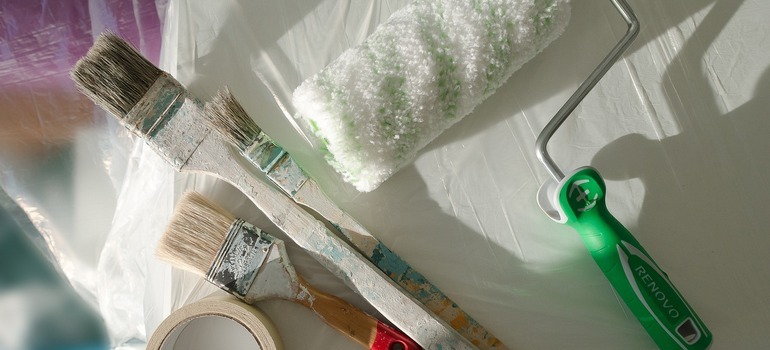 Tackle storing a bed in steps
Before you can start researching short term storage Seattle residents recommend, it is important to know what the storage process involves. Without a proper plan, things can easily go sideways. You obviously cannot just pack it whole and put it into storage. To make things simple, we broke down everything into easy-to-follow steps. If you focus on just one small task, completing everything on time will be much more manageable.
Remove, wash and pack the linens
The very first step you need to do is remove the linens. Strip off the duvet covers, and remove the comforters, pillows, sheets, and pillowcases. Even if you won't put the linens in storage give them a proper cleaning. You should do this just before you leave your old home. This way you will have nice, clean sheets ready to go. However, if you are putting them in storage you need to pack, seal and label everything. If you are short on time, think about searching for portable storage containers for rent near me. It helps!
Remove and clean the mattress
A mattress isn't something you buy every day. In fact, they can last up to a decade. But that is only true if you take good care of them. To clean a mattress start by removing dust with a vacuum. After you removed the top level of grime, you can use special powders to neutralize any smells. Next, wash it with a damp cloth and gentle detergent.  If there are any stubborn stains left, stain remover will be your best friend. Wait until it's fully dry to place it in storage.
Storing a king sized mattress can be a bit challenging due to its large dimensions.  If you have enough space, it is best to lie it flat on the floor. This will preserve the shape and keep the fillings in place. Do not put anything on top of the mattress, as that is a good way of ruining it. If you need help transporting it to storage, you can contact us and ask for assistance anytime.
Storing a king size bed is easier if you disassemble it
Storing your king size bed whole is a bad idea for a multitude of reasons. For easier packing, transport, and storage we recommend you dismantle the bedframe. It will take some time and effort but it's well worth it. Once it is divided into smaller pieces, moving it will be much easier.
If you are going to DIY this part, make sure to have a good labeling system in place. Otherwise putting the bed frame back together will be nigh impossible. Number each and every screw and its corresponding hole in the frame. Keep all of the small parts somewhere safe. You could also place them in storage along with the bed. As tedious and boring as this sounds, future you will thank you for taking the time.
Finish the job by packing up the individual pieces
The last step in this process is packing all of the individual pieces It is best to pack the headboard, footboard, and bed frame separately. What wrapping materials you use will depend on the material of the bed. If the parts are made of wood, plastic is not recommended for the long term. The reasoning behind that is that plastic can trap moisture and eventually lead to mold.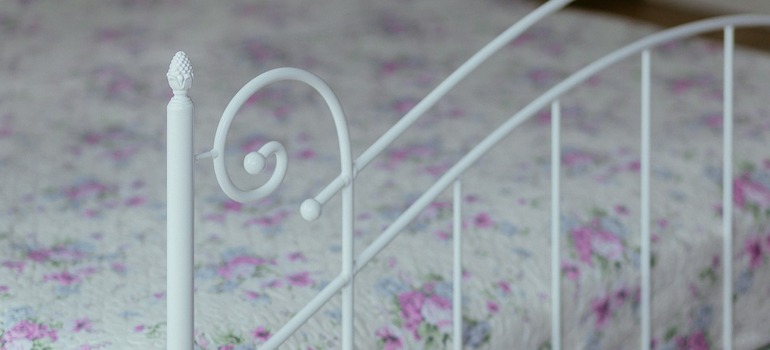 Sheets or blankets are a far better option for wooden frames. On the other hand, you can wrap metal frames in plastic storage wrap. For transport, it is recommended you wrap everything into additional moving blankets or otherwise add padding.
A couple of last notes
And there you have it, a comprehensive guide to storing a king size bed, the proper way. While it seems daunting, throwing out a perfectly fine bed is nonsensical. They're not exactly cheap after all. With just a bit of effort, you can have your cake and eat it too. Breaking down the process into more manageable steps is essential. With good planning and organization, your bed will be disassembled, packed, and in storage just in time for moving.