Guide to storing Christmas decorations safely
No matter if you like to keep your Christmas tree up until February or prefer to take it down as soon as the holidays are over, you will need to find a solution for storing your decorations. If you are storing Christmas decorations in your attic or perhaps a portable self storage West Seattle option, you will need some guidelines on how to store them safely. No one likes to open their decorations the next year only to find them broken – ornaments, Christmas mugs, ceramic figures, all in absolute chaos. You don't want to ruin the happiness of decorating your home and feeling the holiday spirit. We came up with a couple of tips that will help you with storing and packing.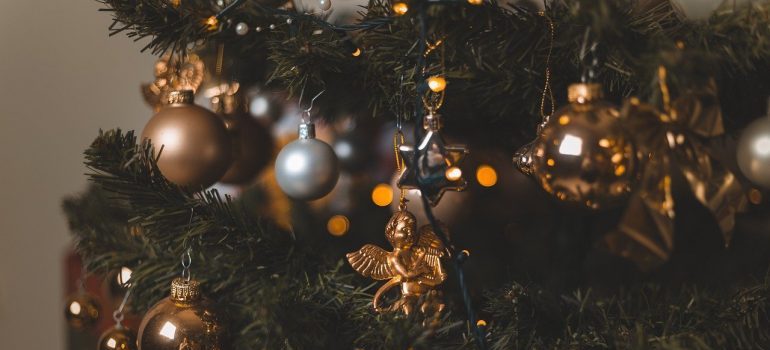 Properly organize your decorations
You may not have had quite this tragic experience unpacking your Christmas decorations, but pretty much all of us have been frustrated by improperly packed Christmas supplies. Several reasons account for this, including decorations' inherent difficulty to organize and pack. Their fragile nature and wide range of odd shapes make them extremely hard to handle. If you don't pack your decorations correctly or carefully, you may encounter problems in the future. Here are some steps to follow if you want to organize your decorations like a professional.
divide fragile items
prepare storage containers storing Christmas decorations
untangle strings for easier use
throw away what you don't need
separate items by type
Even if you are unsure if something is breakable and fragile, better to be safe than sorry. Decorations made out of glass and ceramics are definitely on the list. Separate them from other items and keep them grouped. You should organize your Christmas decorations into piles based on the type and use they are intended for, as well as their fragility. This way, you will get a very good sense of how many and what kind of boxes and containers you'll need. Once you have them properly packed, you can use the portable storage Boise offers, and the storage unit will be delivered to your doorstep. This is one of the best ways for storing Christmas decorations safely.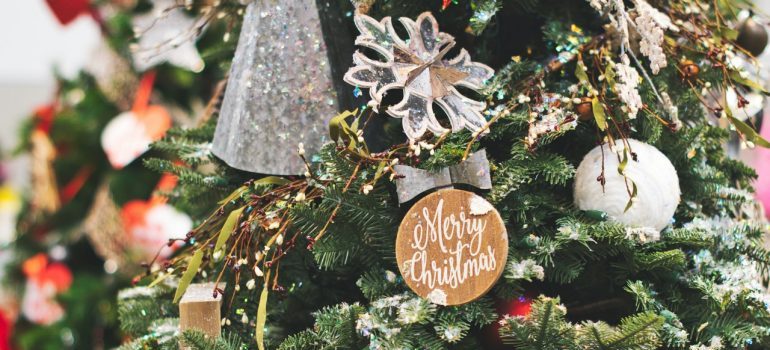 Organizing your holiday decorations efficiently has a lot of benefits. Rather than keeping items together, make it easy to find exactly what you need by keeping them separate. By separating them, pick the ones you will no longer use and throw them away, or gift them. We all have a habit of keeping too many decorations anyways. This is the perfect time to declutter your home. Another organizational tip, string lights should not be piled up. Make sure to avoid any tangles on your Christmas lights so they will work for you for years to come. Packing them correctly is better than having your lights wrapped around nothing.
Tips for storing Christmas decorations
This system is for you if you're as passionate about packing as we are, or just want to make sure you don't lose anything or break it. Here at PortaBox Storage, we came up with a couple of really good storing tips for your possessions.
Packing and storing Christmas tree
One of the most popular tricks to pack your artificial Christmas tree is shrink-wrapping it. This trick will keep your artificial tree clean throughout all seasons. No matter if you store it in the garage or in on demand storage Seattle has, this hack will protect your tree. You can decorate it next year by just cutting the sides with scissors and fluffing the branches into shape. Another tip, to make bags for your artificial tree's top, middle, and bottom, use dust sheets. Then you won't have to worry about them getting flat or dirty all year.
Storing Christmas decorations and ornaments
There are many ways to store Christmas ornaments, like bulbs or ceramic figures. Use clear gallon bags from your kitchen to keep all your ornaments together, but sorted by color. You'll have no trouble assessing your stash next year. Keep your ornaments safe during storage with plastic cups leftover from holiday parties. Glue each cup to a piece of cardboard to protect delicate decorations. In a plastic bin, you can stack multiple layers on top of each other. Some people use egg cartons- just use your imagination.
The best way to store string lights
Keep your lights tangle-free by wrapping them in cardboard scraps. You will probably have a lot of cardboard from presents, so this is a great way to use them. The great thing is, if you want to store them safely, you can stack or layer them in a box. In addition to wrapping them around a coat hanger or a cardboard tube, you can also wrap them around a coat hook. If you don't want to use any of the DIY ideas, you can buy a storage reel.
How to pack fragile decoration
There are many Christmas ornaments that are extremely fragile. When they're in storage, they may be damaged or broken if they're not properly packed. If you're packing them, you'll want to make sure you do it carefully. You can achieve this by using numerous materials like tissue paper, packing paper, bubble wrap, etc.
If you don't want to spend extra on packing supplies, storing Christmas decorations can also be a DIY project. You can use old clothes, socks, old curtains, or anything soft that will prevent your ornaments to break. When you pull out your decorations next winter, you don't want to find little broken pieces or an ornament that has been chipped or cracked. Christmas is a time to celebrate, and you will be at ease knowing that your decorations are safe and waiting for you until next year.