Guide to storing Halloween decorations
Once everyone's favorite spooky holiday is over, it's time to take all the decorations down. You'll compost the pumpkins and eat the sweets, but what are you going to do about all the fake spiders and laughing skeletons? It'll be a whole year before you need them again! So you're probably best off storing Halloween decorations in Seattle storage in the meantime instead of letting them haunt your home. And even though it's a bit sad to clean up the Halloween cheer, it's important to get your house back in order. Remember: Thanksgiving is just around the corner!
Storing Halloween decorations in the home vs in a storage unit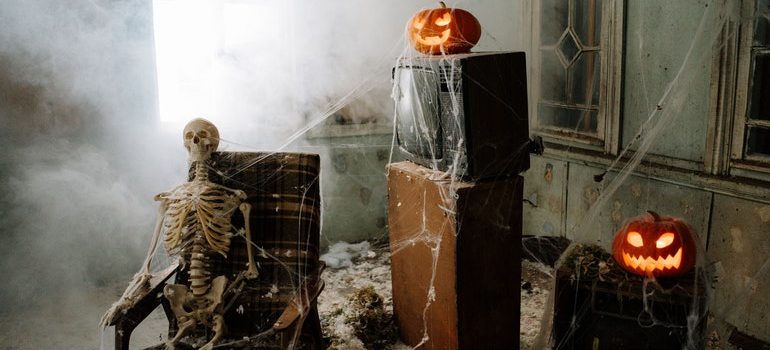 Whenever you're storing something for a longer period of time, you have two options: you can utilize what free space you have in your home (typically your basement or attic) or you can rent a storage unit. Both options have pros and both options have cons:
storing inside your home saves money and makes your belongings more easily available, but it also means sacrificing space that you could utilize in other ways
storing in a storage unit is going to cost you more, but your belongings will be safe and sound and out of the way
Ultimately, whether you choose to convert your basement or rent Issaquah self storage is going to depend on a variety of factors such as the number of things you're storing, your budget, and your priorities. Typically, you can keep Halloween decorations in your home. If you're storing them alongside other belongings, you might need to rent storage space.
General tips for storing Halloween decorations
Regardless of whether you are keeping the (fake) skeletons in your closet or using Mill Creek self storage, there are certain things you should do in preparation for putting away your Halloween decorations. So let's talk about what you need to do when the spooky season is over.
Exorcise the ghosts from your collection
If you're a Halloween enthusiast, you've probably curated your decorations collection for a while. But let's face it: decorations are not meant to last forever. Maybe you've found better fake skulls or maybe your fake spiders are missing some legs. Whatever the case may be, there are certainly portions of your collection that you can let go of. So before you store your decorations, go through them. Decide on which ones are scary enough to stick around. Then, get rid of the rest by selling, donating, or throwing away.
Clean the decorations before storing them
Most Halloween decorations will probably just hang around your house for a week or two. That's not really enough to get any of them super dirty, but they'll still gather dust. So wipe them down and remove any remnants of tape or glue before packing them. However, if you have a house and you also decorate your yard, you'll have to clean your outdoor decorations with a little more care. The viral 12-foot Skeleton from Home Depot is bound to get a bit stained while he greets your visitors outside your home. So make sure to give him and any other outdoor decorations you use a thorough brushing or wiping.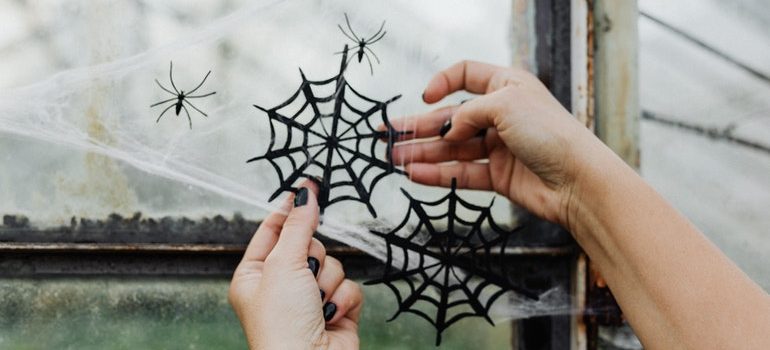 Take out batteries and other power sources
Glowing eyes and sudden noises sure are fun during Halloween season. But they're not going to be nearly as amusing in the darkness of a storage unit. Additionally, most storage units don't allow batteries for safety reasons. So power down and unplug all the decorations with a power source. Then take out the batteries and use them for something else before they leak.
Packing tips for storing Halloween decorations
The final step before storing your fall holiday decorations is packing them. Depending on how many decorations you put up and of what kind, this might take you a bit of time. But barring a few artificial cobwebs, you can get everything packed in a weekend if you just get organized.
Gather your packing materials
Before you start packing, you need to gather all your packing materials. The most important thing you'll need is boxes. You can use the original packaging the decorations came in or regular cardboard boxes you'd use for shipping or moving. Alternatively, you can also use paper bags or plastic containers if you have those lying around. You'll also need some tape and markers.
Pack room-by-room
The easiest way to make sure you get all the decorations is to go room by room. Clear out the ghosts, ghouls, and bats from the living room before moving on to the kitchen, the hallway, the front yard. It's an easy way to stay organized because you always know where you've already been and where you still need to go.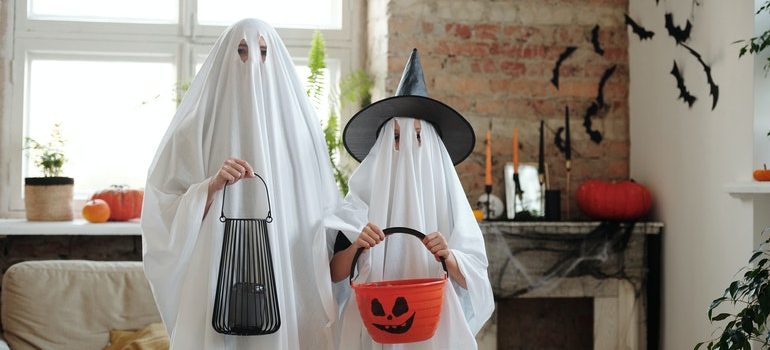 Label your boxes
Even if you only have one box of Halloween decorations, it's important to label that box. Odds are that you'll be storing that box with other things. And come next October, you want to know which box to get out of storage. So to ensure that you're not pulling out a bunch of off-season clothes to greet the trick-or-treaters with, make sure that the packaging clearly indicates what is inside the box.
Organize your Halloween storage space
Finally, it is important to be organized when storing Halloween decorations. Especially if you're storing them with other things, you'll want to keep them in a logical place. After all, you only need Halloween decorations once a year. So it's a box that you're unlikely to get out of storage for almost a whole year. It wouldn't make sense to put it right next to the door on top of everything else, would it?
Instead, you want that position reserved for things you get out of storage more often like an appliance or sports equipment. However, you need to keep in mind that Halloween decorations are typically pretty light and not very sturdy. So boxes full of them don't make for a good foundation. For that reason, you need to avoid storing other heavy things on top of them.