Guide to storing lawn equipment
If you love that feeling of walking into your garden on a warm summer night after a long day of laborious work, then we can bet that you invest a lot of your time, money, and effort into maintaining the perfect lawn. And if you do have a lot of different lawn equipment, then you face the same problems as many other individuals – storing lawn equipment during the off-season. The harsh winter weather could have detrimental effects on your precious and, quite likely, expensive lawn items. That's why they need the best protection during wintertime, just like the protection they can receive in our Newcastle self storage facility. It just so happens that that brings us to our first point of order.
Find a suitable place for storing lawn equipment
First things first – we can't talk about you storing your lawn equipment if you have no suitable place for storage. The good news is that you have some options when it comes to storage solutions. For starters, if you have no space in your home and want to keep your items safe and protected during the winter, you can always look for premier short term storage Seattle solutions. You can rent a unit on a month-to-month basis, so you don't have to lock yourself in a contract that doesn't work for you.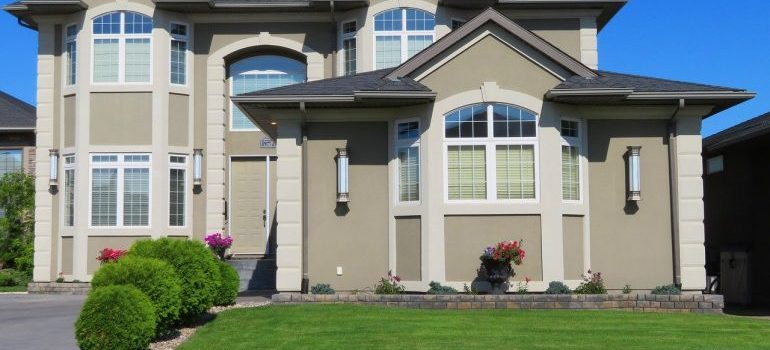 If storing your lawn equipment in a storage unit is out of your budget at the moment, you can try to find a suitable place on your property. Lawn equipment shouldn't be stored outside. At PortaBox Storage Seattle, we advise you to look inside your home. You don't need an entire room in order to store lawn equipment. But you do need a dry and uncluttered corner of a room. Whether that will be your garage, attic or a portable storage container is up to you to decide.
Make sure to clean your lawn equipment before storage
In case this isn't the first time that you are using residential or business storage solutions, then you must know that the rule of thumb is to always clean your items before storing them. That's of special importance when storing items that tend to get messy and dirty – such as your lawn equipment.
We know that there are different types of equipment when it comes to landscaping and lawn maintenance, all of which will require special handling. So, all we can tell you is to focus on cleaning your equipment from dirt, grease, leaves, and in general, every stain that has accumulated on top of your equipment. Just be careful to use the right type of cleansers for different types of items. You can always read the manual that comes when you purchase bigger and more expensive equipment, such as an electric lawnmower.
Extra tip: coat your metal tools in oil after you are done cleaning. You can then give them a gentle wipe-down which is supposed to protect your tools from rust. Take good care of your items and you won't have to replace them any time soon.
Take care of any necessary repairs on your bigger pieces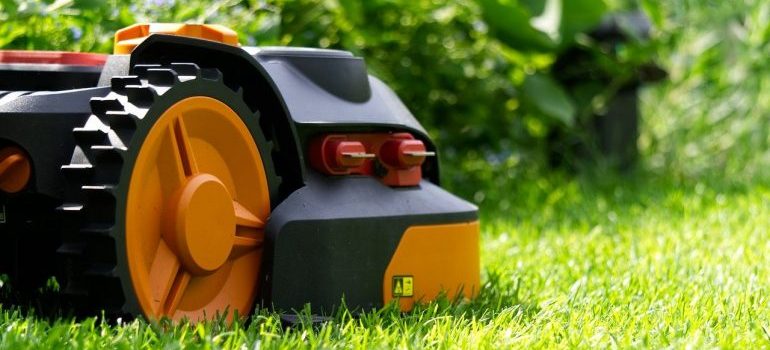 We don't know how extensive your collection of lawn equipment is. But there are many households out there that have decided to invest in an electric lawnmower and similar items. In case you have many different pieces that you have bought and paid good money for, it's safe to say that you should worry about their timely maintenance.
It's always a good idea to have your equipment inspected from time to time. And if you know of any existing repairs that need to be done on your pieces, now is the perfect time to get them done. Take care of these repairs before storing lawn equipment and trust us when we tell you that your equipment will be ready for use once spring comes.
Storing a lawnmower for the winter
You can have many different pieces of equipment that you use to keep your yard in tip-top shape. But it doesn't matter what you have – we are almost certain that you own a lawnmower. And it just so happens that out of all of your equipment, it's the lawnmower that will require the most attention and care. No reason to fret, though. Here come a few tips that will help you keep your lawnmower safely stored throughout the winter (or really just any point in time).
The first step should be a familiar one – cleaning the lawnmower.
If you have a mower that runs on fuel, you have to make sure that it is drained before you put the mower in storage.
Give some attention to filters, as you ought to either clean or replace them.
Change the oil and, while you are there, sharpen the blades of your mower.
Once you get all of this technical work out of the way, you can feel free to cover the lawnmower and put it someplace safe and dry. Pay special attention to the fact that your lawnmower should not be near any type of heat source. That might lead to an unpleasant surprise once you remove your lawnmower from storage.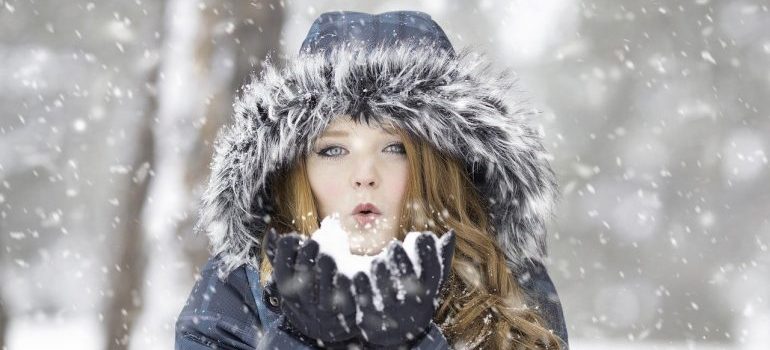 Invest as much time as necessary into storing lawn equipment
If you know how storage works, then you must know this is not a quick endeavor. At least it shouldn't be if you want to find success at the end of the day. So, don't rush into storing lawn equipment in the first storage unit you find. Instead, take your time to look for a suitable unit, prepare your items, and have no worries. If you follow our tips, we have no doubt you will be successful in your efforts.