Guide to storing power tools
If you have spent a good portion of your life collecting power tools, then we know you think of them as your prized possessions. As well you should. So once the moment comes for storing power tools, you might feel reluctant to let them go. We won't get into the why and when this will happen because trust us – it will. In case your Bellevue self-storage unit is ready and waiting to be filled with items, then the rest is up to you. Ensure your tools are stored in the right way and avoid all that damage that could befall your items.
The two ways of storing power tools
No matter how much you love them, you have to admit that your power tools take up a lot of space. And you also have to be honest and admit that the space in question could be put to better use. The moment you decide to free up some space in your garage, you will realize that you have two equally good options. We won't pick our favorites, but we'll let you choose for yourself.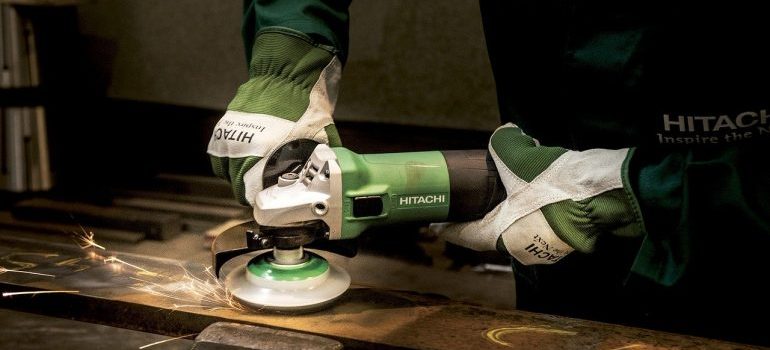 1. Renting a storage unit
The first option you have is this one. Renting a self-storage Seattle unit is something many people decide to do nowadays. And there's a good reason behind that. A climate-controlled unit will provide the absolute best protection for your power tools all year round. Plus, if you do your job well and choose a reliable storage provider, you will have your items monitored at all times.
On the other hand, we do have to realize that not everyone can spare enough money for a monthly storage rental fee. In that case, you can choose to create your own storage corner – right in the comfort of your home.
2. Storing your tools at home
If you are set on never separating from your tools or you just can't afford storage services, then we have a perfect solution for you. You can use your power tools to make additional storage space. And you can do that in one of three ways:
Making a storage cabinet – whether you decide to buy or make your own storage cabinet is up to you. But this will be a great way to store all of your power tools in one place.
Using a power tool storage rack – a perfect one to store your lighter tools. This way, you will be able to admire them all day since they will be on display, plus you'll get to easily find the tool that you need.
Storing tools in plastic bins or moving boxes – plastic bins are perfect storage containers, besides being easily stackable. Likewise, leftover packing supplies in the form of moving boxes can be used for the same purpose – as long as they are in a dry place.
Now that you have chosen your preferred storage method, all that's left is to actually learn how to store your power tools. For that reason, we will be more than glad to distribute some hopefully useful tips and tricks.
Mandatory things to do before storing power tools
If you want to maximally preserve your tools while in storage, you will have to put in some work into the process. Bear in mind that the process is the same whether you are storing tools at home or in a unit of your choice.
Damage inspection
Do you think there is any point in storing damaged goods? If you agree that this would be a waste of space, then inspect your tools before putting them in storage. If you notice any type of damage on your items, then you will be able to assess the extent of it. The tools you decide to get rid of can be either donated, thrown away, or sold at your very own yard sale. We guess that depends on their condition.
A thorough cleanse
Probably the only thing worse than storing damaged tools is storing dirty ones. Before you approach your tool with a chemical, check the manual and search for cleaning instructions. However, it's safe to assume that you can always clean by using an old towel and some water. What you are targeting are those greasy stains, so make sure you give your tools a good scrub.
Dry them out
Any time you are storing your belongings, you need to see to it that they are completely dry. However, this is especially important when storing your power tools. Water can be very damaging to metal items. And we don't have to tell you how upset you will be if your favorite tool gets ruined. We aren't even referring to monetary value here.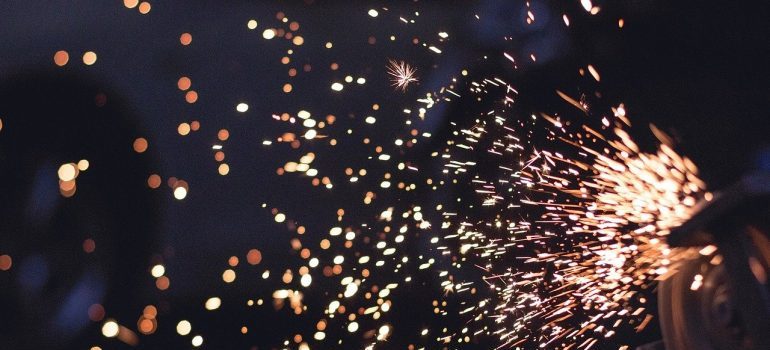 Coat your tools
To add a finishing touch, you need to coat your tools with a protector. There are different metal protector sprays to be found on the market and you can choose one according to your budget. A spritz of the aforementioned spray will ensure your tools remain usable even after they leave the storage unit. They certainly deserve additional attention that you can give them.
Never leave your tools on the ground
Finally, we arrive at the crucial piece of information. You should never, under any circumstances, leave your tools on the ground. While you can control many things, there are just as many events that you have no control over. Any flood or leakage can damage your tools if they are in contact with the floor. So when storing power tools, always put them on a shelf or in a storage cabinet. And if you choose to put them in moving boxes, just remember to elevate those boxes. Do this one little thing and your tools should remain in top shape.