Guide to storing your dining room table
Preparing your items for storage is a complex task because you need to follow several steps in order to do it properly. The importance of proper preparation is even larger when the items in question are bulky valuables, and dining room tables fall into that category. Some smaller tables won't be considered bulky valuables, but the dining room table is usually the largest and most expensive table in your household. To give you some assistance in the process, we at PortaBox Storage prepared a short guide to storing your dining room table that will help you ensure there won't be any mistakes that could be costly in the long run.
Dining room tables are delicate items that need to be stored carefully
If you were the one that bought a dining room table for your home, you know how expensive they get. That isn't surprising considering their size, and the fact that you use them several times on a daily basis. So, right away, when you have an expensive item to prepare for a move or a storage unit, you have to approach it differently than the majority of other items. And, by differently, we mean with even more care and attention. That leads us to another reason for the complexity of preparing dining room tables for Seattle mini storage, which is its heaviness. Heavy items aren't easy to move around and if you're not careful, you might damage them. To make things worse, the shape of dining room tables is usually not well-suited for easy transfer. But, we'll help you do it right.
Cleaning is the first step in preparing your dining table for storage
It may sound obvious, and yet, many people forget how important it is to thoroughly clean your items before you put them in a storage unit. It doesn't matter if you have found a storage facility in great condition. No outside factors will help your table in a storage unit if you didn't clean it before putting it there. You'd be surprised how much damage can be caused by just a few stains, leftover food, or some dust. Truth is, it probably won't be that bad if you intend to choose short-term storage. But, in the case of long-term storing, avoiding cleaning is asking for trouble, especially when it comes to wooden materials. That's why cleaning your wooden dining table is a necessity, and the same goes for dining tables made out of any material because they are too valuable for you to neglect.
Disassemble your dining room table
Disassembling a dining room table will have multiple benefits. The most important one is the better protection of your item. If you have several pieces instead of a whole table, it will be easier to protect it properly. And, of course, another big benefit is that it will be much easier to pack. So, the question is, how to do it right? Well, for starters, turn the table upside down carefully. If you drop it or it hits the ground hard, you might damage it, and that's something you surely don't want to see happen. And, if it's really heavy, ask for some help to ensure the safety of both you and your table.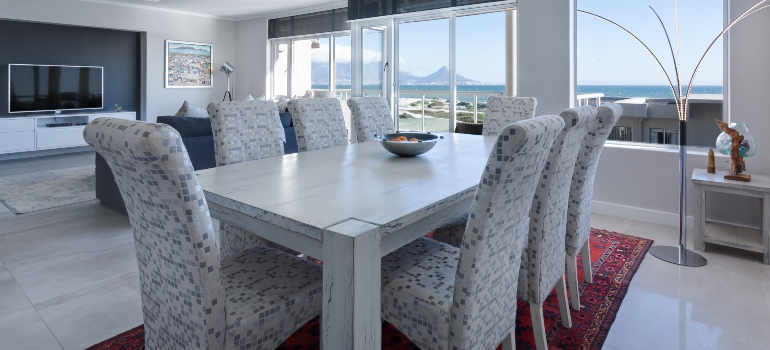 Now, it's time to unscrew the legs from your table. This is usually not so hard as you won't need any tools to do so. However, your table's legs, in addition to screws, may be attached with glue as well. In that case, the glue needs to go. There are several ways to remove it. A mix of hot water and vinegar should do the work. There is one more thing we have to mention. If your table has an extension leaf, you might want to remove that as well to avoid any damage during the transportation. After you've done all that, storing your dining room table in Kirkland self storage will be much easier and more efficient.
Use quality packing material to protect before storing your dining room table
After dismantling your dining room table you need to wrap all the pieces carefully. The legs of a table are usually the easiest pieces to wrap. And, thanks to disassembling, wrapping the top of the table won't be so difficult. So, let's see which material you need in order to properly wrap and pack your dining room table for storage.
Bubble wrap
Portable containers
Strapping tape
Moving blankets
If you are wondering "Where can I find portable storage containers for rent near me?" PortaBox Storage offers you a handy solution. We can deliver portable containers to your doorstep and as soon as you pack them, we will pick them up and bring them into our storage facility. As for the other packing material, always get more bubble wrap than you think you may need. Strapping tape and moving blankets play an important role in the protection of your items as well. Moving blankets will protect it from external risks while the strapping tape is there to keep the pieces of your table stabilized and less prone to damage during the transfer.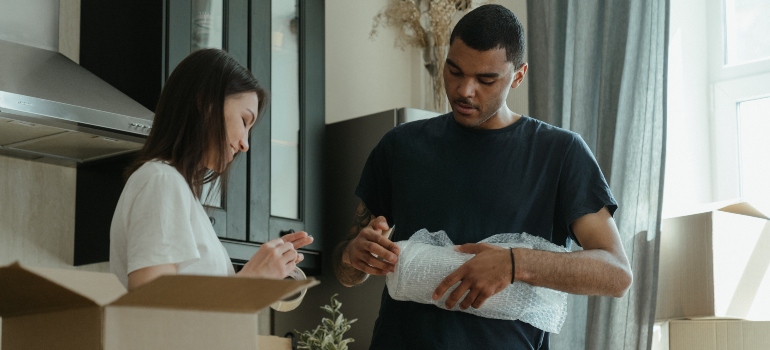 Final thoughts on preparing your dining room table for storage
While it may seem difficult at first, storing your dining room table will be done right if you follow the simple steps we mentioned. You just have to keep in mind the reasons why dining room tables are so delicate and why they need to be approached with utmost care. There are some risks involved in this process.  But, if you're careful through every step of the way, everything should turn out just fine. We have no doubts that you'll successfully prepare your table for storage which will ultimately lead to it staying in perfect condition. Finally, we wish you the best of luck in the process!