Guide to storing your exercise bike
A lot of people love using exercise bikes. You can ride them to work if you have the model with wheels, make a hobby out of them if you want to get in shape, or just go for a ride every once in a while to relax. However, once you're done and want to put it back home, it's really hard to fit it in your place. It just takes up too much space. So, let us give you a few good pieces of advice on storing your exercise bike. If you do it properly, no one in your home will have a problem with you leaving the bike the way you want.
You need storage for storing your exercise bike
If you are living with children or have a small apartment, you should find some storage space for your bike. It can be your garage, a tool shed, or some portable storage units nearby. Whatever you opt for, you need to make sure the bike isn't in the house anymore. It usually just takes up space and makes the place feel more crowded than it is. So, find a place that will be just for your bike and you can keep it there without fear that someone will run into it, push it, or scratch it.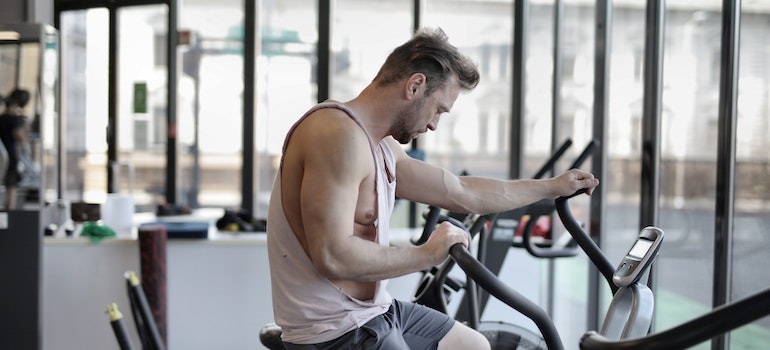 How to store your exercise bike if you live in a flat
A lot of people don't have the luxury of having their own garage or a tool shed. In bigger cities, most people don't even have their own yards. On the other hand, you will more often see people driving bikes in big cities than in suburban areas. So, while finding good Renton self storage is a great way to store your bike, if you can't do it, there are other ways.
Before we start, think about the weight of the bike
Most solutions for storing your exercise bike include a wall. So, to properly store your bike inside the apartment, you should make sure your walls are strong and that the bike isn't too heavy. Mounting a heavy bike on a wall can cause some serious damage. So, before you store any kind of bike on the wall, make sure you know how heavy the bike is and whether the walls can put up with big weight. The best thing to do is to call the landlord and ask them for permission. They probably know better than you do if your plan to store bikes might work.
Think about what kind of wall mount you would want to use
While not many people like to use wall mounts, they are actually really practical. You can put your bike on a wall and forget about it until the next time you need it. However, you might not be living alone. If you live with roommates and people frequently visit your apartment, you need a secure way to store your exercise bike. That's why there are wall mounts that have a lock on them. If you need protection, that's how you get it.
Pay attention to the size of the wheels
While a wall mount can do a lot for you, you need to make sure you've gotten the right one. If you find a wall mount that's too big or too small for your wheels you'll be in some trouble. So, know the measures of your bike whether it's the seat or the mechanism that's used to start the bike.
Why is storage better than wall mounts?
A lot of people get wall mounts because they are cheap. However, with enough research, you can also find some great temporary storage Seattle has to offer. The difference is, that your bike will be much safer in storage. There is always someone protecting temporary storage and you won't have to worry about it being stolen.
Using storage for storing your exercise bike is more hygienic
While keeping the bike on a wall is tempting to it always being at the reach of your hand, you need to face the truth. Ask yourself if you will use it again any time soon. If the answer is no, you should store it. Otherwise, it's just collecting dust and making the air harder to breathe and dust can be very bad for the lungs. Once you clean it up and store it, you'll see and feel the difference. Also, a good storage unit is also clean and it's sometimes better to use storage than to leave the bike in your garage.
What if you have to use the garage for storage
Using a garage for storing your exercise bike isn't recommendable because people mostly use their garage for parking their cars. If you put too much stuff in the garage, you won't be able to properly park your car. However, people often have no other choice but to store stuff they don't use in a garage. If that's the case, sweep the floor in the garage before you move the bike. Once that's done, you can put the bike wherever you want it. Cover it with any kind of cover, but the best would be a plastic wrap. That way your garage will stay clean and your exercise bike will be protected from any dust or oil stains.
Check if you can dismantle it
There are bikes that are made in such a way that you can't even remove the pedals once the bike is put together. However, that's not the case with most exercise bikes. So, if you are thinking about storing your bike, try to remove the seat and pedals from it. If that is possible, you can keep all the items in a box and the body of the bike will take up much less space.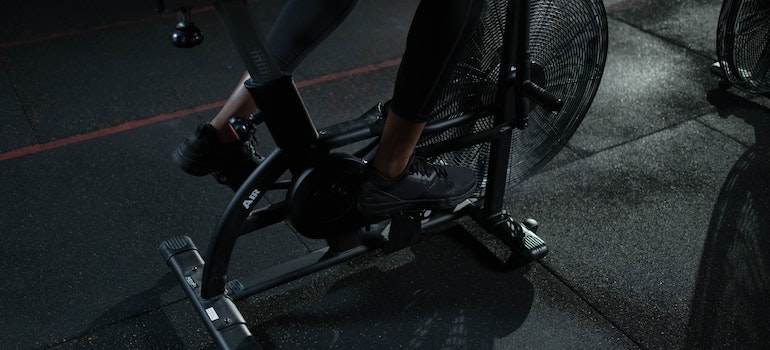 Check for red flags before you opt for a company
First of all, you need to make sure you are dealing with a legit storage company. The best way to do that is to check if they have reviews on their site. If they do, you're good. If they don't, it's a big red flag and you should try to avoid them if you can. Also, if you can contact the company, you will be able to find out more about storing your exercise bike from them personally.