Guidelines for moving from Seattle to Phoenix
Are you planning on moving from Seattle to Phoenix? Located in the heart of the state of Arizona, Phoenix has a rich history and a beautiful climate. You've made a good decision. It will be a nice refreshment. After all, the employment market in Phoenix is flourishing. Plus the inexpensive cost of living, and numerous possibilities to enjoy the great outdoors. When it comes to big-city facilities and fascinating things to do, Phoenix, the country's sixth-largest metropolis, has it all. As you get ready to leave Seattle, here are some of the wonderful things you can look forward to when you plan your relocation to Arizona.
Things to know before moving from Seattle to Phoenix
Phoenix is one of the most underrated cities in the states. Beautiful weather, low prices, and friendly neighborhoods are all things you can expect from Phoenix. And much more, of course. There are plenty of things to do and the city has quite a lot of tourist attractions. If you're a nature lover, you're gonna love exploring the surrounding areas. Many businesses are choosing to expand to Phoenix nowadays since there are more and more people each year. If you'd like to follow in their footsteps and move or start your business here, our inventory storage may come in handy.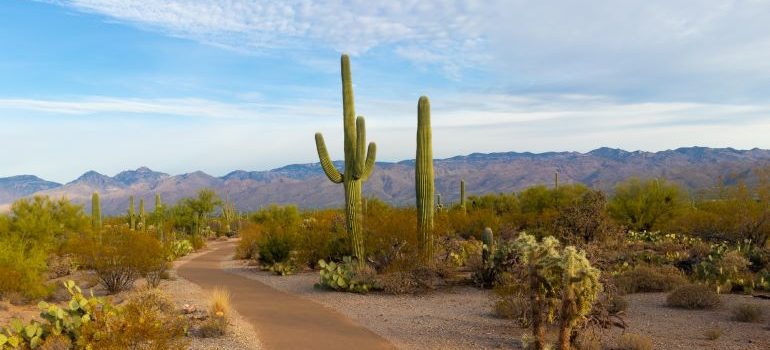 1. When it comes to weather, it's the total opposite of Seattle
Known as the Valley of the Sun because it enjoys approximately 300 days of sunlight and beautiful skies each year, Phoenix, in contrast to Seattle's gloomy climate, has a long season of sunny days and pleasant temperatures. The winter temperatures seldom drop below 70 degrees, despite the city's torrid summers. A wide range of outdoor activities may now be enjoyed throughout the year.
2. More affordable than Seattle
As a previous Seattle resident, one of the first things you'll notice about Phoenix is how inexpensive it is to live here. When compared to other major U.S. cities, the cost of living in Phoenix is fairly reasonable. The total cost of living is almost 60% cheaper than Seattle's. In Seattle, the average house price is $820,000, while here, it's just $350,000. Real estate expenses are cheaper in Arizona, but it also has one of the nation's lowest sales taxes. So you won't spend much on groceries as well. Goods and services are also reasonably priced. Are you thinking about packing your bags and moving from Seattle to Phoenix right away? With the help of self storage Seattle, you can move right now.
3. There are a lot of fun things to do outdoors in Phoenix
Phoenix's year-round pleasant weather makes it possible for locals and visitors alike to take advantage of the city's many outdoor attractions. With mountains, lakes, desert valleys, and rock formations of different shapes and sizes, there are many possibilities to explore the natural world. Visit the Grand Canyon's South Rim by hiking one of the numerous paths available. One of the most beautiful desert valleys may be explored on a trip. Rock climbing is an option for thrill-seekers at one of the numerous stunning rock formations. In Phoenix alone, there are over 200 golf courses, making Arizona one of America's top golf destinations. If you'd rather go skiing, Flagstaff, which is just a few hours away from Phoenix, is the place for you.
4. Enjoy a relaxed, safe, and friendly environment
Phoenix is well-known for its laid-back and pleasant vibe. Stress-free living and a laid-back lifestyle are popular among city dwellers. For families, this is a fantastic area to raise a child or children. The crime rate in the city is low, and residents appreciate living in close-knit neighborhoods where their neighbors are always willing to offer a hand if they need it. When living in Phoenix, you may do more of what you love and enjoy a better quality of life since your expenditures are lower. If you're moving in a hurry, our on-demand storage Seattle containers might be the best solution for your upcoming move. You can move stress-free knowing that all of your belongings are in a safe place and you'll be able to access them at any time.
Things to do in Phoenix
In Phoenix, there is always something to do. It's easy to go to some of Arizona's best national parks, such as the Petrified Forest and the Grand Canyon, which are both only a short drive from the city. Arizona Wing Commemorative Air Force Museum and Historic Sahuaro Ranch are just two of Phoenix's many museums, which chronicle the city's rich history and culture. There are several professional sports teams to cheer on in the city, and there are numerous top-rated golf courses to play on, making it a golfer's dream. Restaurants, concerts, and bar patios are all terrific ways to spend an evening in this beautiful city, which is also a fantastic area to shop.
Hiring a moving and storage company in Seattle
As with any long-distance relocation, extra care is needed to ensure the move goes as smoothly as possible. You have to think about everything from packing and loading the items to safe transportation, scheduling issues, and time limits. As a result of the complexities involved in a long-distance transfer, hiring a professional storage company is your best bet for a smooth transition. With mobile storage containers Seattle, you'll have absolutely nothing to worry about.  We're here to assist you every step of the way, so you don't have to worry about anything throughout your relocation. You may count on us to provide you with storage solutions that will facilitate your safe and fast move. Moving from Seattle to Phoenix is easy with our help!