Guidelines for storing gardening equipment
Whether gardening is your passion or just a newly discovered hobby, it's not something you can do without the right tools. This includes all sorts of items from simple spades and pruning sheers to large lawnmowers and potentially dangerous chemicals. The thing with gardening, however, is that it has its season. And once that season is over, it's time to put your tools away. But storing gardening equipment properly is important if you plan on using it again. So you can't just stuff everything in temporary storage Seattle and call it a day. Instead, you'll have to take the time to properly prepare your gardening tools and figure out a good strategy for storing them. So let's take a look at some options.
Why is storing gardening equipment properly important?
There's no reason to leave your tools lying around when you're not using them – they'll just create clutter. So storing them somewhere out of the way is the smart thing to do. But more importantly, leaving them in the wrong place can cause you to injure yourself by tripping and falling or poking and cutting yourself on different spikes and edges. Additionally, you might break your tools this way too. And if you leave them somewhere outside, they'll be vulnerable to the elements: rain can cause rust and rot, for example. There are, therefore, two main reasons why you need to store your gardening tools properly: your safety and the safety of your equipment.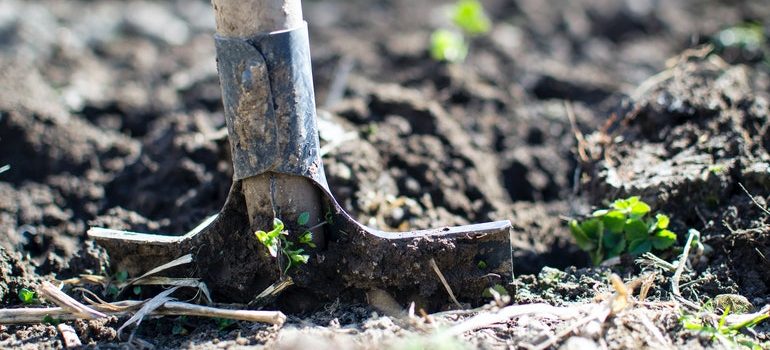 Prepare before storing gardening equipment
There are many different ways to store gardening tools when you're not using them. But regardless of whether you're planning on using a Lynnwood self storage facility or just your own garage, you must prepare your tools for storage first.
Clean your tools first
Dirt and debris can cause damage to your tools while they're in storage. So it's important to remove them before putting your equipment away. Brush dry dirt off your tools with a strong brush; if that's not enough, you can also use a mild solution of dishwashing liquid and water. However, if you use water to wash your equipment, make sure to give it enough time to dry thoroughly before you store it. For the first signs of rust, you can use steel wool or a wire brush. It's very important to remove any already existing rust before storage because the problem will only get worse otherwise.
Do proper maintenance
When you're packing other things for storage, you typically only need to clean them and then grab your packing materials and start packing. But most gardening equipment requires a bit more care than that. You'll also want to sharpen any tools with dulled edges (like pruning sheers or spades and hoes). You can use a whetstone with a bit of motor oil for this or a metal file (without oil). Finally, oiling your tools before storage is also a must. Use a cloth to spread a thin layer of motor oil over your gardening equipment to prevent rust and even make them work better.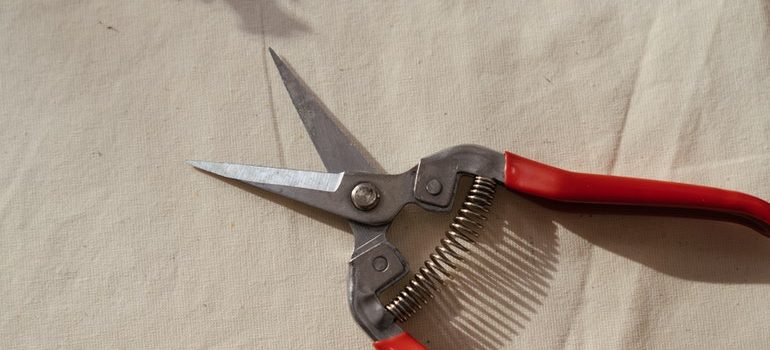 Safety measures for power tools
Depending on the size and type of your garden, you might not be using any power tools. But in case you have a lawnmower, you'll want to prepare it for storage as well. And here, it is very important to be especially mindful of the safety both of your motorized tools, which will be expensive to replace, and of yourself. First, examine your power tools for any damage that might need fixing before storage. Then, take them apart, clean them, and sharpen blades. It is best to read the manufacturer's instructions before doing this to ensure you're doing it right. Finally, drain the tools and dispose of the fuel properly – never store power tools with flammable fuel still inside. Remember to change the oil too.
Different ideas for storing gardening equipment
When it comes to where you store gardening equipment, you have a couple of different options. Make your choice on the basis of what you need, what you have access to, and how much work you're willing to put in.
Rent a storage unit
Our Shoreline self storage units are the perfect solution for when you don't want to have clutter on your own property. Although the size of the storage containers we offer is universal, you can order as many as you need to fit all your gardening equipment and have them transported to any of our storage facilities in the Puget Sound area.
You'll have a place to put your tools away during the off-season without worrying about them while also maintaining order and free space in your home. Renting storage might incur extra costs but it may well be worth the price so long as you have peace of mind knowing that your tools are safely tucked away until a need for them arises again.
Use your garage or a tool shed
Setting aside a corner of your garage for your gardening equipment or using a tool shed are excellent storage options because they allow you constant access to your tools so you can use them for storing tools both while they're in frequent use and during the off-season. And if you already have a garage or a tool shed, then you'll also be saving money! But if you're an avid gardener, even building a tool shed may be a good idea.
Although you can, of course, access storage units, you usually need to let the Kenmore self storage provider know about this in advance. If your tools are on your own property, however, you can access them whenever you like. But it is very important to keep your garage or tool shed organized in that case. Otherwise, you might end up hurting yourself by tripping over something or walking into it.
Creative ways to keep tools and equipment organized
Regardless of where you are storing gardening equipment, you want to make sure the storage provides optimal conditions for your tools. The location needs to be clean, dry, protected from the elements, and out of sunlight. Use shelves and wall hooks to keep things organized. Things like spades, shovels, rakes, and hoes can be hung on the walls while sheers can be lined on shelves. For motorized tools, it's best to use original packaging if you have it. If not, you can use moving boxes for smaller tools and simply cover larger ones with tarp or plastic. Make sure your hose is rolled without any kinks before storing it.
Finally, it's a good idea to periodically check up on your tools while they're in storage, especially if you're storing them long-term. After all, you don't want something to happen to them!