Home staging with self storage – why and how?
When you decide to sell your home, numerous factors will determine the price of your property. Most of them, you can't control, like the location or the local job market. However, staging is a great way to showcase your home in its best light and will positively influence its value. While home staging is still considered a perk for selling premium property, this is surely a misconception. Any type of housing will benefit from it. Though the main concern of most home sellers is the additional expenses, there are ways you can minimize them and get the best out of the situation. Home staging with self storage is a brilliant way to boosts the value of your property without breaking the bank. PortaBox Storage will share a few good tips to help you figure why and how to organize this project, and benefit from it.
Benefits of DIY home staging with self storage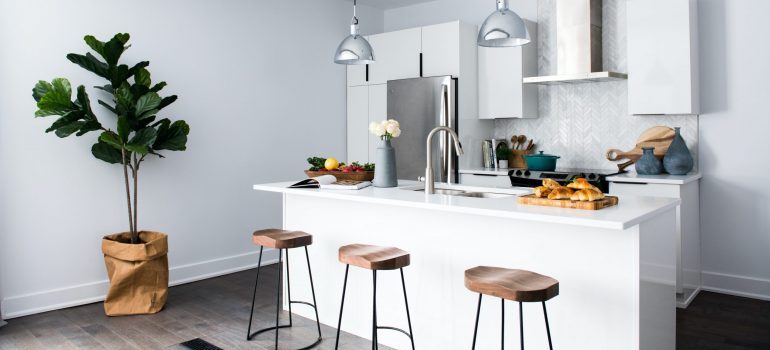 Staging a household for sale is becoming increasingly popular. So much so, that it's developed as a field on its own within the real estate industry. Professional home stagers are in high demand. However, only a consultation costs a few hundred dollars. With each passing month that your home is on the market, the total can go up to thousands of dollars. This, however, is not a vain investment.
Reports claim that staged homes sell faster and for higher prices. 
So, how can you minimize the costs and sell your property at a premium? Hint – self storage West Seattle will be of great help. Following are a few good points to help you design the blueprint for effectively staging your home with self storage. The objective would be to set up your property for sale like a pro, without spending thousands of dollars. Thus, take your lead from these, and use a self depository unit to benefit your bank account.
Why use self storage for your home staging project?
In most general terms, staging is arranging your home to render it an appeal for the larger pool of potential buyers. When setting up your property for these purposes, think of laying out a stage for a movie or theatre production. This is why the act is actually called home staging. You want to present the property in a way that will be attractive for the buyer. They need to be able to see themselves using the space and living in it. Hence, you'll have to prepare or stage it for the purpose.
This means putting a lot of stuff away and reorganizing household inventory. And where could you keep those bulky furniture pieces or outdated kitchen appliances that make your home look cluttered and unattractive? Moving them away seems to be a sheer hassle. But before you quit on the idea to stage your home, think of the conveniences of on demand storage Seattle. A mobile storage container is the simple answer to enact a perfect DIY home staging project. This is how it will help you:
Declutter
Depersonalize
Emphasize space
Clean the yard
Below you'll find the basics of home staging with self storage. Take note, and make good use of them.
Declutter your living space the easy way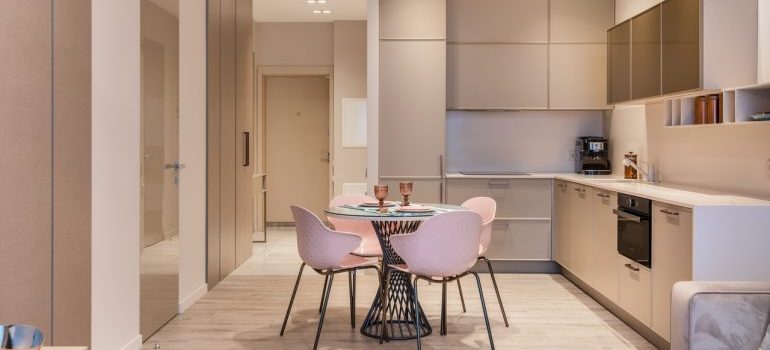 Even if you hire a staging pro, the setting up of your home for sales purposes will begin with decluttering.  The reasons for this are very simple. An excessive amount of items in your home will make it look disorganized and shabby.This of course wouldn't help to sell it quickly nor for the price you desire. Thus, portable storage Boise is your blissful solution.
Have your self-storage container delivered to you, and enjoy your peace of mind as you won't have to part with your possessions. They'll be safely stashed in your water-resistant, optimally protective storage container. Moreover, you don't have to make those time-consuming journeys to and from a facility, as you'll have easy and convenient access to your items any time you want.   
Hence, declutter your home by removing everything that detracts the attention from the spaciousness of the property. It can be tempting to just place everything into the garage, basement, or attic. But remember that a potential buyer wants to have a look at every nook and cranny of the property before making a purchasing decision. Thus, plan your property staging with a self depository unit, and get the maximum benefits that come with it.
Depersonalize your home
When selling your home, it's important to ensure that a purchaser will be able to imagine themselves living in it. Your personal items, such as photos, toys, trophies, and so on, will make your buyers perceive the place as a strangers' home. Remember that house shoppers have expectations and they look to buy a place where they will live their dream, not just purchasing a construction. So, make sure you pay attention to the ambiance in your house and refrain from decorating it to showcase your personal style. Rather, keep it neutral in that regard. However flamboyant and stylish your decorations may be, they still can be an eyesore for a purchaser. Again, a self-storage unit is immensely helpful, as it allows you to keep your personal treasures off the site, but still having them near you.
Place emphasis on the spaciousness of your property
Anyone would like to purchase property with ample usable space and decorate it to their liking. Thus, make a point to free up as much space as you can. Present spacious rooms with lots of natural lighting. Remove bulky furniture that constricts the space, remove heavy drapes from the windows and consider placing mirrors strategically, to visually increase the volume. Light is a very important aspect when selling your home. A murky place will put off just about anyone. Hence, let the sunlight in, and if there are any particularly dark corners in your house, consider placing some inexpensive, simple lamps to brighten the area up. With your self-storage container nearby, you can make these adjustments with no issues at all.
Showcase a neat and tidy yard
Of course, the first impression matters. A clean and tidy home on the outside gives out an impression of being well-taken care of, which makes it attractive for buyers and invites them to come in and have a look. So, do your best to increase the curb appeal of your property on sale. For this intent, self-storage will help you put away items that are indispensable in the yard but are less than picture-perfect for someone looking to buy their future home. Lawnmowers, hand tools, bicycles, and anything else that usually finds a spot in the yard is best kept in your portable storage, and away from the sight of your potential buyers.
In summary, self-storage has numerous practical uses when it comes to property sailing. Besides, home staging with self-storage is a wallet-friendly strategy to sell fast and at the best price possible. Thus, follow our practical tips above, and you are sure to be positively surprised at how easy it can be to reach your home selling objectives.