How to choose the right boxes for self-storage
Choosing the right storage solution is important. It allows you to contain the mess and stow all your belongings neatly away. If you aren't sure of the exact type of storage that will fit your individual requirements optimally, our specialists at PortaBox Storage will help you maximize your benefits with expert guidance. Apart from the right unit, it's also essential to choose the right boxes for self-storage. While it might be tempting to just stash everything away in the largest box you can find, this surely isn't the way to keep your items safe and undamaged. Besides, selecting the best packaging for self-storage will help you optimize the space available as well. In this article, we look at everything you need to know about various types of boxes suitable for adequate items, and how to choose the right ones, for your flawless storage user experience.
Why is it important to choose the right boxes for self-storage?
Storage is a versatile solution that comes in handy on various occasions. And, no matter what type of items you're intending to stow, on demand storage Seattle will certainly prove to be the most convenient solution. Of course, ensuring that the unit you're renting is clean and offers an adequate level of safety and protection for your inventory is of utmost importance.
However, opting for the right boxes for self-storage is equally salient. No matter how robust your items might be, retiring them for even a short period of time calls for adequate care. That is, you need to make sure that you'll keep your possessions in pristine condition while in storage. Using the right packaging materials will guarantee that your belongings are in usable condition once you need them. Thus, picking the right boxes for storage is a matter of rendering the right protection to your stuff.
Besides, space is another important point to consider. Just shoving your items in the unit to get them off the way will hardly help you score a point on the organization chart. Besides, if you select the correct type of packets for self-storage, you'll ensure maximum space usage. 
What should you consider when selecting boxes for self-storage?
As you may conclude so far, no matter the quality of storage solutions you lease, flimsy packing materials can be a deal-breaker. Therefore, do your due diligence, and makes sure you're getting the best out of your self-storage unit.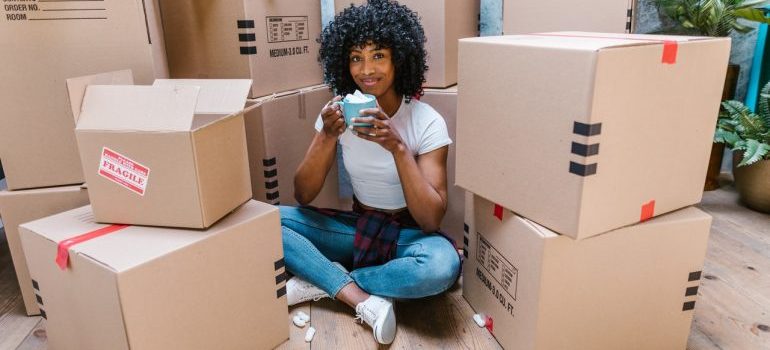 To choose the right self-storage boxes, the first thing you should consider is their quality. Surely, you can always pick up some at the supermarket. But, bear in mind that used boxes are prone to disintegrating, due to the moisture they absorb. Besides, sticky residue or food particles can easily attract rodents, bugs, and various other critters. Therefore, make a point to invest in quality boxes, and you'll keep potential costly damages at bay.
When you pick the ideal self-storage boxes, make sure they are made of thick cardboard. As we will mention in continuation, there are various types of boxes, and not all are suitable for all types of items. Hence, mind the safety of your possessions, and prioritize quality when looking for self-storage packaging.
Types of boxes and how to choose the right boxes for self-storage
There are various types of boxes in terms of material being made of and design intended for packing certain items. The longer you intend to store your possessions, the sturdier the box should be. So, let's mention the most common types of moving boxes below. You should select the right self-storage boxes depending on your specific inventory.
Cardboard boxes. These are the most common type of boxes. They are inexpensive and practical to pack, stack and label. Besides, it's easy to recycle or repurpose them after use. However, cardboard may not be the most protective material of them all. Depending on what you're planning to stow, consider that humidity and even heat may damage it. But, if you opt for climate-controlled self storage West Seattle containers, you sure have much less to worry about.
Plastic bins. Much more durable than cardboard, they are the ideal option to choose the right boxes for self-storage in the long run. Plastic bins are more costly than cardboard boxes. However, your storage provider might be offering rental options.
Specialty boxes. They come in plastic and cardboard variants. Usually, these are suitable for packing and storing valuables, such as artwork, flat-screen TV, etc. A bit pricier than conventional boxes, investing in them is a great solution to keep costly items safe while in storage.
Pick the right box sizes to maximize the space and organization of your self-storage unit
Boxes come in various sizes as well, and this is related to the weight of the items you intend to store. And, nevertheless choosing the right size of boxes for self-storage will help you organize your unit, and optimize the space usage of your portable storage Boise.
Small boxes. The standard size of these is 16 x 12.5 x 12.5, and they can hold up to 60 pounds of weight. Small boxes are best for packing small and heavy items, such as books or dishes.
Medium boxes. You can safely pack up to 65 pounds in these. They are best for storing items that can be packed loosely. Choose the right boxes for self-storage and opt for medium boxes, to store linen, toys, pots, or pans.
Large boxes. These have about the same weight capacity as medium boxes but are slightly larger. Large boxes are best for packing items such as lamps or small kitchen appliances.
Extra-large boxes. In these, you can pack pillows, comforters, winter coats, etc. Their weight capacity is up to 70 pounds.
Wardrobe boxes. They are intended for neatly packing clothes that need to be hung. Wardrobe boxes come in small, medium, and large sizes, and with a bar attached across the top.
In conclusion, the aforementioned will surely help you choose the right boxes for self-storage. Consider your specific inventory, and make a list for purchase. Or, even better, call our storage experts today, and consult with them for your ultimate convenience.