How to improve your mood through decluttering?
While some people find great comfort in filling out their living space or office space with things, there is nothing that can replace a well-organized and cleared room. The truth is that people are happier in a clutter-free room. It like a breath of fresh air, walking into such spaces. And that is the motivation our assistance comes from. Not only we can provide you with self storage in West Seattle for your belongings, but we can also share with you a couple of useful decluttering tips. Read on to learn more about this process, how you can improve your mood through decluttering and make it simpler.
The many benefits of decluttering regularly
Many people think that decluttering should be done only before moving stuff to another place. Although decluttering is an essential part of every move, it needs to be done from time to time, even if you're not planning to move. And there are many reasons why this is.
The way we feel depends on many factors and one of them is our environment. Thus, living in a home that's filled with clutter might be the reason why you're not feeling so good. Cluttered and stressful environments can have a great impact on our mood and that's why it's necessary to reduce clutter in our lives.
Many people don't like decluttering because they think they'll have to get rid of most of their items. But that doesn't always have to be the case. Renting one of our Ballard self storage containers and storing some of the items you don't want to keep in your home or office is always an option. This way, you'll manage to maximize your space without making any changes to your home.
Decluttering is a must for those who are merging two homes into one. By getting rid of duplicates and unnecessary stuff, you'll ensure a great beginning of a life with your partner. You can go through stuff with your partner and use this chance to plan out your future. Also, decluttering with a partner will make this task much easier and faster.
Decluttering can do wonders for your mental health and improve your mood
Although many find decluttering stressful and tiring, it can be really liberating! It can really do wonders for your mood and improve mental health. Since this is such an important matter, we wanted to talk a bit more about mental health and the role of decluttering. Here's how this process improves both physical and mental health:
Less distraction and stress;
Boosting self-esteem;
Letting unpleasant memories go;
Improving concentration;
Better sleep and better eating habits.
In short, decluttering improves mood. You'll realize this as soon as you get rid of the last item. You'll get that liberating feeling and see why decluttering needs to be done often. So, once you clean up your space, make sure to continue doing it at least once a year.
The best ways to improve your mood while decluttering
Although decluttering comes with lots of benefits, it's not uncommon for emotions to get riled up during this process. So, why not take this opportunity to learn how to make decluttering easier and faster? If you are sick and tired of getting overwhelmed whenever you start getting rid of your stuff, follow these tips. Your problem will disappear in next to no time.
Include your entire family
Even the most challenging tasks become much simpler after asking for help, and the same goes for decluttering. If you need to declutter your home, then you should include your entire family in this process. Including all of them will not only make decluttering faster but it will also make packing more cost-effective in case you need to move afterward. But, how to do it the right way?
Simply assign a task or two to each of your family members. It would be best to put your kids in charge of decluttering their rooms. Of course, do this only if they are old enough. If they are not, you can do this together and help guide them. You and your partner could come up with a game to make decluttering for your kids more fun. And doing this will also make decluttering more interesting for the two of you.
Turn up the volume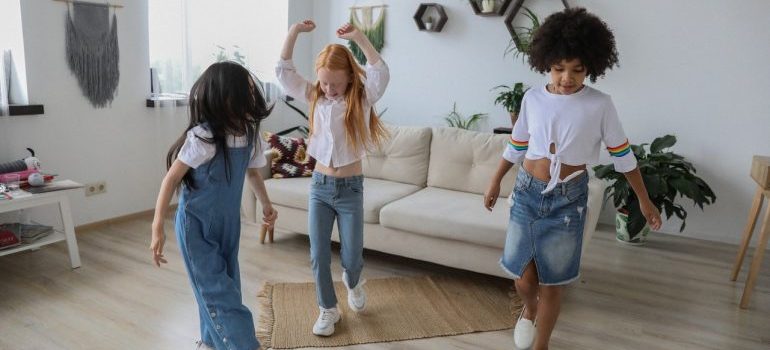 This is probably one of the tips we like the most. And you know why? Music makes everything better. It can even improve your mood through decluttering. So, if you already know that you will be decluttering soon, prepare a playlist for this process. Include all your favorite songs, turn up the volume and you will see that you won't be as stressed anymore. Dance around, come up with a silly choreography with your kids and you will have a blast.
Try to earn a couple of bucks
While you declutter, you will stumble upon non-damaged items you're not using anymore. Instead of just throwing them away, you can try selling them. This can be a really easy strategy for earning a couple of bucks. In case you have lots of items to sell, consider organizing a yard sale. But, if you have only a couple of items, or you don't have the time to organize a yard sale, there's another solution. You can try selling them on online marketplaces, such as eBay. You just need to snap a couple of good photos, write brief info about the item you want to sell, and wait for the potential customers to call you. It is as simple as that!
Do your best to keep things tidy even after decluttering and your mood will stay good
As you can see, you can improve your mood through decluttering and make it simpler in many ways. Once you finish with this task, the only thing you will need to do is try to keep your home clutter-free. Don't keep items you don't need. Don't even buy them! Only buy items you know you will be using. This kind of behavior not only will keep the clutter away, but it will also help you save money. If you ask us, that's a deal you shouldn't miss out on.