How to make living in a tiny house easier with self storage
In recent years, our living spaces are becoming smaller. On the bright side, this has numerous cost and time-saving benefits. However, space is necessary for keeping a variety of household items. Therefore, every small household is faced with the challenge of becoming cluttered with stuff over time. But there are practical solutions to turn the tables around. For instance, temporary storage Seattle could be exactly what you need to make living in a tiny house easier. Besides, the specialists at PortaBox Storage will provide you with the best option for self-storage that fits your particular household needs. In continuation, our experts will share a few great tips that will help you enhance your experience of living in a tiny house and increase the quality of lifestyle with the help of self-storage.
Expert tips to make living in a tiny house easier
The "living small" movement is popular in recent years, and this trend shows no signs of slowing down. And understandably so, because living in a minute house comes with financial freedom, while you don't necessarily have to give up on comfort. That is if you know how to play your living space cards right. For one thing, you'll make living in a miniature home a lot easier with portable Bainbridge Island self storage solutions.
This is a more economical option than paying rent or exorbitant bills that come with owning a large abode. Besides, self-storage has multiple benefits to help you organize your limited living space, and ensure a pleasant and comfortable lifestyle. So, below you'll get some useful ideas on how to ensure a good life in a small house within budget and for your ultimate convenience.
Downsize your inventory
Maximize your tiny space
Pick your storage options
The benefits of self-storage
Sort out your possessions before moving to a tiny abode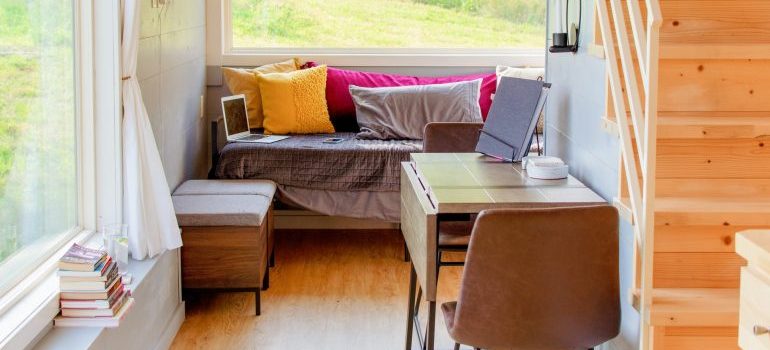 So, by now you've probably noted the advantages that living in a small house provides. And whether it's an RV or a tiny house on a trailer you're about to move to, you'll benefit from some good tips for your downsizing project. This will be necessary, as moving from a traditional home to a space that's likely a third of its size calls for some adjustments in the size of your inventory. However challenging this project may seem, leasing a self-storage unit will help you organize your entire relocation with ease. Thus, don't hold to things that have no actual purpose in your life. Toss, recycle and donate them, and ensure you'll make your lifestyle in your tiny home to be easier and more comfortable.
An immaculate organization of your tiny living crib will ensure your comfort
Without a doubt, living in a small house has myriads of personal and environmental advantages. However, each coin has two sides, and so does this one. Among the most prominent challenges of living small, you'll face is definitely the space available to you. And as much as you don't mind the fact that your tiny home isn't a mansion, making it functional and comfortable requires your due diligence. This means that you'll have to use smartly every square inch available.
Therefore, be creative and organize your abode with precision from the floor up to the ceiling. Use your vertical space to get the maximum out of it. You can use corner shelves, or hang these on top of doors and windows. Instead of cupboards, you can hang your pots and pans on hooks installed in your kitchen ceiling. Withal, there are many fantastic options to help you organize the small space and make living in a tiny house easier. But nothing is as effective as doing your research on "portable storage containers for rent near me". This is sure to provide you with the perfect practical solutions to make the best out of your small living experience. 
Figure your ideal storage solutions to make living in a tiny house easier
As we made a point above, no amount of creativity can make it up for the need for storage space in your home. Therefore, determine what the perfect storage solution is for the specific needs of your tiny household. For instance, Seattle mini storage can be your best option and one that'll ensure your comfort of living in a small house. With a safe space to keep the possessions off your way, you'll be able to enjoy the experience of living in your cozy crib without feeling suffocated with stuff.
Consider talking to our specialists and sharing with them what kind of storage you exactly need, and what your expectations are. We offer a very convenient solution for storing a wide variety of household needs. So, ensure your easy living in a tiny house with adequate storage solutions befitting your particular requirements.
How will self-storage simplify your experience of living in a tiny house?
Self-storage comes in handy on myriads of occasions. But its advantages are best showcased when we are talking tiny living lifestyle. A self-storage unit is a surefire way to ease most of the challenges that come along with living in a tiny dwelling. So, here is a quick but useful account on how can you use self-storage and enhance your tiny living experience for the best.
Stash away the bedding. To make living in a tiny house easier, you'll have to rationalize your space effectively. Thus, self-storage comes to your aid yet again. In your unit, you can keep extra bedding, seasonal clothes, and maintain your extensive wardrobe without stressing about a bigger closet, that you can't even fit into your tiny abode.
Keep your bulky items in. Do you have a hobby that requires specialized gear? Skiing, surfing, riding a bike, in each case self-storage will benefit you.
Safely keep your documents and other important things. Even large households are in need of extra space when it comes to keeping paperwork away from the living space. So, depending on your particular lifestyle, self-storage is a great option to consider if you want to lead an organized and happy life in a tiny abode.
In conclusion
As you can see, the pros of living small will outweigh the cons and the challenges as long as you resort to effective solutions. Thus, take your lead from our tips above. These will surely help you make living in a tiny house easier. Good luck.