How to make moving in together easier
The decision to live together as a couple is an important milestone in every relationship. But, as exciting as it might be, it is nevertheless a big change in your lives. It's a commitment as well. So, this is a decision that you have to make rationally rather than being swiped into it by intensive emotions. Much like any other move, this transition requires thoughtful planning. For one thing, the sooner you secure your temporary storage Seattle, the smoother your further moving preparations will flow. Hence, talk to our specialists at PortaBox Storage and benefit from their guidance in choosing the best options for your needs. Further, our experts will share some of their best tips on how to make moving in together easier. So, take notes, and use them to your advantage.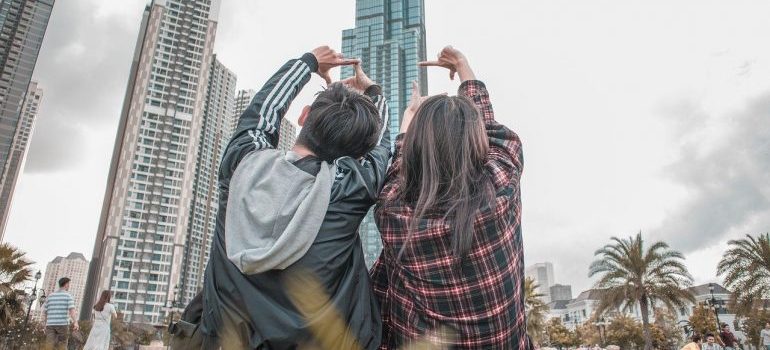 6 tips to make moving in together easier at the very start
Huddling together with your sweet love is a romantic prospect. However, it entails significant changes and sharing responsibilities as well. Therefore, to make moving in together uncomplicated in the long run, you'll need to consult both your heart and your head. Without a doubt, there is a lot to consider before taking the plunge.
First of all, you'll have to merge two households into one. This means you must find an effective way to sort out your possessions. And without putting this off for later, start your "portable storage containers for rent near me" research with ample time to spare. You'd like to have your storage options ready at hand. With this important question sorted, you'll eliminate unnecessary stress come moving day, and your couple move will be much easier.
Important considerations before making the next step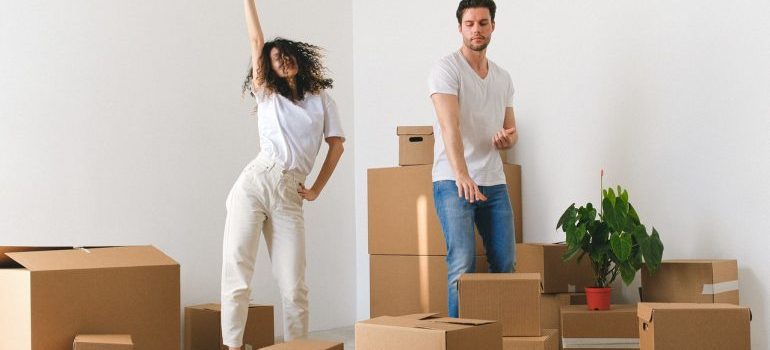 To make living together easier, make sure that you're both taking the next step for the right reasons. So, here's a brief account to give you the lead on what makes solid foundations for building a happy home together.
Define mutual expectations. Determine what your relationship means to you, and what your expectations are. To make moving in together easier, and a decision that you won't regret in a month, you need to be on the same page in this regard.
You feel comfortable communicating with each other. This is ground zero for a harmonious cohabitation. Therefore, you need to be able to listen to one another and feel at ease expressing thoughts and emotions. Honesty is the best policy always. So, talk openly and clearly about everything that is relevant to your household sharing plans. Of course, this includes your budget and financial powers.
Have your own independent lives. While dating spending all of your time with your significant other might be your favorite thing on earth. But living under the same roof changes things. Unless you both have your own hobbies, interests, and aspirations to pursue, your relationship will ultimately start to feel suffocating.
According to some resources, moving in together makes it harder to know if you are right for one another. However, with the abovementioned points, you'll be on a good track to retain your individuality and avoid getting resentful over time. Case in point, make sure your moving in together feels right from the start, and you'll have it easy in the future.
Practical tips for smooth and easy moving in
When choosing a roommate, we tend to have requirements and expectations in terms of sharing the space. But, when it comes to moving in together with a partner, this tends to be overlooked. Of course, discussing the topic with someone you feel you know so well may feel weird. However, it's one of the foundations that will make your life together easier.
So, make moving in together simple by creating an actual plan of action to tackle the pragmatic side of your project. Here's what will help you both celebrate your successful move to your new home.
Sort out your possessions
Rent storage
Have a budget plan
Create a schedule
Designate personal space
Declutter to make moving in together easier
Let's assume that you have already chosen the place you're moving to with your partner. His house, your parent's house, or renting a tiny condo you plan to turn into a cozy nest for both of you, doesn't really matter. What it's really important to consider are your belongings. So, what goes in your Seattle mini storage for the time being, and what's more suitable for your new place? Your partner loves their couch and you love yours. So, which one is going to be? Making your moving in together easier is in big part deciding on what household treasures will you be sharing in your new home. 
Choose a storage solution that suits you both
Naturally, when you are moving in together, you can't simply get rid of all furniture that you can't fit in your new shared place. Besides, many of the items you don't need now may come in handy if you decide to grow a family along the way, and upgrade to a bigger home. So, opt for a convenient Bainbridge Island self storage that is a good fit for your shared possessions. This way moving in together will be simple, as neither of you will feel as if you have to give up on your beloved items, just because you have no space fr them.
Set up a shared budget plan
Paying bills is not exactly the most romantic thing there is. However, it's part of life, and living with your partner means you'll have to assume the responsibilities. So, discuss your shared budget and agree on a household expenses plan. With this set, you'll not just feel at ease when moving in together, but you'll pave a road for happy living together for the years to come.
Coordinate your individual daily schedules
You may like that your partner is into morning jogging sessions. But, how will you feel if the alarm clock wakes you up at 5 a.m. every morning? Or, are you fine having friends over for drinks in the evenings after work? Do you maybe have a dog and are you willing to always be the one taking it out for a walk? Again, communication is key to a happy life. So, make sure you organize your time and coordinate your activities with your partner. Needless to say, respecting each other's comfort zone and personal space is essential for a healthy and long-lasting life as a couple.
In summary, follow our tips on how to make moving in together easier, and you are sure to benefit from them. Make a point to organize your space, and help yourself with convenient storage solutions. Organized living space is, after all, the backdrop for a functioning relationship and happy life for many years to come.