How to make moving more time-efficient
Moving is not something you do overnight. In fact, if you're moving long-distance, it may take you months to properly prepare and organize everything. Unfortunately, some things can't be rushed! You shouldn't sell you home to the first potential buyer just because they're interested or box your belongings up without a care in the world. But there are some aspects of moving that you can get done faster if you know what you're doing. Since people use storage when moving a lot, PortaBox Storage experts know a thing or two about how to make moving more time-efficient as you prepare for the relocation. From planning tips to packing advice, we'll guide through the process of saving time on relocation.
Planning tips to make moving more time-efficient
One of the best things you can do to make moving not just more time-efficient but also less stressful and overall easier is to make a good moving plan. Planning in advance is beneficial in many ways: it helps you stay on top of all the tasks you need to do, it keeps you organized, and it keeps you on schedule. So it's worth putting a few hours in planning your relocation before you start.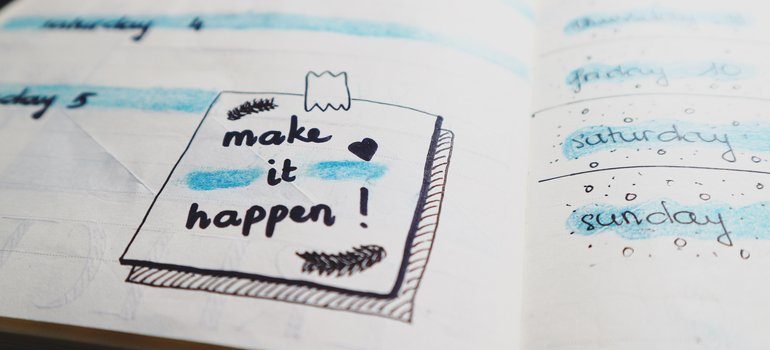 Start preparing for your relocation as soon as possible
This may seem a little counter-intuitive if you're trying to move quickly. After all, doesn't starting well before moving day mean you'll spend more time on your relocation? But look at it this way: the sooner you start, the sooner you'll finish. Plus, having a plan means you'll waste less time making things up on the fly. So take a few hours to research your options, read up on some tips, and make the best plan for your relocation. Remember to allow for plenty of time for packing, brainstorm on whether you need to use Newcastle self storage, and look into moving companies in the area.
Create a checklist to stay on track
Checklists are an excellent format for putting your moving plan on paper. They are very simple to make while also giving you an easy overview of all the tasks you need to do. And if you make a virtual checklist, you can also easily drag tasks into a new order if your plans change.
Plan out the day of the move in advance
As moving day gets closer, you'll also want to make a plan for how moving day should go. This doesn't have to be as detailed as your overall moving checklist: simply write out all the things you mustn't forget. Remember to write in the time you need things done by if there is a deadline. If your landlord, for example, is expecting you to vacate the premises by midday or you need to load your boxes into portable storage Boise before the container is picked up by a certain time, you should make those tasks priorities. You'll likely have to be very flexible on this as unpredictable things happen all the time when you're moving. But even some minimal guidelines can help keep you calm thus ensuring you don't waste time on panicking.
Packing tips to make moving more time-efficient
Packing is the most time-consuming part of the moving process. If you want to move efficiently and quickly, then figuring out ways to make packing faster is crucial. Proper packing techniques can save you a ton of time.
Gather packing supplies in advance
If you're trying to speed things up, then you don't want to stop packing every few hours to go out looking for more boxes or tape because you've run out. It is much better to have all your packing supplies in your home before you even start. Then you can jump into packing and dedicate all your time to the task until it's done! So, to estimate the amount of supplies, you'll need and then gather them in advance. Get a few extra boxes and rolls of tape just in case.
Pack, declutter, and label all at once
Some people like to take their time with packing and do it in phases: decluttering, gathering supplies, preparing the boxes, packing each room one by one, labeling boxes. But if you want to save time, you can do all that at once and this is how:
gather all your supplies in one place that you'll use as a sort of packing station
set aside three boxes – one for the things you're donating to charity, one for the things you're selling, and one for the things you're throwing away
go through your stuff: put the things you're getting rid of in the appropriate box; pack the rest
label each box as soon as it's packed to speed up the process
General moving tips that help you make moving more time-efficient
Between proper planning and quick packing, you'll save a lot of time. But there are still other things you can do to make your relocation even more time-efficient.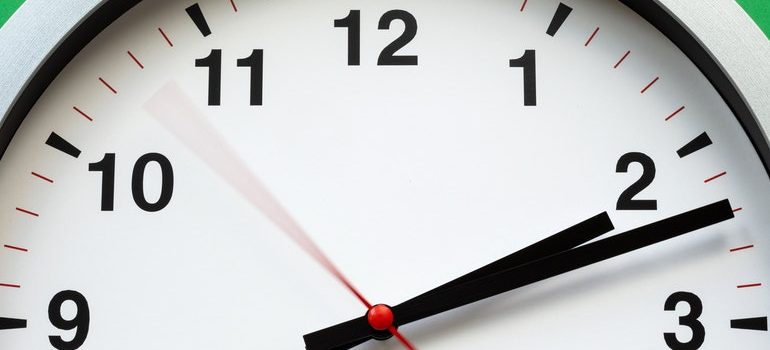 Get help to speed up the process
By far the easiest way to save time on your relocation is to hire movers to handle everything. Professional movers and packers know exactly how to do everything quickly and efficiently. So if you're moving on really short notice, you should go for the services of a moving company. However, if that is not an option, you can still ask for help from friends and family. A few extra sets of hands certainly won't hurt!
Don't forget about all the little things that make life while on the move easier
It's easy to focus entirely on moving tasks and how to make them happen faster. But you can also make moving more time-efficient by freeing up a few extra hours every day that you'd normally spend on day-to-day life.
If, for example, you spend eight hours packing instead of working, you'll be able to cut down on the number of days you need to prepare for the relocation. There are a few things you can do here. Think about using a few vacation days at work, for example. Get childcare to simultaneously keep children taken care of and out of the way. Start practicing weekly meal prep. Every minute you save counts because they eventually add up to a faster relocation!