How to make room for an in-house music studio
Whether music is your profession, your hobby, or just a dream for the future, you'll need a place where you can commit to it. In an ideal situation, you would have access to a professionally designed and equipped studio. But most people can't afford to rent space like that, especially if they're only just starting out. And with the COVID-19 pandemic still in full swing, it's best to avoid public and shared spaces whenever possible. Instead, you can build a studio of your own in your home. This will, of course, require some effort on your end. You'll need to design the space and buy the equipment. But first, you have to make room for an in-house music studio. However, if you use Seattle self storage and employ a few clever space-saving tricks, this part won't be too hard.
Decide where you want to make room for an in-house music studio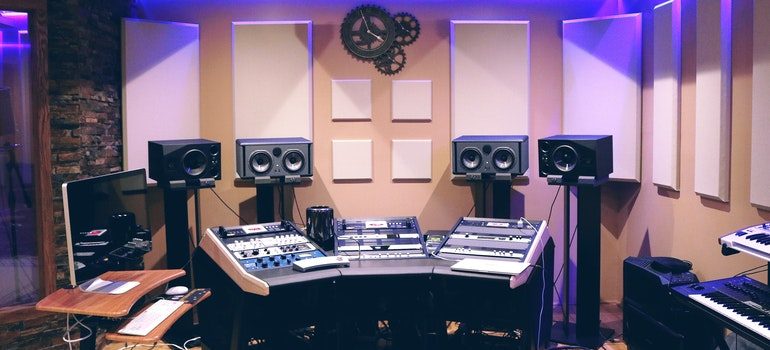 The first thing you need to decide is where you're going to build your studio. Whatever place you choose is the place you'll need to clear out. Garages and basements are popular choices, but you can also convert offices, attics, and even storage units.
Get as much space as you can
Between the recording equipment, the instruments, the amps, and other tools, a music studio can take up quite a bit of space. Just how much space you'll need depends on what exactly you'll be using the space for. If you're in a band and want to use your home studio to record an album, you'll need quite a bit of room for all the instruments, equipment, and people working on the music. But if you only want a place where you can play guitar, you can get away with a lot less space.
However, it's always better to have as much space as possible just in case. At the very least, you'll want to convert a whole room. This may require using self storage Bothell to put away furniture in order to clear out the area. But if you want an in-house music studio, you'll simply have to make some sacrifices.
Pay attention to the acoustics
If you are serious about making music, you need a space that is conducive to that. Ideally, you should be looking for a large room with high ceilings, asymmetrical walls, and a lot of irregular surfaces. This will help you produce the best and cleanest sound with the least amount of interference and distortion from the surroundings. You are unlikely to find something that matches this description exactly. Instead, you should choose a place that comes close and then follow up with acoustic treatment. Look for a room that either has sound insulation or is quiet enough that background noise won't be a problem – you don't want car horns in the background of your music.
Finally, be mindful of the noise you will be making as well. Depending on the type of music you play, you may be producing a lot of disruptive and loud noises. Your family and neighbors won't like that. Either choose a room far enough away from others that this won't bother them or invest in good sound insulation.
Plan before you make room for an in-house music studio
Once you've found a good room to convert into a music studio, it's time to start thinking about the practicalities. It's a good idea to rent Ballard self storage for the furniture you're clearing out, budget for the acoustic treatment to the room, and make a list of equipment you want to get. In order to do that, you need a plan.
The equipment you plan on using will determine how much space you need
You need to have at least some idea of the instruments and equipment you'll be using in advance. More large equipment will require a larger room, especially since you'll also need to be able to move around in the studio. If you already own the instruments and equipment and are keeping them in storage pods Seattle, you can use that to gauge how much space they take up. Whatever storage space you're using, you'll need to double that for a studio. 
What you use your studio for will affect the design
People use in-home studios for all kinds of things. If you just want some space to practice, then you don't really need to set up a lot. But major record labels can get started in basements too; if that's your goal, then you'll need a lot more equipment and a lot more space. You'll need to clear out a much bigger room and probably even remodel. So set your goal early and create a studio based on that.
Make room for an in-house music studio by clearing out the space
With everything decided and planned out, you can start setting up your studio. It is highly unlikely you have tons of suitable empty space in your house just lying around and waiting to be converted. So your first step will be to clear out the space you've decided to use for the studio of the things that are already there.
Declutter and clean thoroughly
An in-house music studio should be just that – a music studio. You shouldn't use it for other things at the same time. Get everything out of the room first. You'll need to clear out furniture, decorations, and even rugs. Then, you should clean thoroughly. If you need to make modifications to the space (like adding sound insulation, for example), do so now before you fill the space with equipment. Finally, check the installations in the room – you'll need a lot of electricity when recording so you want your wiring to be perfect.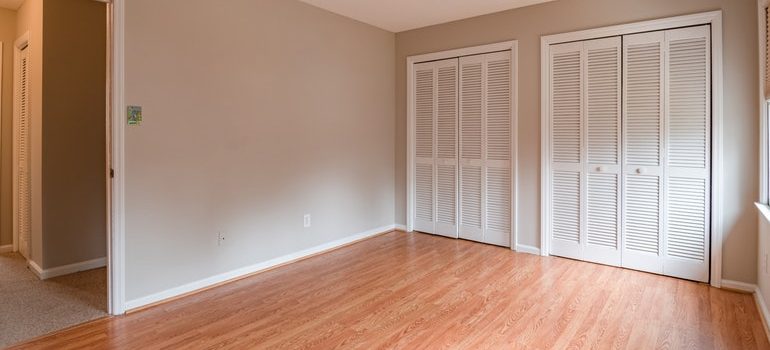 Get extra space by renting storage
If you're setting up your studio in a garage or basement, odds are you'll have to take a lot of pretty random things out first since most of us use these rooms for extra storage. This is a good opportunity to get rid of the things you were storing but don't really need. It's also a chance to start using some things you forgot you even had. But even so, you'll probably end up needing some extra storage space at least until you rearrange your home to accommodate your new studio. So rent a portable self storage container while you build your studio and figure out what to do with your things.
After you make room for an in-house music studio, it's time to set it all up
Once you make room for an in-house music studio, it's time to get all your equipment in. You'll need an audio interface, microphones, microphone cables and stands, a pop filter, headphones, speakers, and instruments. If you're serious about recording, you may also want to invest in a proper recording and mixing station. But you don't need to go overboard from the start. You should set up your stuidio so it fits your needs and allows you to grow. It doesn't have to be perfect immediately – just good enough for you.