How to pack a moving truck properly
In order to pack a moving truck properly, all you have to do is be organized and smart about it. it may seem like a complicated task, but it really isn't. A little preparation goes a long way, and you should ensure you are well-prepared for moving day. Moving and relocating are stressful enough as they are. We have to do everything we can to minimize stress. Finding reliable temporary storage Seattle offers is only half of it. The other half is packing your items the right way and placing them adequately in the moving truck. In this article, we'll share with you the best tips and tricks when it comes to packing a moving truck.
Make sure you have enough packing supplies and you pack your belongings properly
First of all, make sure you have enough packing materials. You don't want to have too few, because that way you risk your belongings getting broken along the way. Maybe during transport, or maybe while you pack the moving truck. All of your possessions should be adequately packed, so if needed spend a few extra dollars. That is way less money compared to the amount you would lose if your stuff breaks during transport. Moving insurance is only partial, so don't rely on it too much.
Get enough wrapping paper, bubble wrap, boxes, tape, and everything else you need. Properly pack your possessions to ensure they don't have too much wiggle room inside the boxes. Always put an extra layer of wrapping paper between the walls of the box and your items for additional protection.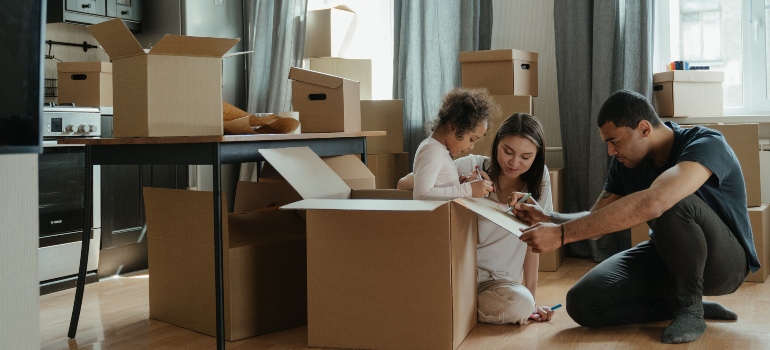 Be smart with the size of the truck you are renting
Getting a truck that is too small for your needs is equally bad as getting one that's too big. Both scenarios have bad consequences. If you get a truck that is too small, you will try and pack too many boxes inside, along with bulkier items like furniture. This will result in some of your boxes cracking and items inside getting broken if they are fragile. Not only that, but you would have to pay for more trips from your house to the storage unit as not everything would fit inside.
If you get too big of a truck, you also risk breaking and damaging your stuff. If there is too much space, many things inside, if not properly secured, could fall down during transport. They can fall and break, and break other items too! Settle only for the most adequate portable storage units nearby you can find.
Disassemble furniture before placing them in a moving truck
To save room in the truck, disassemble and take apart your furniture items. They take up a lot of space, so that's why it's necessary. It also helps drastically with distributing the weight of heavy furniture more evenly inside the truck. Disassemble all your bed frames, desks, tables, headboards, etc. Take apart what you can, and position them upright on the truck. You will have more free space where you can put other large items that will prevent those larger ones from falling.
If you are unable to take apart some large furniture items, we recommend that you put moving boxes and other similar items on top of them, to avoid crushing them. Also, use furniture pads where you can for additional security.
Load the largest and heaviest items first
Once your furniture is disassembled, start loading them up first. Everything that requires two or more people to bring inside the truck should go first. Apart from furniture, major appliances fall into this category too. These items should be kept against the far wall, closest to the cab of the truck. As you bring in more heavy items, make sure you distribute the weight properly. Balance is important if you don't want your things to start falling and breaking everything around them.
When the heaviest items are inside, you can start putting longer items inside. We mean things like boards, mattresses, and long mirrors. They should be placed upright against the longest walls of the truck, following the same principle of weight distribution. Quick tip regarding mattresses and rugs: make sure your mattress is covered to prevent any tears, and make sure your rugs are properly rolled and taped.
Pack the lightest boxes in the moving truck near the end
One of the key steps when trying to pack a moving truck properly is to pack the lightest boxes last. When you put inside all those large and bulky items, boxes are up next. Start with the biggest boxes, and place them next to your disassembled furniture items. If you have a couch that you couldn't take apart, it's perfectly safe to put some padding underneath it.
As you continue to fill the insides of the truck with your boxes, the lightest and smallest ones should be placed last. You can place them on top of major appliances or furniture, but be adamant about strapping them properly. You can also stack your boxes in rows until they reach the top of the truck. For extra security put some wrapping paper or bags between the boxes if you notice they have room to move around.
Place odd-shaped or soft items last
Bags of clothes, blankets, linens, and similar items should be loaded last. They can often be stuffed into holes as they are not fragile and cannot break. Many other items fall in this category like boots, shoes, garage items, etc. Anything that can be used to fill the empty spaces. If you wish to pack a moving truck properly, make sure you are deliberate and organized about it. Preparation is key if you want your possessions to reach your Renton self storage unit in one piece. Follow our advice and everything will go smoothly!