How to pack kitchen appliances for storage
The kitchen is one of the hardest rooms to pack. The main reason for that is the sheer amount of things we keep in our kitchens. When moving your kitchen or putting things from it in Everett self storage, you need to pack a wide variety of items from dozens of pieces of cutlery to fragile and valuable fine china. Appliances are by far not the most finicky thing on that list. But if you plan on using them again, you will need to put in some effort. To learn how to properly pack kitchen appliances for storage to avoid any unforeseen complications, keep reading this article.
Before you pack kitchen appliances for storage
Like with most things, preparing your kitchen appliances for Bainbridge Island self storage will be easier if you prepare for it in advance. So before you start packing, take some time to:
Decide on your inventory. Appliances don't last forever. Before you pack and store them, make sure they're worth the effort. If they're not, dispose of them and replace them with newer models later. This will save you the time and effort of packing them. It can even lower your storage expenses as you won't need as much storage space when you have fewer items to store.
Make a plan of action. Decide on the order in which you will pack your appliances. Start with those you don't use as much before moving on to those you use on a daily basis.
Prepare the tools and materials. To make packing easier, you'll want to set up a packing station with all the tools and materials gathered in advance. You'll need either the original packaging for your appliances or moving boxes of appropriate sizes, tape, bubble wrap, markers, and more.
The best way to pack kitchen appliances for storage
Once you have everything ready to go, it's time to start packing. Remember: this is how you protect your appliances from damage while they're in storage. So if you want to use them again sometime, you'll need to do a good job.
Use original packaging
Whenever possible, you should use the original packaging for all electronics. The boxes were literally made to measure for the appliance they hold. Furthermore, they typically include some form of protection such as styrofoam molds designed to hold all the different parts of the appliance in question. This makes them the absolute best thing you can pack the appliance in whenever you're moving or storing it. And as an added bonus, you don't have to spend time or money on finding other packing materials instead.
If you no longer have the original packaging, however, you'll need to improvise. Small and medium moving boxes usually do the trick. Just make sure to wrap your appliances in bubble wrap, fill the empty space in the boxes with cushioning material, and seal the boxes tight with durable tape.
Consult the instruction manuals
Most kitchen appliances don't really require a lot of special attention when being packed, moved, or stored. But some do. So it wouldn't hurt to read the instruction manuals that came with the appliances. Here, you will find information on how to prepare different appliances by cleaning and disassembling them. Don't worry – you don't have to read the entire manual, just skim the relevant parts. If you no longer have the manuals, you can find most of them online these days.
Disassemble and clean everything
Kitchen appliances typically come into contact with a lot of food and liquids. So they require regular cleaning. But before you put them in PortaBox Storage Seattle, you'll need to do a more thorough job than usual. Leftover food residue or moisture can cause serious damage to electronics, especially if you're keeping them in storage for a longer period of time. It is, therefore, vital to ensure your appliances are as clean as they can get. Start by taking apart your appliances. Then, you can clean each part individually more easily and more thoroughly. Not to mention, you can more easily pack and better protect appliances when you disassemble them.
Wrap and protect each appliance (or appliance part) individually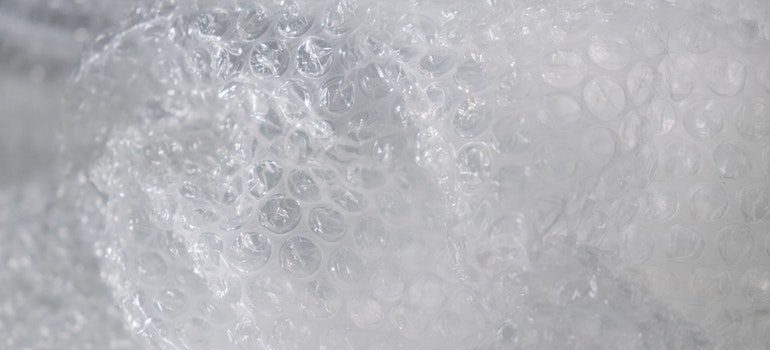 Your appliances won't magically appear in storage – they need to be transported there. This is the risky part: during transport, boxes of appliances might move around, bump into each other, and fall down. All this can cause damage to your belongings. If your appliances reach storage safely, they still need to be protected during their stay from dust, debris, moisture, and more. This is why it's so important to protect your appliances by wrapping them in bubble wrap, paper, or fabric. Then, secure the wrapping using tape or twine.
Pack appliances in appropriate boxes
The final step is boxing your appliances. If you're using the original packaging, simply arrange the parts in the styrofoam or plastic mold and slide the mold into the box. If you're using other packing materials, you'll need to prepare the box first. Line it with bubble wrap or fabric, then put the wrapped appliance inside. Fill any remaining space with more bubble wrap, packing peanuts, shredded or crumpled paper, or styrofoam. Lightly shake the box to check that the contents of it are not moving too much.
Finally, pack the small and medium boxes with appliances into large boxes for easier handling and storing. Just be careful not to put too many appliances together or you won't be able to lift the box.
After you pack kitchen appliances for storage
You have to remember that when you pack kitchen appliances for storage, you also need to unpack them later on. To make this process easier, you'll want to plan for unpacking as you pack. The most obvious part of this is labeling each box so you know what's in it later. But you should also keep all parts of a single appliance in one place.
Finally, store the appliances you might need sooner toward the front of your storage space so they're easier to reach. The hope is that, if you pack your appliances right, you'll be able to use them again once you take them out of storage. If that isn't the case, you'll need to buy new appliances. This is an additional expense that you probably don't need. So it's best to avoid it by packing your appliances carefully!