How to pack rugs and carpets for storage
Storage can be an excellent solution to a lack of space. Whether you are moving and need somewhere to put your boxes for a bit or are downsizing and looking for a more permanent solution to your problem, renting self-storage Seattle can be the perfect answer. But you can't just shove things in your new storage unit without a care in the world. Some things can't be put in storage at all. Others require some preparation beforehand. Among those are rugs and carpets. You will need to pack rugs and carpets for storage specifically before you put them in the unit. This will help protect them from damage. That way they can stay in a good enough condition to use again when you're ready to take them out of storage.
Before you pack rugs and carpets for storage, make sure to clean them
When you're putting something in Issaquah self-storage, especially if you're planning on storing it long-term, you want it to be in the best possible condition. That way, it's more likely to come out of storage in good condition too. For rugs and carpets, this means storing them clean and well-protected. Any dirt you leave behind will only end up staining and damaging your carpets further while they're in storage. So before you start packing them, do a deep-clean first.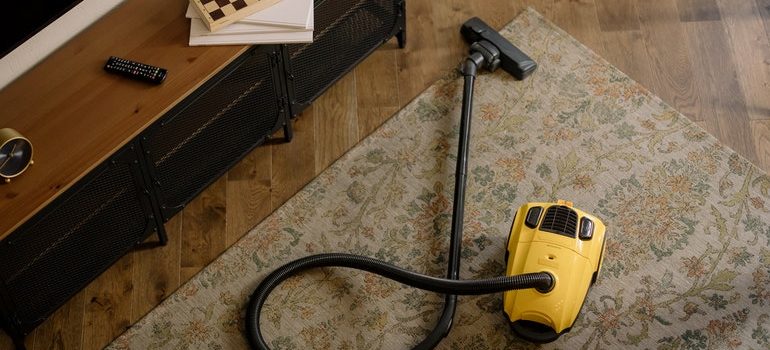 How to properly deep-clean a carpet before storing it
Cleaning a rug or carpet before putting it in Mill Creek self-storage includes several steps which will depend on the type of carpet or rug you're storing. The first step will always be to vacuum thoroughly. Then, it is always best to follow the manufacturer's instructions. If you're not sure of those, here are some basic guidelines:
woven or braided rugs: wash in a laundry bag on a gentle setting or sponge clean with carpet cleaning foam
handmade, antique and oriental rugs: protect with a nylon screen when cleaning and get instructions from the seller on safe cleaning practices
natural fiber rugs: clean with a soft brush and soapy water, then blot or dry with a fan
fur, sheepskin and hide: cover in unscented talcum powder for a few hours before brushing and repeat as necessary
Protect rugs from insects before you pack them
Moths and other insects are a big issue whenever you're storing any kind of fabric. Of course, good storage units are regularly cleaned and treated for pests. But even so, they're the perfect place for insects to flock to. Moths in particular are attracted to dust which there will be an abundance of in storage. So it's important to get rid of moths to protect your rugs and carpets. Make sure to use carpet-friendly products or natural moth-repellents like lavender.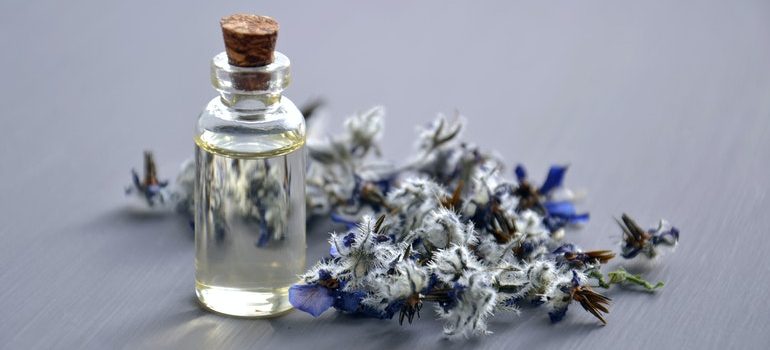 Pack rugs and carpets for storage by rolling them
Regardless of whether you are moving them or storing them, rugs and carpets should always be rolled, never folded. Folding a carpet will result in fold marks, cracks, creases, and other damage that you won't be able to get rid of. And the longer you leave your carpet folded, the worse these will get. So if you want your carpets to come out of storage looking no worse for wear, you mustn't fold them.
The proper way to roll rugs and carpets
Before you roll your carpet, make sure that it's completely dry. Rolling and storing a wet carpet can result in mold and damage. Then, determine whether the back of the carpet or the face of it is weaker. Usually, it'll be the pile where the fibers are. That is the side you need to protect and therefore the side that'll be inside the roll. Roll your carpet with the grain, keeping it as straight and as tight as possible. If you need it, you can use a rod to make this step easier.
Don't forget to wrap and secure your rugs and carpets before storing them
Even the cleanest storage rooms have dust. And dust can damage your rugs or carpets, especially if they're not properly rolled and stored. So you'll want to wrap your rolled-up rug in protective material. Normally, you'd use a plastic wrap to protect things you're putting in storage as this is one of the standard packing materials people use for moving and storage. But plastic won't let your carpets breathe so use natural materials instead, something like muslin or cotton. Wrap it in at least two layers around the carpet. Finally, use string or rope to tie the whole bundle together, keeping the wrapping around the rug and the rug tightly rolled.
After you pack rugs and carpets for storage, store them the right way
When storing rugs and carpets, you want to choose a dark, dry, well-ventilated space away from sunlight. Climate-controlled units are ideal for this as they will maintain a low temperature perfect for storing carpets and rugs while also allowing for some humidity control. If you're using a unit without climate control (or storing in your own home), make sure to cover the windows and consider a fan or dehumidifier.
Regardless of where you're storing your rugs and carpets, keep them off the ground to protect them from dirt. The perfect solution is a metal shelf wrapped in bubble pack so the edges don't damage the carpet. But you can use other types of shelving as well or store on top of sturdy boxes (provided whatever's in the boxes can take the weight of the carpet). Store your rolled-up rugs and carpets horizontally, never vertically. Otherwise, they might lose shape.
Check on your carpets and rugs regularly
No matter how well you pack rugs and carpets for storage, they're not meant to stay in storage without any changes forever. So check on them regularly – once a month if possible. Unroll them, make sure there are no traces of damage from pests or water, roll them again and put them back in place. Finally, maintain good conditions in your storage space. Clean it regularly, paying special attention to the area around the carpets. Make sure the storage is dry, without mold and pest-free.