How to reorganize your business with self storage
Storage service providers have come a long way from offering extra space for storing old furniture and family memorabilia. Today, there is a wide array of different options and solutions that you can utilize to simplify your everyday life. On the other hand, you can use self storage to make your business more efficient. If you are thinking about archiving a certain portion of paperwork for your business or freeing up space for a more productive environment, on demand storage Seattle could be the most adequate solution. Now, let's take a look at how to choose the best option and how to reorganize your business with self storage solutions such as ours.
Start by planning and preparing everything
Since you will be packing your documentation and placing it into self storage, you need to prepare first. Of course, your goal is to sort out your existing documentation – to remove excess paperwork and arrange documents that you want to keep in your storage. Also, you will have to think about proper packaging and, finally, find the best Mill Creek self storage that offers proper conditions for storing paperwork. The advantage of portable self storage containers here is that you won't have to haul all that paperwork across town. Instead, the storage comes to you, you pack the paperwork inside, and the team transports the container back to its secure facility.
Give this task to your most trusted employees
The whole preparation process can be very complicated and exhausting. And since it is a very important job with no room for errors, you need to make sure that you give this task to your most trusted employees. Preferably, you should give this task to your employees that are already in charge of handling the paperwork. They already know what goes where and what documents are used more often than others. Therefore, they will be able to make the best decisions regarding your paperwork.
Make sure that you give them enough time to do this properly
One important thing is that you make sure that you give them enough time so they can do it slowly and meticulously. Sorting through years of documentation is a difficult task. And if you do not want to lose some important documents, make sure that your employees have enough time to do it properly.
Create three piles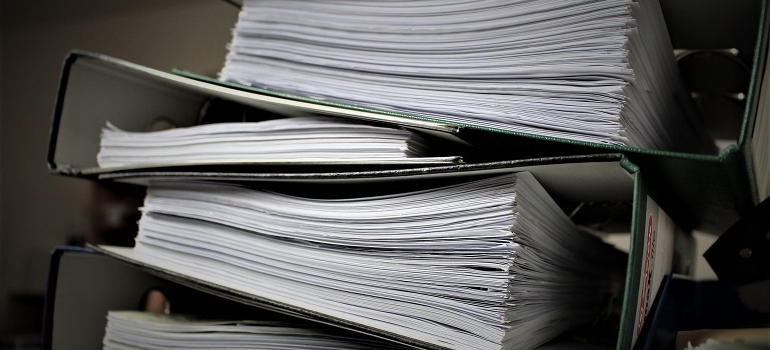 Once you determine the crew or a person who will handle the sorting process, make sure to give them instructions.  Their task should be to create three separate piles, to begin with. One pile for shredding, another for recycling, and the final pile should contain papers that you are planning to move into self storage Marysville.  Of course, you are shredding all outdated paperwork that you do not need anymore but still contain some sensitive information that you do not want to share with anyone.  On the other hand, you can send to recycling any outdated and unimportant documents that do not contain any important details or information. The final pile will contain all the documents that are going to storage.
How to arrange important documents
When you finish creating three separate piles, you should concentrate on the most important pile that contains documents that you are still using. And here, you need to make a selection.
First, start by separating documents that you are planning to keep in your office. Those will be recent files as well as paperwork that you use on a regular basis.
Next, move to the rest of the pile that will be going to Lynnwood self storage or wherever else you decide.
Of course, you can do it the way you think is the best. However, our suggestion is to separate your paperwork and group similar files. That way, you will be able to find them more quickly. You will have better control over your bookkeeping, and naturally, reorganize your business with self storage.
Pack your documents properly
If you prepared a pile for storage, you also need to think about proper packaging. Luckily, there are many bookkeeping solutions that you can purchase that will keep your files protected from the environment and help you access them more easily. Of course, since you will be putting them into storage, we suggest that you insert every document into a plastic sheet protector, and then into hardcover folders. Of course, it all depends on how long you need to keep your records. But if it's going to be a long-term solution, make sure that you provide your papers with the best possible protection.
Make sure that you find a good storage facility
Another important thing that you need to do in this process is to make sure that you are renting proper storage. Unfortunately, there are many storage facilities on the market that do not provide adequate conditions for keeping anything, let alone paperwork.  That is why you need to do proper research before you decide what storage to use for this.
Of course, the best thing would be if you could find business storage in your vicinity. Storage companies that offer business solutions, most of the time, offer good conditions for paperwork. However, you can also use a regular storage unit that is climate-controlled. Also, make sure that you are dealing with a storage company that has a security system. This will provide your important paperwork with additional protection.
It is easy to reorganize your business with self storage
As you can see, it is not so hard to reorganize your business with self storage. You just need to sort your files and papers properly, put them in proper packaging, and make sure that you find an adequate storage facility. This is going to make your business much more organized and efficient.