How to safely pack your cookware for moving
Are you getting ready to relocate soon and wondering how to safely pack your cookware for moving? No matter if you are moving locally or long distance, packing fragile belongings is always a challenging task. This is even more true when you are packaging items from your kitchen. Also, you might not have enough experience with packing and are not sure how to pack the items properly. That is why we have prepared here a useful guide on how to safely pack your pots and pans for relocation. Likewise, in case you need temporary storage Seattle offers, PortaBox Storage will provide you with different helpful options.
To safely pack your cookware for moving you first need to get organized
In order to safely pack your pots for moving, you need to be careful and patient. This is a demanding task, especially for those who are relocating for the first time. If you want to experience a stress-free move, we suggest making a to-do list and following a couple of steps before you pack your dishes and glassware for relocation. If you are in need of Lynnwood self storage services, PortaBox Storage is at your disposal.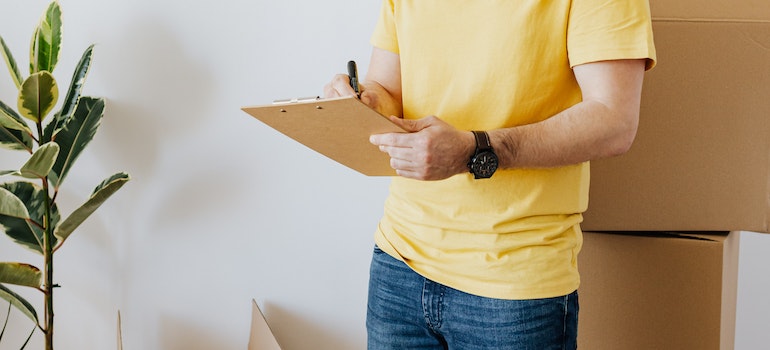 Go through and declutter your kitchen cabinets
It doesn't matter if you are relocating for the first time or not, you should still go through all your storage spaces and decide what you will bring to your new home. Think about what you will need in the future and make a list of items. You will probably want to throw away the damaged ones and buy new essential pots and pans for your home. However, we all have items that have sentimental value for us and we will bring them to our new home even if they are a bit damaged. Also, you can donate unused and unwanted items.
To pack your cookware for moving sometimes means dealing with heavy items that actually take up a lot of space in boxes. That's another reason why you should carefully choose what items you really need in your new home and move less stuff. That way your moving expenses will be less and your relocation will go faster.
Wash and dry your cookware
It is important to clean your pots and pans so that the grease doesn't damage cardboard boxes and stain other packed stuff. You should also dry the items completely to avoid mold growth, especially if you plan to use storage units. If you are in need of portable storage containers Seattle locals recommend, PortaBox Storage will quickly deliver you what you want.
Prepare enough packing materials
You should get plenty of packing materials and supplies to make sure that your cookware will reach your new home undamaged.  You will need to prepare:
Strong, medium-sized boxes
Newspapers or packing paper
Dish towels, linen, and old clothing
Bubble wrap
Permanent markers
Tape
Wrap up your cookware
Pots and pans are pretty sturdy items, however, they can still be damaged during transport when coming into contact with other objects, especially sharp ones. Even small scratches and dents can affect their performance later on and even totally ruin them. This is the reason why we recommend that you wrap your cookware with dish towels or bubble wrap. That is how you will protect them during transport. PortaBox Storage will provide you with short term storage Seattle residents rely on for all the items that you won't move to the new home.
This is how you should pack your cookware for moving
We need to warn you that packing heavy and large cardboard boxes can end in disaster if they fall somewhere. Therefore, it is much better to prepare medium-sized sturdy boxes for your cookware. As mentioned, you can use packing paper or newspapers for protection. You will seal the boxes with tape and label them with a permanent marker. Here are some useful tips for packing cookware:
As cookware is extremely heavy, you will need to reinforce cardboard boxes to avoid collapses. You can strengthen your boxes with tape.
Put sufficient padding like bubble wrap or scrunched-up newspapers on the bottoms of containers to work as cushioning and keep items from moving during transport.
 Stack cookware together so you can save a lot of space. For instance, you can put a smaller pan inside a bigger one with a dish towel in between. Do that with other cookware, as well. This way you can avoid scratches on the items and keep the level of their handles. Lastly, you should put the lid on the smallest cooking container, placed upside down.
Next, put your stacked items into containers with enough cushioning. You can put inside some sponges, dish towels, cloths, etc. to fill in the space. All those things will prevent shifting during transport. Also, put the lids in the same cardboard containers as the cooking containers they belong to. Just be careful with glass lids as they could easily break. You can wrap them with bubble wrap or thick towels and again with paper.
If you notice some extra space in your packed boxes, you can add some small, light items between to make the most of the available space and keep the items safe during the move.
 Make sure not to overpack your cardboard boxes as they might collapse. Cookware is already heavy enough, therefore, add only lightweight items to fill in the gaps.
Lastly, seal the cardboard carefully, mark the content on the labels, and write what side should be up. You should be very specific with content labels on the cardboard. It is important to leave a note for fragile content, with necessary instructions.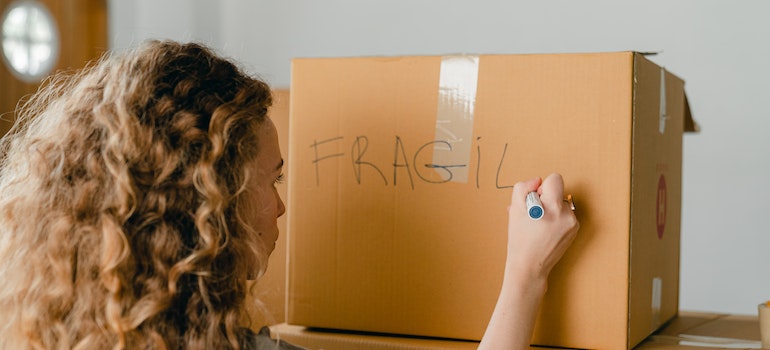 You are good to go!
We hope our guide will help you safely pack your cookware for moving to your new home. Moving is certainly not an easy undertaking but we believe we have made it easier for you. You just need to organize yourself in advance and follow the steps and everything will go smoothly.