How to store a mattress inside a portable storage unit
Considering the fact that we spend one-third of our lives in the state of sleep, it's safe to say that the mattress we sleep on is one of the most important investments in life. So, when you do find a good one, you ought to do everything in your power to protect it at all times – especially if you have to move it or store it at some point. It might seem difficult to store a mattress inside a portable Issaquah self storage unit. In reality, this process will only take a couple of hours to accomplish, after which your precious item will be safe and protected while in storage.
Start by cleaning your mattress
It is a general rule of thumb to only put clean and dry items inside Seattle, Bellevue, Redmond self storage – you get the gist. Any dirt or moisture on belongings can lead to damage as time goes by inside a closed space. To cut a long story short, the first step to storing a mattress should always be to clean it thoroughly.
You can start by using an upholstery cleaner on the mattress after which you can vacuum it. Just be careful how you clean your mattress and which chemicals you use. One wrong step could ruin your beloved mattress, setting you back financially.
Take the bed frame apart before you store a mattress
Take a look at your bed. While it goes without saying that it could be placed in storage when using door to door storage Seattle services, there's still no reason to occupy so much free storage space with one single item. The good news is that your bed could be taken apart after which you will get many smaller pieces. Once you take the bed apart, you will be left with its three crucial pieces: the bed frame, the mattress, and a plethora of little screws and bolts.
Cover the bed frame with protective wrapping and/or a good blanket that you no longer use. This will protect it from dust while in storage and will provide a layer of protection from outside elements. When it comes to the screws and bolts, you should carefully gather them together and put them in one Ziploc bag. Based on sheer experience, we here at PortaBox Storage can tell you this much – take good care of the bag containing the screws and bolts. They can easily get misplaced, leaving you unable to reassemble the bed. All that you are left with now is the mattress – the piece that has our full intention in this article.
Put mattress storage cover to good use
The 21st century is a time of invention and advancements. Did you know that there is a special mattress storage carton that costs around $20 dollars and that provides a mattress with the ultimate level of protection? Well, now that you do know about it, you shouldn't hesitate to go to your local store and get it. Once the mattress is all wrapped up and covered, you should secure it with tape and take a sigh of relief. By now, your mattress is ready for transport. Be sure to storage your mattress in something porous like a blanket or a cardboard box that will breathe.  Don't ever store your mattress in plastic.  Without proper circulation your mattress will sweat and produce mold.
Be careful how you store a mattress inside the unit
Preparing your mattress for portable storage by using the right technique and packing supplies in Seattle certainly is an important part of the process. But how you treat your mattress once in storage is just as important. Contrary to what you might believe, you should store a mattress flat over other flat furniture or over a floor that you will cover with a blanket. That's because by storing a mattress on its side for too long, you could shift the coils and inner workings. But if you plan to store your item short-term, then you could approach the process either way.
Either way, the one thing you need to make sure of is that your mattress isn't next to any sharp objects. You don't need us to describe why sharp objects and sharp edges could have catastrophic effects on your beloved mattress.
Don't put anything over your mattress
Once you rent a storage unit and pay good money for it, it is only normal that you will want to use every inch of it. After all, you work hard for your money, so you should spend it carefully. However, no matter how tempted you are to put other items over your mattress, know that you should resist the urge. You just might be able to get away with extremely lightweight items for a short period of time. Although bear in mind that even that's not suggested. Why risk it when you don't have to?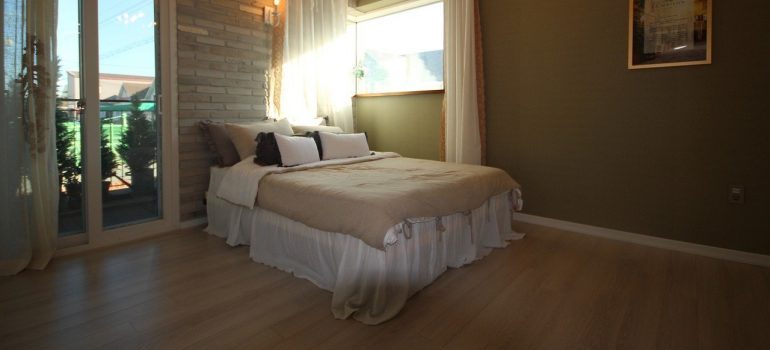 Heavy items that are sitting on top of your mattress will most likely cause permanent damage. You know how fragile your mattress can be, and you also know that the last thing you want to do is damage it. So instead of gaining more space by throwing items on top of your mattress, why not rearrange the space you have and make better use of it?
Every step of the process requires a lot of dedication
You were probably able to notice that there are many things you could do wrong when trying to store a mattress. All of those things threaten to damage your precious item. We can all agree that mattresses aren't cheap – at least, the good ones aren't. That's why you need to give this process the attention it deserves. Trust us – you definitely don't want to be forced to replace your mattress.