In-home clutter vs self storage rental
If you have moved recently, or are planning your move, then you know about the troubles with cluttering. The feeling of entering a cluttered space can worsen your entire day. This is especially true during times of relocating when you need more motivation. A good storage company can help you come up with ideas that will solve your in-home clutter vs self storage rental dilemma. PortaBox Storage Seattle is skilled at helping you find the best storage options for your needs. We specialize in portable storage solutions, however many other moving services are also available. You will find everything needed for a quick and safe relocation as well as decluttering.
In-home clutter vs self storage rental: why is it even a question?
For some, the question of clutter vs self storage rental is already solved. Most people like to think about decluttering as their first choice, and they opt for solutions such as short term storage Seattle easily. However, not everybody is familiar with this idea. Sometimes storage rental seems like a more expensive way of dealing with your personal belongings. Another reason for the dilemma is not being used to the idea of renting storage. In other words, storage facilities are seen as something that is used only for special purposes such as big furniture or antiques. But, in reality, storage units are used for all kinds of reasons, and decluttering may just turn out to be your favorite one.
Why is storage rental such a good choice?
If your house is already cluttered, you probably already know the answer. However, storage is seen as a good choice mostly by those who have already used it. It is an excellent choice for anybody with a lack of space. But it is equally important to rent storage with a trusted moving company. Visit your movers' website or contact them in person. This makes you more informed as well. If possible, find out as much as you can about self storage Shoreline and other storage facilities. This will make your decision more firm and inquired. There are also other benefits to renting storage such as:
Saving time and money – in the long run, it can be much cheaper to invest in storage rental;
Keeping your personal belongings intact – quality storage options can help you save your items better;
Having additional space at your home – you can use this space for whatever you want.
It is important to keep these in mind when deciding your choice. There certainly are some benefits to keeping your things at home. Ultimately, the only person who can make this choice is you.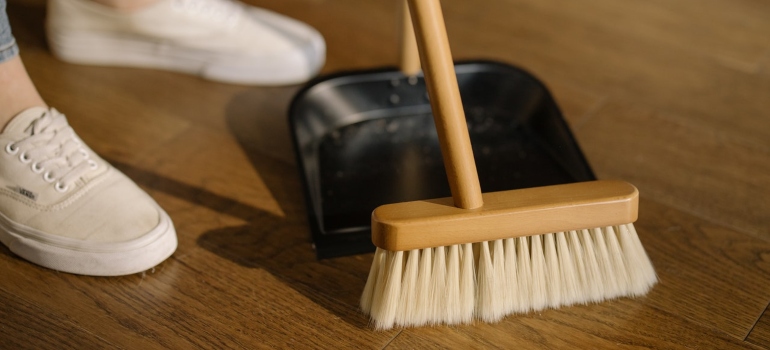 Other ways of decluttering your home
Decluttering is such a beautiful process. You instantly get more space and more peace of mind. It is not that easy to achieve though, especially in crowded or smaller living spaces. Besides renting storage, there are other ways you can declutter your living space. One such way is to install shelves and other storage systems into your home. These days, you can find affordable yet practical solutions at many home stores. Even a simple wooden shelf can make all the difference. Find excellent Newcastle self storage with PortaBox Storage at any time – simply ask for a storage quote.
You can use shoe racks, smaller cabinets, and other methods of using up less space. These can make your entire space breathe and feel much less crowded. Therefore, the in-home clutter vs self storage rental dilemma can be seen from another perspective as well. You can find amazing indoor solutions for saving space. However, in the end, you will be left with the same amount of items. Again, storage units seem like the perfect solution for adding extra space.
Are there any downsides to in-home clutter or self storage rental?
There are two sides to every story. In this case, there is a downside to each solution. If you opt for in-home solutions, you will still need extra space. Even if it feels comfortable, you will know that it can be even more pleasant. Also, you won't be saved from the occasional clean-up. This is a must for anyone living in a crowded space.
On the other hand, storage rental gives you more space but takes away more money in turn. Even though there are affordable yet qualified storage options, they are an expense. But how big is this expense exactly? This depends on where you live, how big your storage facility is and how many items you are bringing. In the long run, it can become less expensive than living in clutter, but it is going to make at least a small change in your monthly balance.
Try to have some fun along the way
Decluttering is especially fun if you have some assistance. Everything can be made into a vibrant activity, you just need to have the right approach. If you plan to declutter your home, invite friends over for a brainstorming session. Or, you can browse the internet for creative space saving ideas. There are no limits to how you will organize your home. The best way to do so is to see what feels right. However, you will have more room for creativity if you opt for storage rental. Of course, in-home clutter vs self storage rental is no longer a question if you are in dire need of space.
Also, if you have a room that you don't use because it is a substitute for storage space, this can be your chance to get that room back. Simply call your movers and ask for advice. The storage company of your choice knows what type of storage is best for what need. Therefore, they can provide you with the best solutions possible.