Inventory Storage: Tips and Solutions to Manage Your Business
If you are a business owner, then you know just how important and critical inventory storage is. A lot of businesses fail precisely because they fail to adequately store their inventory and optimize their operations. You cannot allow that to happen! It's not enough to just rent the best storage units North Seattle provides. You have to really dedicate yourself to finding the best solution for your inventory that will reduce your overhead cost and boost sales at the same time. We want to help you succeed! That's why we are writing this article, to show you all you need to know about inventory storage. Let's dig into it!
What is inventory storage and what are its types? 
Put simply, it's a system that helps you as a retailer organize, manage, track and store the goods you are selling. Since you are a business that sells physical products, it is crucial that you find the right one for you so you can save time and money! There are three main types:
self-storage,
traditional warehousing, and
3rd party logistics. 
Self-storage
If you are just starting your business, self-storage is most likely the choice you will make right off the bat. As a new business, you probably don't have the funds yet to go for a classic warehouse and stock up on loads of products.
Instead, you will store your inventory anywhere you can. You can keep them nearby at your home, place of business, mobile storage containers Seattle has on offer, or in a regular storage facility, for example. Once you start to grow, you will probably need to level up and go for the other choices.
Traditional warehousing
Warehouses are used by stable businesses, that have a steady flow of orders and income. Once your forecast starts getting bigger, you will need more space for your inventory. You can't keep them in your house or storage units forever! You'll instead put them in a trustworthy facility. There are certain downsides to warehouses. If you can only choose one, you really have to be smart about picking the right location, so you don't waste time in fulfilling your orders. Also, you probably will have to hire some workers to fulfill those orders, so that's an additional cost you'll have to make. 
3rd party logistics
These companies do all the work for you and you are not involved in running the whole fulfillment operation. They usually have multiple fulfillment centers, so getting to your customers is much easier. They also provide you with tools to track and manage your inventory. The downside is that you are giving away control of your inventory and it is definitely more expensive than doing the whole thing yourself.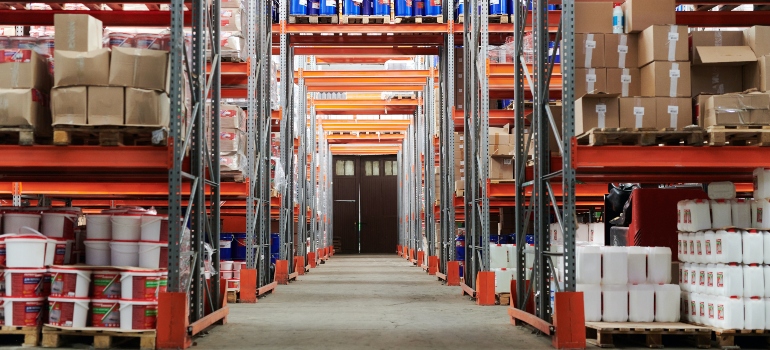 What are the best tips and tricks to streamline the inventory storage process? 
Let's take a closer look at the most important things you have to know when running a business. These tips and tricks can really make or break your whole operation! 
Get to know your inventory and demand inside and out 
You should only be making data-driven decisions! It is essential that you don't either overestimate or underestimate how much of a certain product you should have in stock. It's imperative that you use good software for tracking your inventory, purchases, and leads. Once you have all that information centralized in one place, you can accurately forecast and make appropriate predictions and plans. For example, if product X hasn't been selling as much or at all in the past month or two, there is no point in ordering a quantity larger than the one you sold. Focus on your best-selling products and make sure those are always available and on hand! 
Organize your stockroom
You should be very meticulous when organizing your warehouse or stockroom! It is going to help your business immensely if you operate in an efficient manner. If your warehouse is disorganized, it can lead to many problems. Lost inventory means losing not only revenue but also the funds you've already invested in those products! If you keep losing your products, how can you fulfill your orders? You will drive your customers away with that way of running your business. We offer some of the most reliable inventory storage Seattle provides, and we will for sure help you organize your stock in a way that will only benefit your business! 
Create standardized processes for inventory storage
It's easy to use a piece of software for keeping track of sales and orders, but there are certain things that you just cannot digitize. Every process that can only be performed by people can potentially be a place for errors. In order to avoid human errors, which are clearly probable, make sure you create some standardized processes.
For example, when you are about to receive a stock of your products, create a plan for inventory control everyone involved with that has to follow. Who handles the goods, how they handle them, where should they be placed, how to unpack them, etc. Don't leave any room for improvisation and you will thereby reduce waste and lost revenue.
Use drop shipping if and where you can 
Drop shipping basically means your products are sent to the end user directly from the manufacturer. This process has many upsides, but downsides too. For instance, you are usually limited by the location of the manufacturer of your products. If they deem the cost of shipping to a distant location too high, your reach gets smaller and therefore your profits won't be as high as you want them to be.
Conversely, if the buyer is near and the manufacturer can ship the product to them, then you can spend less money on shipping that way. You also don't have to worry about inventory storage. But if you decide to use the drop shipping method but still want to reach more people, use the best on demand storage Seattle business owners use and expand your enterprise!