Tips for making your house appear bigger during summer
Smaller homes are notorious for how hard they are to decorate. Well, at least without making them feel cluttered or placing the majority of your items in Kenmore self storage. Or, without excessive remodeling, for that matter. However, with limited space comes a lot of compromising. You'll probably have to ditch some items in favor of others. But, on the bright side – not as much as you may think. The keynote here is making your house appear bigger during summer. And appearances can be deceiving – which you'll use to your advantage any chance you get. You'll trick your eye and your brain into thinking that the space they perceive is much larger than it is. All of it with just a bit of light, color, and inventory manipulation.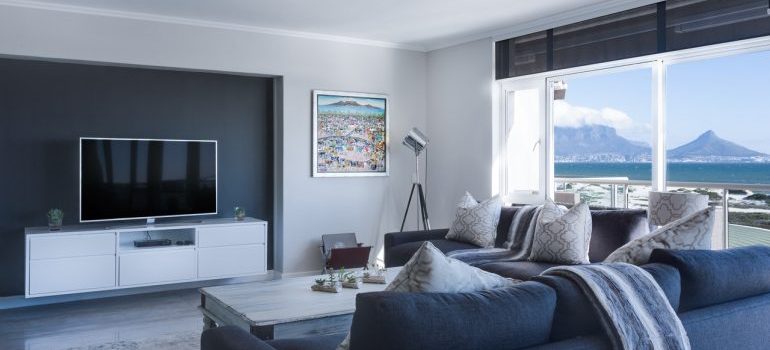 #1 – Declutter
Most people don't use half of the items they have at home. Granted, some of these items fulfill their role as decoration. But the rest – they only serve to take up precious space. They become the clutter you trip upon, that limits your storage room and makes your place look smaller. So, the first thing you should do is free up that space. And the best way to do it through systematic decluttering. It is, by far, the fastest, cheapest, and most effective way of making your house appear bigger during summer.
Of course, you shouldn't throw away all that excess. The most important thing is that clutter is out of the way. Through the thorough revision of inventory, you'll find a whole lot of items that don't, and never will serve any purpose. You can sell these items to boost your budget, either online or through a yard sale. What doesn't sell you can always donate to local charities, or give away. Only then you should throw away the rest.
Once you get rid of useless stuff, you'll be left with things you'll actually use. These items should go in portable Woodinville self storage. That way, you can access them when the need arises and they won't take up useful space in your home. The best thing here is: the items you sell can easily pay for a few months of storage. Therefore, it's safe to say there are no negative sides to decluttering.
#2 – A bit of home staging goes a long way…
Not bumping into things at any turn makes your place more functional. But, it also makes it feel larger! As we said, it's not about the actual size of your house. It's the perception of space making your house appear bigger during summer. So, after you finish decluttering, have Seattle movers get your stuff to the storage and restage the furniture. This will not only make your place appear larger – but brand-new, too.
… and so does a minor remodel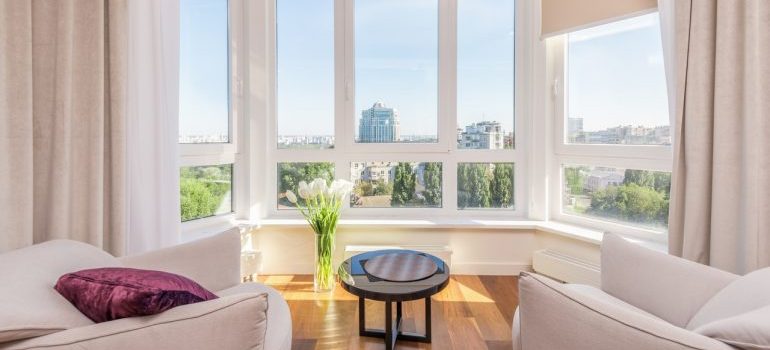 You can make your house appear larger, increase the livability, and gain some extra storage space – with a single piece of furniture. Floor-to-ceiling shelves are an excellent addition to any room of the house. Also, they're cheap, easy to assemble or even make from scratch DIY-style. But, aside from providing ample storage, they have a welcome side effect. They draw the gaze upward, thus making the ceiling appear higher. On the flip side, wall-to-wall shelves have a similar impact, making the room appear wider. So, it's only a matter of your preference and possibilities.
#3 – The Sun is your greatest ally in making your house appear larger during summer
You probably already know about the positive impact of natural lighting in homes. It boosts the mood, wards off depression, and has a whole bunch of other benefits. But, did you know that it also makes any space appear larger? That's right – the more sunshine, the better the effect. So, choose light and airy material for your drapes. Or, better yet – ditch them altogether! Place them in Seattle mini storage while decluttering, and leave them there until the fall. To quote the immortal Galt MacDermot: "Let the sunshine in!"
#4 – Remove rugs and carpets
Although rugs and carpets feel great on your feet, they also make the room look smaller. The exact opposite of what you're trying to achieve. So, consider giving them the same treatment you do to drapes. Removing large floor coverings makes space look more open and, thus, larger. It also makes furniture pieces stand out, yet appears smaller than they are. However, if you're a person who cannot imagine living without rugs, don't despair. You don't have to ditch them altogether. Instead, opt for small and simple, minimalistic pieces. These won't hog the attention and will give the place additional "oomph."
#5 – Add mirrors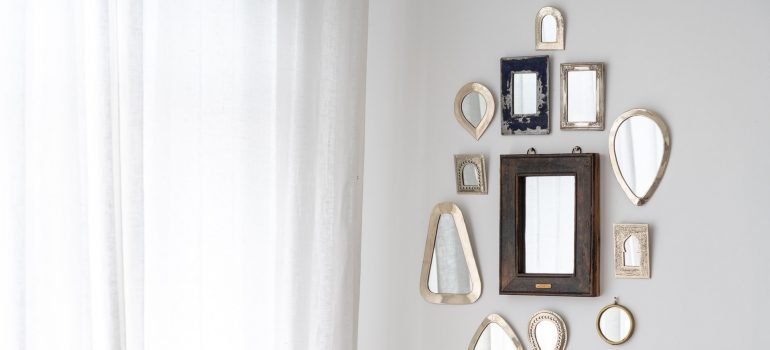 When it comes to home decoration, mirrors are more than just a vanity element. Once again, making your house appear larger during summer is all about manipulating light. And nothing does that better than a mirror! First, it reflects light, thus adding even more brightness to your room. Second, it creates a sense of "openness", much like an additional window. Lastly, it reflects the view, thus tricking the brain into thinking there's a lot more space. So, consider placing mirrors strategically around your house.
#6 – Brighten it up
If your home is ready for a new coat of paint – that's ideal! You can use this opportunity to refresh your walls and, at the same time, make them feel larger. That said, the choice of color will play a significant role here. White is the most popular choice and the one that provides the best effect. However, it can also feel a bit bland and sterile. So, it's better to go with some light, but neutral variants. Light grey, beige, greige (the combination of the previous two), taupe, and blue are all excellent choices. These colors emphasize natural lighting, brighten up space, and are easy on the eye. So, they hit all the right spots.
Don't be afraid to experiment
As you can see, making your house appear bigger during summer doesn't have to be difficult or expensive. It only takes a bit of brainstorming and the right approach, and the results will show. So, don't be afraid to experiment with colors, alternative light sources, or even furniture placement. After all, it's all about your perception of space and, more than that, about the comfort you're feeling.