Organizing for new additions: Preparing space for babies or elders
Welcoming a new family member is a cherished moment in every household. But beneath this layer of joy and anticipation lies a set of challenges – from safety precautions to functional necessities. It isn't merely about decking out a room as much as it's about crafting a place that's both inviting and accommodating. For many Pacific Northwest families, resolving these changes often relies on handy storage units North Seattle provides, ensuring every family member has their own special space. So, are you ready to craft the perfect home for your youngest or eldest loved ones? Explore our ideas for preparing space for babies or elders and organize on time!
Preparing for a baby: Practical first steps
Welcoming a newborn requires meticulous planning and adjustments around the home. Here's a breakdown of the three pivotal stages:
Prioritizing baby-proof measures to eliminate potential hazards.
Tailoring the space to cater to both the baby's comfort and the caregiver's convenience.
Systematically arranging and storing baby necessities for easy access.
Now, let's explore each stage in detail.
Safety first
Ensuring your home is baby-safe is not just about caution, it's a fundamental requirement. You need to ensure that electrical outlets are covered, sharp corners are padded, and potential hazards, like stairs, are secured. Throughout this process, consider decluttering areas that could become easily congested. Many families have found that utilizing Woodinville self storage can provide a practical solution, creating more room for essential baby items.
Designing a functional nursery
When setting up a nursery in your Seattle residence, prioritize functionality without compromising on comfort. Select a sturdy crib, invest in a reliable changing table, and incorporate sufficient storage options. Lighting plays an integral role in this space. Dimmable lights, for instance, are ideal for maintaining a serene sleep environment for the baby. If space constraints become a challenge, on-demand storage solutions in Seattle can help. Such services ensure you have all the necessary items at hand when you need them without crowding the nursery.
Organizing essentials
Every item in the nursery should have its place. Label bins or drawers for different-sized clothing, ensuring easy access. Keep diapers, wipes, and other essentials within arm's reach to streamline care routines. As gifts and hand-me-downs accumulate, the volume of baby clothes can become overwhelming. Before considering an overflow into other rooms, think about local storage solutions. Checking out Kirkland self storage options can be a savvy move, allowing you to store excess items until they're needed again.
Preparing for elders: Crafting a comfortable and safe living space
As we age, our requirements and preferences shift. When preparing a home for an elder, it's crucial to address their unique needs while ensuring the space remains functional and hazard-free. Here's what to consider.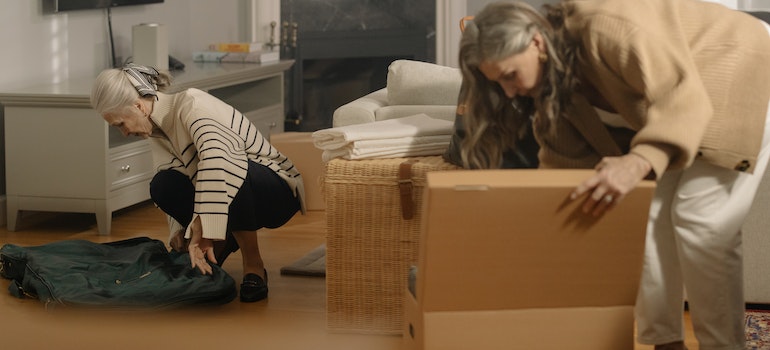 Safety measures
Safety at home isn't restricted to babies. It's equally vital for our elderly family members. Hence, you would need to:
Remove potential trip hazards like loose rugs or scattered items.
Install grab bars in the bathroom, especially around the toilet and shower area.
Consider the flooring; non-slip mats can significantly reduce the risk of accidents.
And in the process of making your Seattle home a safer space, some personal items may need to be relocated. For such requirements, portable storage containers in Seattle offer a reliable solution, allowing for temporary storage without compromising accessibility.
Comfort and accessibility
As you certainly know, elders often have specific comfort needs. Indulge them, ensuring that bedding is tailored to their requirements, perhaps considering orthopedic mattresses or cushioning. Lighting is another crucial factor; sufficient illumination can aid in reading or simply moving around without straining the eyes. Quite importantly, everyday items should be within easy reach, possibly involving some rearrangement of essentials.
A personal touch
To truly make your aging loved one feel at home, infuse personal elements into their space. This could include family photographs, their favorite books, or familiar pieces of furniture. Clear pathways for navigation and consider adding labels or signs to assist those with memory challenges. As you make these adjustments in your Seattle home, think if storage solutions can ease the process for you. Convenient door-to-door storage Seattle provides can aid in keeping spaces clutter-free while ensuring that cherished items remain accessible.
Storage solutions for both scenarios
As Seattle households evolve and expand, so does the demand for adaptable and efficient storage solutions. Hence, regardless if you're preparing space for babies or elders, know that smart storage solutions can significantly optimize your environment.
Maximizing existing spaces
Closets can be organizational wonders when used to their fullest potential. Consider incorporating adjustable shelves or compartmentalized storage boxes to tailor the space to your needs. Under-bed spaces, often overlooked, can be ideal for items that aren't needed daily. With rolling storage bins or vacuum-sealed bags, you can easily stow away seasonal clothes or bedding. Additionally, multi-functional furniture, like ottomans with storage or beds with built-in drawers, can serve dual purposes: providing functionality while decluttering your space.
Opting for external storage
There are instances when Seattle home storage isn't enough, especially when safeguarding items you don't currently need but can't part with. Off-site Ballard self-storage options offer flexibility and security. They allow families to keep their belongings safe without cluttering their living spaces.
Moreover, for items you want to store but also access from time to time, they provide the perfect balance, ensuring that your items are both out of the way and within reach when needed. In both scenarios, whether anticipating a new baby or welcoming a beloved elder, efficient storage strategies can simplify transitions, creating a harmonious living space for all.
Crafting harmonious homes for all ages
Transitions in family life, from welcoming a baby to integrating our valued elders, demand adaptable living spaces. Efficient storage solutions and intentional design choices both maximize our spaces and instill a sense of warmth and belonging. So, as you implement these strategies for preparing space for babies or elders, remember the goal: to create a home where every family member feels cherished and at ease. Invest in smart storage and thoughtful design solutions, and let your home resonate with comfort for all generations.