Packing glass items for storage – how to prepare
There are but a few things that are more complicated than packing glass items for storage. As one might imagine, glass items are extremely fragile and prone to damage, making it that much more difficult to keep them free of any harm during transport and storage. Your crystal lamps and other breakables will surely need a lot of preparation before being put in a Renton self-storage unit, but that's what we are here for. Our goal for this article is to give you a few essential tips on how to pack your glasses, plates, and vases. All you have to do is follow the simple steps we are about to share with you.
Prepare the right materials for packing
How can you pack your glass items without first gathering the right packing materials? Depending on how many items you have to pack, you might need to buy just a couple of cardboard boxes. Or you might need dozens of them. Either way, before preparing your items for Bellevue self-storage, we suggest you buy:
Packing peanuts
Packing tape
Markers
Packing paper
Rags or towels
Plastic bubbles
Once you have all these items, plus a necessary number of cardboard boxes in different sizes, it's time to get down to packing. All that's necessary from this point forward is a lot of patience and attention. Every fragile item will need to get the attention it deserves.
You'll need to pad the boxes before packing glass items for storage
Because glassware and glass items are so easy to be broken, they will need a soft and comfortable bed. If you are looking to find some great yet pretty much free shock absorbers, you can use towels, sweatshirts, and other linen you have. Crumpled packing paper will also work great. With these materials, you can pad the interior of the boxes, and make sure you don't miss any sides. You need to make sure that your items are protected from all angles, as that's the only way for them to be completely safe while in a self-storage Seattle unit.
Every item needs to be individually wrapped in some type of protective material
Every fragile item you own will need to be properly cared for and protected. And the best way to achieve absolute protection when packing glass items for storage is by wrapping every item in protective materials. For the best results, we suggest you first use one layer of packing paper and then further add another layer of plastic bubbles. Just make sure that you do follow this specific order. Plastic bubbles should not come in contact with glass or they can have a sticking or suctioning effect.
Be careful when placing the dishes inside the boxes
Even though you might think it's best to store plates one on top of the other inside boxes, that's not really the case. The best way to store plates is by putting them on their edge inside the boxes. In the case that the box experiences any type of force (such as the truck going over a pothole), it will be much safer than when placed flat. It's a mistake such as this one that usually urges people to hire professional packers instead of packing themselves. So that's an option you might want to consider when packing your fragile items for storage.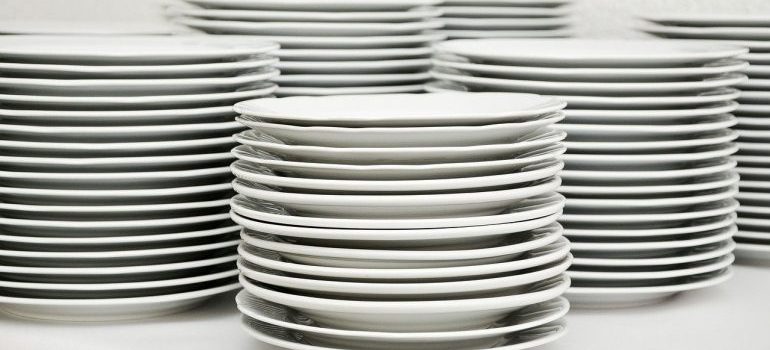 There can be no empty space inside the box
The truth is that fragile items prefer to be snug inside the box. That's the only way to ensure that they won't break. Or at least minimize the potential for them breaking. To do that, you need to see that there is no empty space inside the box. Once you pack the boxes about three inches from the top, you should add a crumpled layer of packing paper or some other packing material. And when you do close a box, the top flaps should be difficult to push down so anything that's stacked on top of the box won't break your fragile items.
Know how to seal the box
Now that all of your items are all snuggled up in a box, it's time to add the finishing touches. Remember the packing tape which was mentioned a few minutes ago? This is when you use it. Tape the boxes shut with packing tape by making sure no area is left uncovered and protect your precious pieces while moving them to a storage unit.
And once this part of the job is done, you are almost finished. All that's left to do now is label the boxes by writing FRAGILE. This is important because this step prevents any mix-ups. Everyone who comes in contact with the box, including you, will know what that box holds. Thus, they will handle it with more caution, preventing any damages that way. Looks like a lot of work is needed in order to protect a few precious glass items.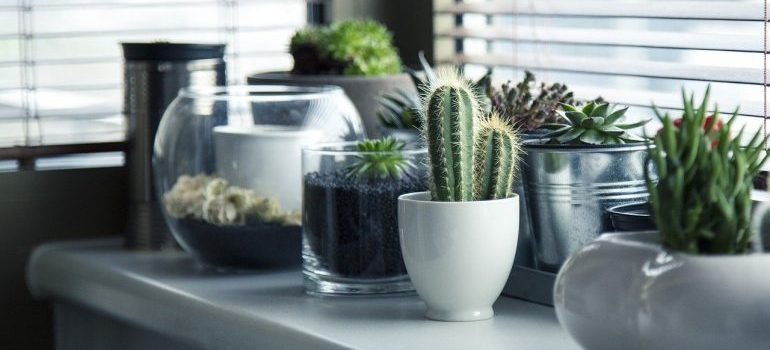 What else can you do to ensure your glass items stay safe?
Once you have done the job of packing glass items for storage the right way, there are only a couple of things that could impair their safety. For example, the type of storage unit you opt for. While climate-controlled units are a pricier option, they are also a safer one. These units will ensure that the temperature inside is always nice and cool, keeping all of the stored items safe from any extreme weather. That's why, in these situations, DIY storage alternatives aren't suggested. They might be a great option when storing your holiday decorations, but they are not as great when it comes to easily damaged items.