Portable storage for WA events
Washington events, whether concerts, sporting events, or trade shows, often require a versatile and secure storage solution. It is clear that event organizers prioritize efficient and effective storage solutions for their events, making it essential to invest in the right portable storage option. To help you out, we will explore various types of portable storage for WA events that cater to the diverse needs of event organizers. Moreover, we'll happily discuss the importance of choosing the right temporary storage Seattle solution and offer practical advice on selecting the best fit for your event.
Exploring Portable Storage for WA events
Between the various portable storage solutions available, event organizers can find an option that perfectly suits their requirements. Each type of storage solution has its unique advantages, catering to specific circumstances. So, take time to explore the different types of portable storage options and their benefits and applications.
Containers: Security and Ease of Use – Reliable portable storage containers in Seattle offer a sturdy and weather-resistant solution for securing your valuable items. These containers come in various sizes and can be easily transported to your event site.
Mobile Storage Trailers: Flexibility on the Go – For events that demand mobility, mobile storage trailers are an excellent choice. These trailers provide temporary storage in Seattle and other locations, offering a flexible solution that can be easily transported to different venues.
Portable Sheds: Quick and Affordable Options – Portable sheds are cost-effective and can be set up in a matter of minutes, making them a suitable option for smaller events, such as outdoor weddings and parties. These sheds are available in various sizes and materials, such as wood, metal, and plastic, allowing you to choose the best option for your event.
Customized Storage Solutions: Tailored to Your Needs – Some events may require unique storage options, such as inventory storage Seattle offers becuase customized storage solutions cater to these specific needs, ensuring a seamless event experience.
Navigating the Decision-Making Process
When selecting the ideal portable storage solution for your event, there are several key features to consider. These factors play a crucial role in determining the overall success and efficiency of your event storage. By carefully evaluating each aspect, you can ensure that your chosen storage solution meets your needs and contributes to a seamless event experience. For this reason, we will mention the essential features to consider when choosing the right portable storage option for your Washington event.
Size and Capacity: Finding the Perfect Fit
Consider the amount of space required for storing your items. This could range from a small container for a backyard party to a large trailer. It is recommended to allocate at least 10% more space than you initially estimate, as it is common to underestimate storage requirements.
Weather Resistance: Safeguarding Against the Elements
Washington's diverse weather conditions require door to door storage Seattle solutions that can withstand rain, wind, and extreme temperatures. Ensure the portable storage you choose is weather-resistant.
Accessibility: Easy Access for Smooth Operations
Opt for storage solutions that provide easy access for loading and unloading items, making event setup and teardown efficient and hassle-free. Choose storage options with ground-level access or built-in ramps to facilitate quick and easy entry. Additionally, consider the layout and design of the storage solution to ensure that items can be organized and retrieved with minimal effort. If you prioritize accessibility, you can minimize disruptions and delays, ultimately creating a more enjoyable experience for attendees and staff alike.
Security Measures: Protecting Your Valuables
Evaluate the security features offered by different storage solutions, including locks, surveillance systems, and access control. According to the International Association of Venue Managers (IAVM), ensuring adequate security measures for event storage can prevent theft, vandalism, and unauthorized access.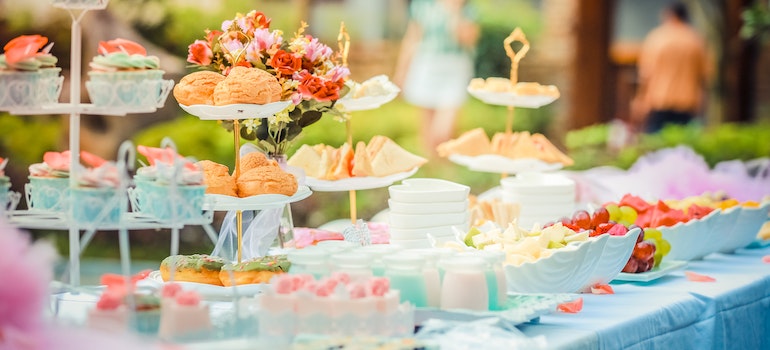 Adapting Storage Solutions for Various Occasions
Now you're surely curions to find out how portable storage solutions can be adapted to various types of events held in Washington State. From concerts and festivals to trade shows and outdoor weddings, each event has its unique storage requirements. If organizers understand the specific needs of each occasion, they can choose the most suitable portable storage option. And, thus, ensure a seamless and successful experience.
Concerts and Festivals – Outdoor venues like Gorge Amphitheatre and Marymoor Park require secure storage for music equipment and merchandise. Portable storage containers Seattle are an excellent choice for these events.
Sporting Events – From Seahawks to Sounders, sporting events often require flexible storage options. Mobile storage trailers and portable sheds can efficiently store equipment and supplies.
Trade Shows and Conferences – For events held at the Washington State Convention Center or other venues, self storage West Seattle solutions simplify set-up and breakdown.
Outdoor Weddings and Parties – Scenic locations like San Juan Islands and Snoqualmie Falls are perfect for outdoor celebrations. Portable sheds and door-to-door storage Seattle ensure a stress-free event.
It's essential to recognize that Washington State has its unique challenges and opportunities when it comes to portable storage. Event organizers must also take into account the region's diverse weather conditions and commitment to eco-friendly practices when selecting the ideal storage solution. This way, they can contribute to the state's sustainable goals while also ensuring a smooth and successful event experience for all involved.
Enhancing Event Success with Portable Storage in Washington
Choosing the right portable storage solution is crucial for the success of any event in the state of Washington. By considering factors such as size, security, weather resistance, and accessibility, event organizers can ensure a smooth and hassle-free experience. The diverse range of options available caters to the specific needs of different events. If you embrace the versatility of portable storage for WA events, as an organizer you can create memorable events. Additionally, the convenience of these storage options will ensure successful outcomes of your happenings in the beautiful Evergreen State.