Portable Storage in Seattle Metro Area: The Secret Weapon of Successful Home Stagers
Home staging plays a crucial role in attracting potential buyers and maximizing property value in the competitive Seattle real estate market. Efficient storage solutions are essential in this process, as they ensure that homes are presented in their best light. This is where portable storage containers become invaluable tools for successful home stagers. As one of the most reputable self storage Seattle providers, we're happy to share our professional insight on why mobile self storage containers have become an indispensable asset for home stagers in Seattle. You'll instantly understand why portable storage in Seattle Metro Area is in high demand!
Understanding Portable Storage Containers
Portable storage containers are versatile units that provide temporary storage solutions for various needs. They feature sturdy construction, weatherproof exteriors, and secure locking mechanisms to safeguard stored items. You also get flexibility and convenience as you can easily declutter living spaces.
They also withstand various temperatures, protecting delicate or temperature-sensitive items from damage. And, storage pods Seattle area offers are also a more cost-effective option. It's cheaper to get a unit delivered to your door than rent an entire unit in a storage facility!
Mobile containers offer convenience and flexibility, allowing Seattle stagers to declutter and organize spaces effectively. When temporarily storing excess furniture, personal belongings, and seasonal items, stagers can create an inviting and spacious atmosphere that appeals to buyers.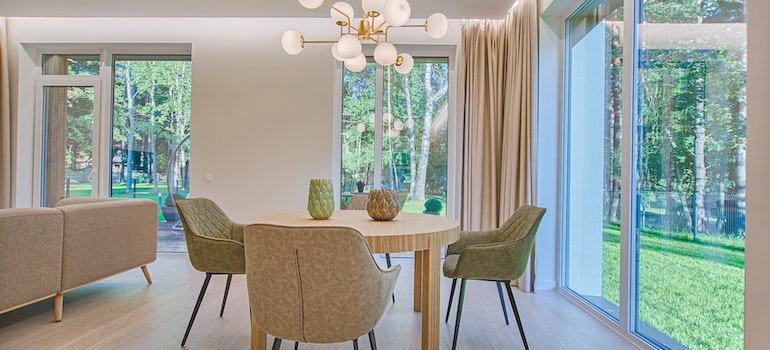 Utilizing Portable Storage Containers in Home Staging
Door-to-door storage streamlines the staging process and provides a secure and accessible solution for transporting items between properties.
These containers serve as an excellent option for furniture storage and decluttering. Home stagers can easily ger excess furniture in and out the door.
They provide an off-site storage solution for excess items. This is particularly useful when staging smaller properties where space is limited. Stagers can securely store personal belongings, seasonal items, and other non-essential items off-site, ensuring a clutter-free presentation.
The use of these containers streamlines logistics during the staging process. Stagers can easily transport items between properties, eliminating the need for multiple trips.
That's why on-site delivery and pick-up options are one of the biggest advantages of short term storage Seattle offers. This convenience saves time and effort, allowing stagers to focus on enhancing the visual appeal of each property.
Best Practices for Using Mobile Containers 
Efficient packing, organization, and inventory management within the containers are paramount. Before ordering a mobile container, it's essential to plan your staging carefully. Measure the spaces you will be filling and make a list of the items you'll pack. This will help you choose the right size of the container and efficiently use the available space.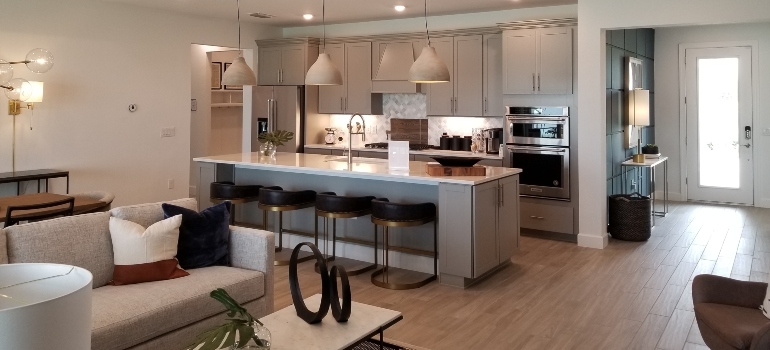 Pack and fill the container strategically and consider using clear bins or labeling boxes. Labeling each box and maintaining a detailed inventory list is essential for easy retrieval of items when needed. By doing so, you can easily locate and access specific belongings without unnecessary hassle or confusion. Remember to create an organized system within the storage pod, placing frequently accessed items towards the front of the unit stored in nearby Bainbridge Island self storage space.
When packing the container, wrap delicate items in moving blankets or bubble wrap to prevent damage. Secure items within the container to prevent shifting during transport. And to make the most of the container's space, disassemble the furniture if possible, and fill empty areas with smaller items. Of course, make sure all items are clean before packing them. Protect upholstery and other fabrics with covers to prevent them from getting dirty during transport.
Advantages of Portable Storage Containers in Seattle Home Staging
On-demand portable storage in Seattle Metro Area offers numerous advantages when it comes to home staging. Namely, they streamline logistics and minimize transportation time, allowing for a more efficient and organized process. With portable containers, staging items can be conveniently stored and transported, reducing the hassle and ensuring a smoother workflow.
Secondly, in Seattle's competitive housing market, where space is often at a premium, portable storage containers provide an excellent solution for maximizing available space. If you securely store furniture and other staging materials in these containers and declutter your living space, it will be easier to create an illusion of larger rooms and make the home seem more fluid. A clean and visually appealing presentation of the home is imperative. If you enhance the home's aesthetic appeal, you will more likely attract buyers and potentially expedite the selling process.
Getting quality portable storage in Seattle Metro Area is a must for home staging!
Portable storage in the Seattle area plays a pivotal role in the success of home staging efforts in the city's competitive real estate market. These versatile units offer convenience, flexibility, and cost-effectiveness to home stagers. Stagers can create inviting and spacious environments that captivate potential buyers, all by efficiently storing and organizing excess items. The secure and accessible nature of portable storage containers ensures the safety of stored items during the staging process, while their ability to withstand various temperatures protects delicate belongings from damage.
Besides, these containers streamline logistics by providing a seamless solution for transporting items between properties, saving valuable time and effort. So, to sum it all up – in the home staging business, finding the best portable storage in Seattle Metro Area, including nearby Shoreline self storage units is a critical step!